Are you looking to purchase a dirt bike for your kid? If yes, then you should learn about important methods to protect it from theft. Now, you may wondering why there is a need to purchase a good lock for your kid's bike. Well, according to a survey, more than 188,500 people report bike theft every year on average. Considering these statistics, it is highly important to purchase a dirt bike rim lock to protect your child's precious vehicle.
A secure bike lock tends to be quite heavy. However, thieves can easily cut through the lock and steal bikes. Therefore, you need to find a lock that creates the right balance between weight, portability, and security. But, purchasing a dirt bike lock for your kid can be a challenge, since there are numerous brands and options in the market. Here is a list of high security bike locks that have been independently rated so you can be sure they will do the job.
However, there is no need to worry, as we will cover important factors that you need to know before purchasing a bike's lock. Once you reach the end of this article, you will have clear picture of what a good lock for a kid's dirt bike includes.
What is a Dirt Bike Lock?
A dirt bike lock works as a protective shield for the bike. Unfortunately, thousands of people in the U.S. lose their bikes because they don't use a strong bike lock system. You shouldn't make such mistake and fasten your bike with a dirt bike rim lock with robust mechanism.
Why Your Kid Needs a Dirt Bike Lock?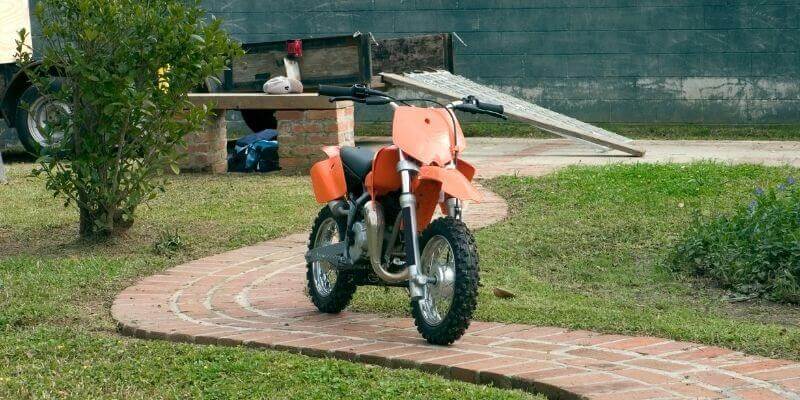 If you are purchasing a dirt bike for your kid, make sure you buy a robust bike lock as well. Leaving the bike unattended without a high quality lock will keep your bike under theft risks. If your child properly locks the bike, thieves won't get a chance. Therefore, always keep your child equipped with proper lock system to reduce the chances of getting robbed.
When you secure both wheels and the frame, thieves will find it hard to break the lock. Consider training your child to lock the bike with immovable objects. You should also educate your child about the ideal parking locations.
Since there are many options in the market, choosing a secure lock option isn't easy. Many parents don't bother buying a dirt bike lock to safeguard their child's bike. However, they need to understand what a bike means to their child. Children develop emotional attachment with their toys and a dirt bike can be their dream ride. Therefore, you need to be extra careful about protecting the bike.
There are different types of bike locks. Some parents prefer chains, cables, and U-lock. But, not every lock type offers best protection. Therefore, you need to choose the lock type carefully. Mentioned below, you will find important information about protecting your child's dirt bike from thieves.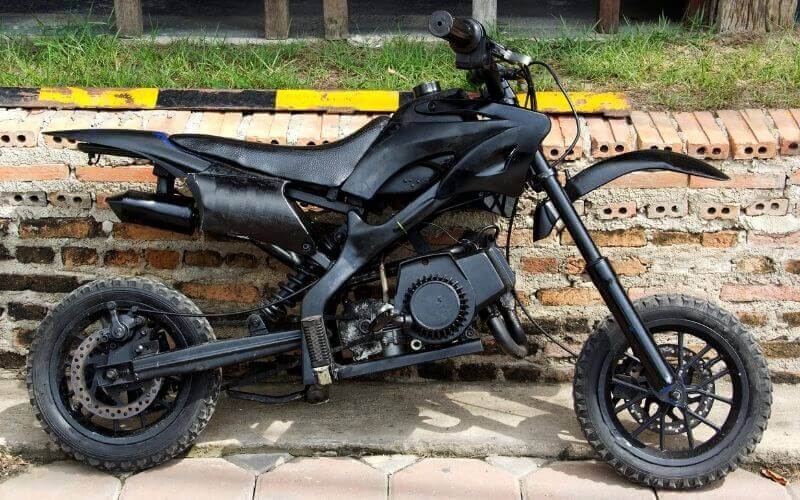 Factors to Consider When Purchasing Lock for Your Kid's Dirt Bike
These six major factors will help you choose a robust lock for your kid's dirt bike:
Lock's Size, Dimension, and Weight
When purchasing a dirt bike lock, you need to consider the weight and size. Your child won't be able to lock and unlock the bike if the lock weighs more than what they can carry. Numerous options are available in the market with a vast variety of features. So, you need to ensure that the lock mechanism is easy to understand. Keep in mind that you are purchasing a dirt bike wheel lock for your kids and you won't be available to keep an eye on it all the time. Therefore, it would be best to choose an option that they can easily carry around.
Lock's Thickness
Bike thieves use various tools to bypass a lock's security protocol. The popular tool among bike thieves is bolt cutters. Cable locks can be easily broken by ordinary bold cutters. Therefore, using a cable lock won't secure your child's dirt bike. It would be best to buy your child a U-lock or chain lock. U-locks offer maximum security to your kid's bike. But, make sure to pick the right type of U-locks. Locks with steel alloys such as boron carbide are strong and powerful. Also consider the lock's thickness and make sure the locks is thick enough to deter bike theft and light enough that your child can carry it.
Product's Review
Before purchasing a dirt bike lock or any other product, carefully read the product reviews. With the help of reviews you can anticipate the problems you might encounter after purchasing the product. Reading stories posted by other users can help you find effective ways to lock your bike. 
Parking Location
While purchasing the lock, consider the location your child will lock the bike in. For instance, your child can lock the bike with a pole outside a general store down the lane or the home with the mailbox.
Budget
Parents often think the more expensive the lock is, the more secure their kid's bike would be. However, that is mostly a misconception. The protection level depends on the lock type, quality, and strength. Therefore, you need to focus on these elements than the price.
Lock's Brand
Purchasing a branded dirt bike lock offers higher quality In most cases. But still, when purchasing a lock for your kid's bike, make sure you focus on factors like durability, build quality, etc as well.
Types of Locks Suitable for Kid's Dirt Bike
When purchasing a kids dirt bike lock, make sure that you choose the right lock type. Here are some popular options:
U-Lock
A U-styled lock is popular for bikes as it comes with high deterrent options. The lock contains bulky mechanism that protects from chisels and hammers. Since it is horse-shoe styled lock, it prevents leverage. While purchasing a U-lock, make sure it is for kid's bike. Keep in mind that the purpose for purchasing this lock is to reduce the space for thieves to enter a crowbar and pop it into pieces. So, purchasing an ordinary-sized lock for your kid's bike, won't meet the purpose.
Chain Lock
Dirt bike lock chain is tough designed locks that resist chisels and hacksaws. However, these options are heavier than other reliable locks. But since they offer maximum security, people prefer dirt bike lock chain. These locks come in different qualities. But, you need to find a sturdy option. Thieves can easily break thin locks. But, these locks are strongly chained reducing leverage for thieves to steal your kid's bike.
Cable Lock
Many people consider cable locks safe, but that is not necessarily true. These locks are less robust than Chain and U-locks and thieves can easily cut through them using bolt cutters. Whether you live in a low crime or high crime area, you cannot trust this type of lock for your child's dirt bike. 
Tips to Lock a Dirt Bike
Here are some tips to lock the bike that you should consider teaching your kids:
Park the bike in well-lit areas
Lock the bike to an immovable object that's stronger than the lock
The lock should go through bike wheels and frame
Keep the lock above the ground.
Park the bike in different locations
While parking at home make sure it's under the shed
Conclusion
While choosing a dirt bike lock for your kid, you need to consider the fastening method, safety level, and type of the lock. It would also help to learn the best techniques to reduce risks of bike theft. Hopefully, the factors discussed in this piece will help you choose the perfect kids bike lock.
Author: Oliver Wright
Bio: Oliver Wrtight is a writer and lockpicker that owns the website LockJudge.com where he provides information on high security lock products and lockpicking.