Kids electric dirt bikes offer a great alternative to petrol-powered bikes. Some children are intimidated by the loud noises produced by dirt bikes, especially when we consider bikes that are meant for motocross such as a 50cc or 65cc two-stroke. 
Kids electric dirt bikes are easier for beginners to ride and have an automatic transmission which allows the rider to fully focus on riding instead of shifting.
Over recent years, electric dirt bikes have been significantly rising in popularity due to stricter emissions laws and improvements in battery technology. 
Most popular dirt bike brands, such as KTM, GasGas, Husqvarna, Honda, and more produce electric versions of their mini motocross bikes. 
Other brands, such as Sur-Ron, OSET, and Takani, prefer to stay completely emission-friendly while producing some of the leading kids electric dirt bikes on the market.
Benefits Of Kids Electric Dirt Bikes
The biggest and most obvious benefit to putting your child on an electric is the absence of tailpipe emissions. 
Dirt bikes, especially two-stroke, produce emissions like any other combustion engine featured in a car or motorcycle – meaning you can actively contribute to less emissions by going electric.
Another added benefit, which may seem a bit unusual at first if you or your child is used to a petrol-powered bike, is the silent operation. 
You'll still notice a slight amount of noise from the electric motor, but when compared to a standard petrol-powered engine these bikes are almost silent.
Leading Brands In The Market
Brand
KTM
OSET
Takani
Overview
KTM is a leader in the motocross industry, and its pedigree carries over to e-bikes as well. 

They make two models of electric balance bikes (similar to Stacyc) and two models of electric motocross bikes for kids.
OSET is a global electric kids dirt bike brand that produces e-bikes for kids aged 2 to 16+.
Takani electric bikes are beginner e-bikes, similar to Stacyc balance bikes. 

They have a smaller, shorter design than most starter dirt bikes allowing kids of very young ages to learn how to ride.
Key Features
– Wide variety of kids electric dirt bikes for most ages
– Basic learner models and MX models
– Similar to a balance bike
– Resembles a trial bike
– Four models to choose from
– The smallest model starts at 12 inches
– 350W electric motor
– Two different-sized models to choose from
Top Models
KTM SX-E 3
KTM SX-E 5
18EDRIVE
20EDRIVE
OSET 12
OSET 16
OSET 20
OSET 24
Takani Electric Balance Bike 12"
Takani Electric Balance Bike 16"
Key Features To Look For
While most kids electric dirt bikes will share many of the same features, there are some things to look for that will allow for a more enjoyable and longer-lasting riding experience for your child. 
Most electric balance bikes, such as the the KTM EDRIVE, Stacyc balance bike, Takani Electric Balance Bike, and more feature interchangeable battery packs that mean you can swap one out for another instead of having to plug the bike in and stop riding. 
Other features worth looking out for are full suspension as well as higher-powered electric motors and batteries like the ones seen in the KTM SX-E bikes. This makes them competitive with similarly sized motocross bikes such as the KTM 50 SX.
Choosing The Right Bike For Your Child
To choose the best bike for your child, there are a few important factors that must be considered:
Seat height – Ensure that the electric dirt bike is not short enough that your child will be hitting their knees on the handlebars. Too tall, and they are likely to tip over when coming to a stop. The perfect height will have your child standing on their tippy toes on each side when sitting still.
Rider skill – By properly evaluating your child's skill level, you should be able to judge how powerful of a bike they will need. For a complete beginner, a balance bike is perfect provided the seat height is suitable. For a child with experience on a dirt bike, the faster, taller KTM SX-E may be worth looking into.
Budget – Certain models like the KTM SX-E 5 will be comparable in price to a 50cc motocross bike. Other models like the Stacyc or Takani balance bikes provide a budget-friendly beginner option. Electric dirt bikes for kids can also be bought and used from third-party sources.
Maintenance Tips For Kids Electric Dirt Bikes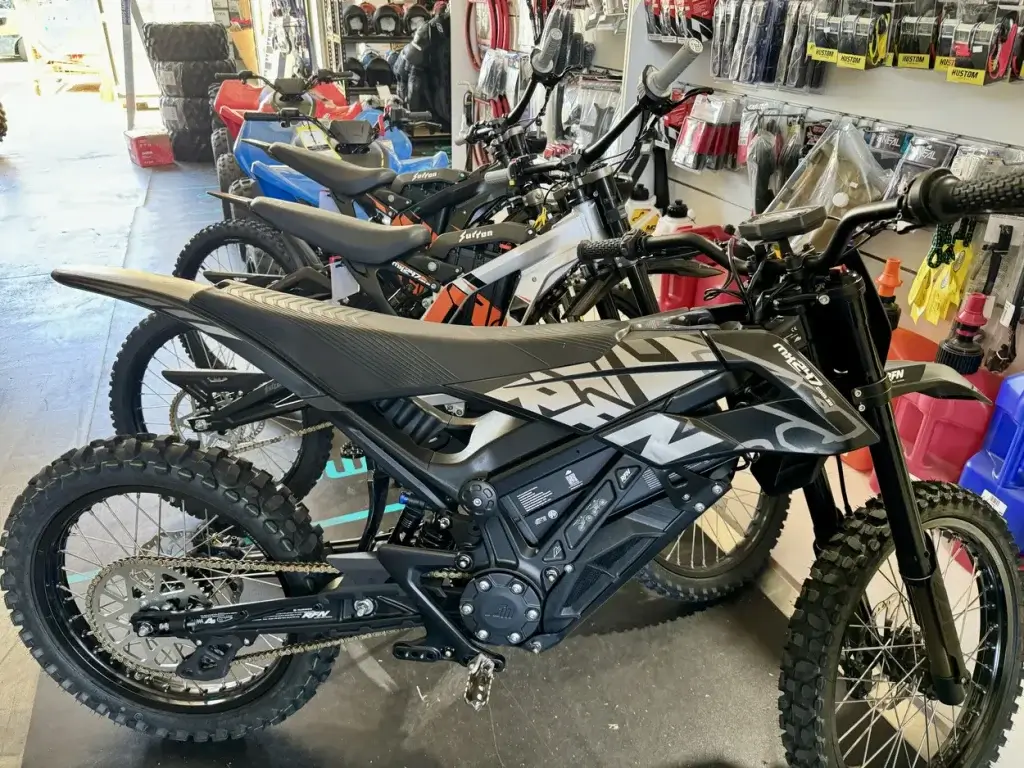 While it is true that electric dirt bikes have fewer moving parts than petrol-powered bikes, there are still some things that should be checked up on occasionally. 
If the dirt bike has a chain, it is good practice to always keep this lubricated. Check the levers, cables, brakes, tires, and spokes before each ride to catch any potential hazards before they have a chance to cause any issues. 
Certain kids dirt bikes, like the Stacyc or Takani, allow for adjustable seat height which should be raised as your child gets taller.
Accessories And Gear For Young Riders
Even though some of the kids electric dirt bikes mentioned are smaller and less powerful than the majority of kids petrol-powered dirt bikes, they still pose the same risks. 
It is imperative that you ensure your child wears the proper safety gear when riding dirt bikes, as these habits will carry on when they get older and begin to ride faster, more dangerous dirt bikes. 
Comparison With Traditional Petrol-Powered Dirt Bikes
In comparison to petrol-powered dirt bikes, electric bikes offer all of the same factors that lead to great memories with your children. 
The absence of emissions and the silent operation also add benefits in the sense that some areas that were off-limits to dirt bikes previously are now legal to ride. 
Many organizations are beginning to run classes designed specifically for electric bikes of different sizes and types, which means there is an even playing field when racing. 
Meanwhile, other kids electric dirt bikes, like the KTM SX-E bikes are completely capable of competing with petrol-powered 50cc bikes which opens up even more possibilities.