Kawasaki Kids Dirt Bike Quick Find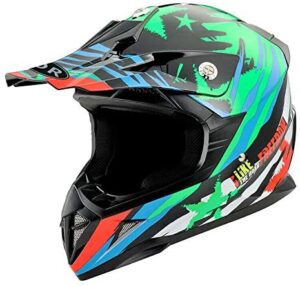 TDR Motocross Children's Helmet (Green)
 Amazon Ad
____________________
Kawasaki
Kawasaki motorcycles were initially manufactured as Meguro motorbikes many years ago. This was because Kawasaki bought the Meguro manufacturing plant. Kawasaki motorbikes were first produced in the 1960s beginning with a two-stroke, 3-cylinder in 1969. In the early 1970s, they quickly progressed to a 4-stroke, 4-cylinder motorbike, nicknamed the New York Steak. It was very popular. Even from early times, Kawasaki has been in competition with Yamaha, Suzuki and Honda.
Kawasaki KX 65
Age range: 7-10 year olds
The Kawasaki KX 65 is a premium and amazing quality kids dirt bike that is a great step up from a beginner bike (usually up-to 50cc's or for 3-6-year-olds). This new bike has a great engine and suspension which gives the KX 65 amazing power. The Kawasaki KX65 is a great intro dirt bike into competitive dirt bike riding and dirt bike racing.
2020 Kawasaki KX 65 Review | Specs | Features | Pros & Cons |
Kawasaki KX 85
The Kawasaki KX85 is a great kids dirt bike. From adjustable handlebars to being one of the easiest bikes to maintain these are just a few things that make the KX85 such a great bike for most children! The Kawasaki KX85 is a dirt bike aged for kids aged 7-10 years old.
2020 Kawasaki KX 85 Review | Specs | Features | Pros & Cons |
Kawasaki KX 85-II
Kawasaki's 2020 KX 85-II is an amazing dirt bike for children aged 7-10 years olds. This bike is a very nimble and powerful bike which is great for children interested in racing or improving their dirt bike skills on the track. The 85-II is baby brother like to the KX 250/KX 450 models.
2020 Kawasaki KX 85-II Review | Specs | Features | Pros & Cons |
Kawasaki KLX110L
Age range: 13 and above
The Kawasaki KLX110L is a great all-round kids motorbike and its size means that it's versatile enough to fit a quickly growing child.
The Kawasaki KLX1 10L will put a smile on both your face and your child's face. The Kawasaki 110L is an enhancement on the success of the Kawasaki KLX110, but this model gives experienced riders a greater degree of control over gear selection. It is also slightly higher but still gives as much comfort to its riders while being easier to manoeuvre. This combo is perfect for racers with a taste for speed. Coupled with 111cc four-stroke engine, you're in for a great ride.
The Kawasaki KLX110L comes with an electric or kickstart option. It also has an adjustable throttle limiter and will only start in neutral. As well as this the KLX110L has extra safety by providing multiple heat shields and a lower chain guard. It has a manual clutch and four gears, with a low first gear. This combination allows for quick acceleration from starting the bike and allows the rider to take advantage of every bit of the Kawasaki's power.
The bikes architecture resembles the champion KX450F. The Kawasaki KLX110L is a solid offering as a young person's dirt bike.
2020 Kawasaki KLX 110L Review | Specs | Features | Pro & Cons |
KAWASAKI KLX110
Age range: 7-10
Kawasaki has mastered the art of customer satisfaction even in the Australian market. The Kawasaki KLX110 is very similar to the Kawasaki KLX110L. As with the KLX110L, it is a four-cylinder, four-speed bike with an electric or kick start option and an adjustable throttle limiter. Refer to the details of the Kawasaki KLX110L for more details. The major differences are that the KLX110 has an automatic clutch and a lower seat height of 680mm and smaller wheel size, whereas the KLX110L has a manual clutch lever and a seat height of 730mm and larger wheels.
2020 Kawasaki KLX 110 Review | Specs | Features | Pro & Cons |
Source: