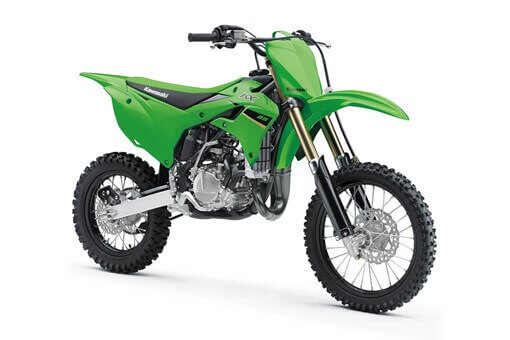 With the 2022 Kawasaki KX85 kids' dirt bike, you can start your child's racing career. This KX85 is an ideal bike for use due to its high-performance engine and race-ready suspension. Both ends of the suspension travel on this 75-kilogram bike are 275 mm. It is true that there are only rebound damping adjustments on the shock, but the shock itself is fully adjustable. 
A flat fuel tank design, minimalistic bodywork, and a flat seat give racers a high chance of moving at high speeds. This KX85 features a low-positioned fuel cap, which makes moving across the length easy.
In front and back, the KX85's discs have petal shapes to improve stopping power. In addition, the clutches are easy to maintain and offer smooth operation. There is also a separate clutch cover for fast and easy servicing.
With a powerful 2-stroke liquid-cooled engine and KIPS technology, the KX85 has several high-performance design features, such as a low-friction ring piston that provides rapid throttle response. The combustion chamber of the cylinder is efficiently designed. With the excellent power output and the large radiator on this KX85, the biker will always remain cool even when the racing action gets hot.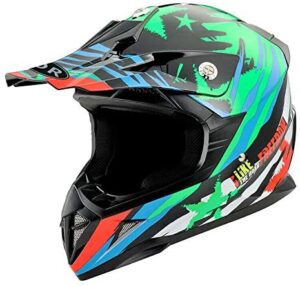 TDR Motocross Children's Helmet (Green)
 Amazon Ad
____________________
On top of that, the bike also features an adjustable handlebar that allows users to customize their riding position. It also has two adjustable mounting brackets. Optional spacers are available in three places where the rider can adjust the height. Shift the KX85 in any position you like with the new bushings added to the gears and the hard chromed shift forks.
What Is the Difference Between the Kawasaki KX85 And KX85-II?
The only real difference between the KX85-II and KX85 is the bore size. The bikes with larger wheels have a longer swingarm, which many consider an improvement regardless of the wheel size. Outside of that, the KX85-II shares the same amazing features as the KX85.
Top Features of the 2022 Kawasaki KX85
PETAL DISC BRAKES (REAR AND FRONT)
As with the full-size KX250 and KX450 models, the bike features discs that are petal-shaped. The front disc measures 220mm and the rear disc measures 184mm.
REAR SUSPENSION (UNI-TRAK)
With its easy adjustability and lightweight, the rear shock offers a stable ride feel. Black springs and green anodised adjusters complete the factory look.
SEAT DESIGN (SLIM FLAT)
These bikes were designed to go fast with the flat seat and minimalist bodywork. The fuel tanks were also designed to be slim and flat. This, along with a low-positioned fuel cap, allows for easy body transition from the front to the rear of the motorcycle.­
Kawasaki KX History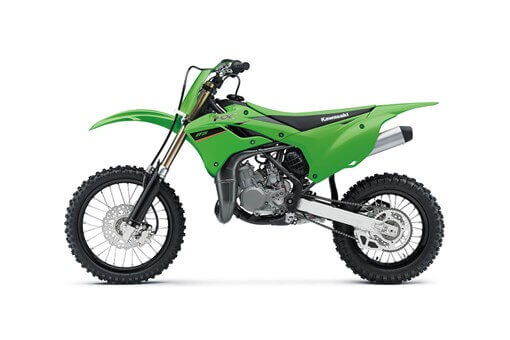 The KX85 is styled after the full-size KX450 and KX250. It features sleek, aggressive bodywork that creates an aggressive look. By utilizing a streamlined design, you'll be able to move and position yourself with ease. The sharp, high-performance design is complemented by factory-style graphics.
The KX85's radiator was designed to match the engine's performance, working in tandem with its power output. Keeping it cool as the racing action heats up.
ADJUSTABLE HANDLEBAR WITH 6-WAY POSITIONS
Riders can adjust the handlebars to suit their riding position using adjustable brackets. They adjust forwards-backwards, and the height can be adjusted in three positions using spacers.
6-SPEED TRANSMISSION
Its six-speed transmission is smooth-shifting. It features new bushings in gears 2, 3 and 4, as well as hard chrome shift forks.
CLUTCH
Effortless operation and easy maintenance come from a pull-type clutch. The clutch cover on the right engine cover makes it easier to service the pump without having to remove it.
LARGE RADIATOR OFFERS EXTRA COOLING
The KX85's radiator was designed to match the engine's performance, working in tandem with its power output. Keeping it cool as the racing action heats up.
KAWASAKI'S SIGNATURE INTEGRATED POWER VALVE SYSTEM
KIPS varies the exhaust port height to increase horsepower and torque. With a breather in the KIPS cover, the exhaust pressure is relieved, allowing for more precise valve action at high rpm. For added durability, KIPS lever stopper springs absorb governor "over stroke". KIPS governors have a long stroke that opens the cylinder valves fully.
KX85 – AVAILABLE IN 2 SIZES
There is a fit for everyone. The KX85-II is equipped with 19″ front wheels and 16″ rear wheels, while the KX85 has 17″ front wheels and 14″ rear wheels. It is possible to fit the KX85-II with small wheels from the KX85.
2022 Kawasaki KX85 Specs
POWERFUL ENGINE (2-STROKE)
Due to its low friction single ring piston and Kawasaki KIPS system, the KX85 and 85cc 2-stroke liquid-cooled engine incorporates many high performances design components, and its cylinder head incorporates a high-performance combustion chamber.
FRONT FORK
Its damping and bottoming resistance are race-proven, enabling a higher-paced ride and increasing rider comfort. It uses the same system as the full-size KX models to increase suspension performance. The larger KX models come with black fork guards for an authentic look.
Dimensions of The KX85
Seat height – 830 mm
Curb weight – 75 kg
Wheelbase – 1,265 mm.
Rear Suspension – Uni-Trak bottom link with 24 compression and 21 rebound settings
Front Suspension – 36 mm inverted telescopic forks with a 20-way compression damper
Fuel capacity – 5 litres.
Ground clearance – 290 mm.
Pros & Cons of the 2022 KLX110R
Price (Where to Buy)
The price of the 2022 Kawasaki KX85 will differ slightly per area code however it has an average ride away price of $6127. Check the price here.
Bottom Line
Amateur riders now have access to the proven performance of the KX85 (big wheel). In addition to its powerful power, the 84cc engine's race-ready technology will provide young racers with an advantage for championship success.
With top features including:
Front Fork
6 – Speed Transmission
Powerful 2-Stroke Engine
Large Radiator for Extra Cooling
KX DNA
Handlebar Can Be Adjusted In 6 Ways
You're sure to be pleased with this Kawasaki bike!
Images sourced from Kawasaki