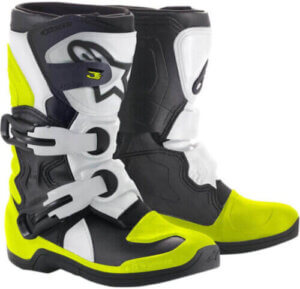 Kids Dirt Bike Boots are a really important part of safety riding gear. Dirt bike boots are quite an expensive protective item, but one I recommend starting out with. 
One of the reasons that I recommend purchasing kids dirt bike boots straight up is that you get used to riding your dirt bike with them from your first rides. Kids who don't use dirt bike boots from the start, often find them difficult to adapt to later when they really MUST have the boots later for safety purposes. 
Dirt bike boots provide necessary foot protection that can save you from breaking bones in your legs and feet if a heavy dirt bike falls on you or if you or you run into something solid. 
Kids Dirt bike boots can cover up to the knee and prevent serious leg damage. I have also seen instances where dirt bike boots have stopped a stick from spearing a rider's shin or foot during a cross-country ride. Normal sports shoes would not have given enough protection to stop this injury.
Top Rated Kids Dirt Bike Boots
Image
Product
Details  
Price
O'Neal Unisex-Child Dirtbike Boots
Colour: Black
Note: Metal toe guard to protect the sole against delaminating
Check Price
Fly Racing 2020 Maverik Boots
Colour: Black
Note: With an all-new look and all-new performance.
Check Price
O'Neal Unisex-Adult Dirtbike Boot
Colour: Black
Note: Optimum balance of flexibility with internal protection for your ankle, front of underfoot and gear shift zone.
Check Price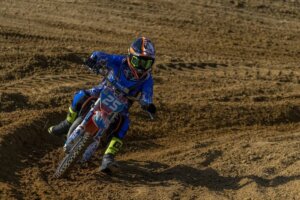 Off-road biking is incredibly exciting but as with any extreme sport, protective gear is essential – especially when the riders are kids. Any junior dirt