The experience of riding a new bike always remains memorable. The exciting yet thrilling experience of sitting and riding a new 2023 Honda CRF110F can take your enjoyment to the next level. Due to this, today, I can't help but feel excited for all the adventures to come. 
The vibrant new colour scheme catches my eye, and the sleek design makes me feel like a professional rider, even though I'm just starting. Let's get into the details of this fantastic bike.
Features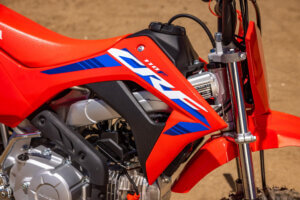 Smooth and Powerful Engine for Easy Riding
The 109cc air-cooled single-cylinder four-stroke engine in the 2023 Honda CRF110F is ideal for beginning riders. By minimising hesitation and delivering linear power, the Keihin electronically controlled fuel-injection system makes it simple for newcomers to become comfortable riding the bike. 
Riders of all skill levels can benefit from the smooth power delivery provided by the four-speed gearbox with a clutch and throttle-limiter screw. Starting the bike is simple because of the electric starter and kick-start backup.
Agile Handling for Any Terrain
Inspired by the CRF MX Line, the twin-spar steel frame of CRF110F gives the right balance of rigidity and comfort. The low seat height of only 658mm and long travel rear suspension make handling bumps a breeze. The bike's lightweight construction and responsive handling makes it perfect for tackling any terrain, whether hitting the trails or cruising around town.
Stylish Design with Functional Features
The redesigned bodywork has a functional and fashionable CRF MX Line style and branding. The starter button "key on" indicator, "low fuel" warning light and fuel-injection system status are all integrated into the handlebar-mounted multiple-function switch. Thanks to the 3.7L steel fuel tank with an integrated fuel pump and low fuel indicator on the handlebar, you won't ever run out of petrol suddenly. Riders of all skill levels will find the 2023 CRF110F an excellent option due to its stylish design and practical features.
Price 
The 2023 Honda CRF110F is an affordable dirt bike perfect for beginners and experienced riders. With a starting price of around $3,948.00, this bike is excellent for those who want to experience the thrill of off-road riding without breaking the bank.
In addition to its affordable price tag, the CRF110F is also fuel-efficient, thanks to its electronically controlled fuel-injection system. This means you'll spend less money on gas and more time riding on the trails.
While the CRF110F may be affordable, it doesn't skimp on quality or performance. Its sturdy frame, reliable engine, and smooth power delivery make it a top choice for those who want a reliable, capable dirt bike at an affordable price.
Overall, the 2023 Honda CRF110F is an excellent value for anyone looking to get into off-road riding without spending a fortune. Its affordable price tag and impressive performance make it a bike that will provide years of thrills and adventure.
Why Should You Buy 2023 Honda CRF110F?
There are many reasons to choose the 2023 Honda CRF110F as your next dirt bike. For one, the bike is designed with new riders in mind, making it perfect for beginners. The adjustable throttle-limiter screw ensures that riders of all levels can enjoy the bike without feeling overwhelmed. At the same time, the smooth power delivery and easy-to-use controls make it easy to get comfortable on the bike quickly.
Another reason to choose the CRF110F is its legendary build quality and reliability. With Honda's reputation for durability, you can trust that the bike will start every time you hit the starter button and keep going until the tank runs dry. And with the new fuel-injection system, you won't have to worry about carburettor jets clogging if the bike sits for an extended period.
Specs 
Engine Type: 109cc, air cooled, 4 stroke, 1-cyl
Gears:  4 speed
Wheel Base (mm): 1065
Seat Height (mm): 665
Ground Clearance (mm): 175
Fuel Tank Capacity (Ltrs): 3.7
Front Brakes: Drum
Rear Brakes: Drum
Dry Weight (kg): 77
Colour (s): Red, Ross White / Teal
Pros
Cons
Powerful 109cc single-cylinder, air-cooled, four-stroke engine
Fuel injection with electronic management from Keihin produces linear power and reduces stuttering
Automated clutch in a four-speed gearbox
Throttle-limiter screw that can be adjusted to the rider's skills
Kick-start backup and a convenient electric starter
A dual-spars steel frame strikes the ideal mix between stiffness and comfort.
Long travel rear suspension with a low seat height of 658mm handles larger bumps with better control and less bottoming.
With CRF MX Line style and graphics, new bodywork
Multi-function handlebar switch located on the handlebars
3.7L steel gasoline tank with handlebar-mounted low-fuel indicator and an integrated fuel pump.
Fuel tank caps with ratchet mechanisms are less likely to come loose while being used.
Half-waffle grips are more comfortable for smaller hands because of their narrower radius.
The bike is designed for riders 7-11 years old, so it may only be suitable for older or taller riders with modifications.
Wrapping Up
If you're a new rider or looking for a bike for your child, the 2023 Honda CRF110F is an excellent choice. Its smooth power delivery, easy-to-use controls, and legendary reliability make it the perfect bike to learn and grow. And with the new colour scheme for 2023, you'll
Images sourced from Honda.