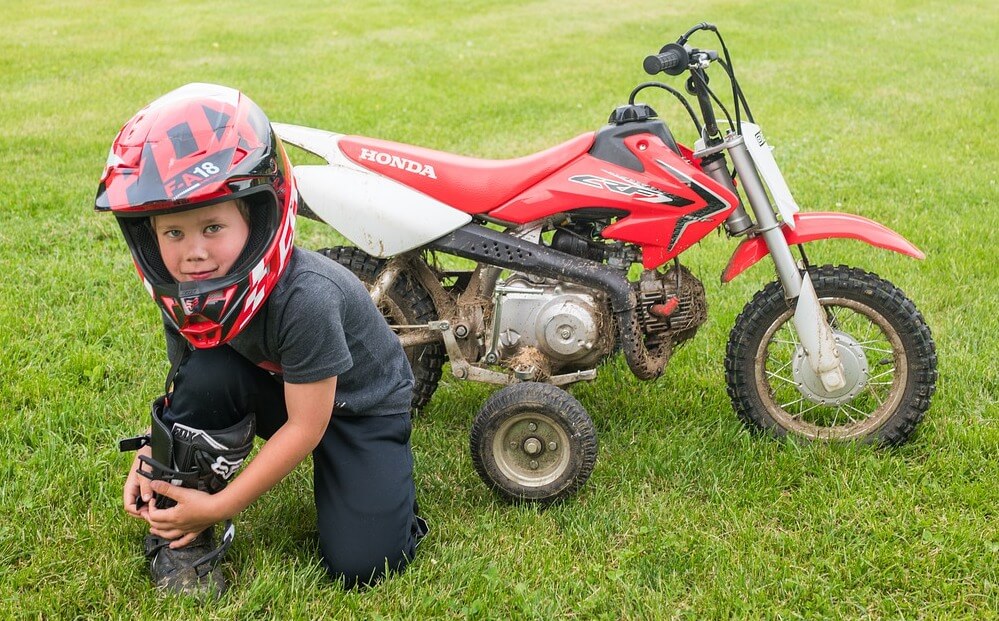 In Australia, there are many different brands and types of kids dirt bikes that can be purchased for children to ride. If you buy one of the reputable brands, then it's likely to be a bit dearer but more reliable and requires less maintenance than some of the cheaper, imported models.
A couple of key things for buying kids bikes to think about are:
Size. Buy a dirt bike that's the right size for the child to handle. If your child is very young and a new dirt bike rider, make sure they can support the motorbike with their feet firmly on the ground. If they are a little bit older or more experienced, it might be a good idea to make sure that the bike has a bit of "growth room" for them. (If it's a very young rider try a 50cc bike.
Reputable brand VS cheaper import. Some of the reputable brands listed below are a bit more expensive than some of the less known cheaper imports. However, the more reputable brands are usually more reliable, giving you extra riding time and less maintenance. If you are not a mechanically minded parent and you're wanting the dirt bike to last well (and if budget is not an issue) then I would recommend purchasing a reputable brand of kids dirt bike.
2 stroke VS 4 stroke. As a general rule for a very young beginner, a 4 stroke motorbike is often a better bike to learn on. 2 stroke bikes are more often used as racing or competition bikes than 4 strokes. 4 strokes are heavier than 2 strokes. If it's important that the bike is light, then you'll want to choose a 2 stroke. 4 strokes are more fuel-efficient and quieter than 2 strokes. 2 stroke engines are more powerful and usually cheaper to repair, but tend to wear out faster than 4 stroke engines. 2 strokes also require premixing of oil and fuel, whereas a 4 stroke does not.
Kids Dirt Bike Comparison Table
Dirt Bike Image
Dirt Bike Name
Age (Yr Old)
Best Overall Dirt Bike (3-6) yrs.
Yamaha Peewee 50
3-6
Honda CRF50F
3-6
Yamaha TT-R50E
3-6
Best Overall Dirt Bike For (7-10) yrs.
Yamaha YZ65
7-10
Suzuki DR-Z50
7-10
Suzuki JR80
7-10
Best Overall Kid Dirt Bike For (11-14)
Kawasaki KLX110L
11-14
Yamaha YZ85
11-14
Kawasaki KLX110
11-14
Yamaha TT-R11OE
11-14
Honda CRF110f
11-14
Best Overall Dirt Bike For Age Group
| Dirt Bike Image | Dirt Bike Name | Dirt Bike Age Group |
| --- | --- | --- |
| | Yamaha Peewee 50 | 3-6) year olds |
| | Yamaha YZ65 | 7-10 year olds |
| | Kawasaki KLX110L | 11-14 year olds |