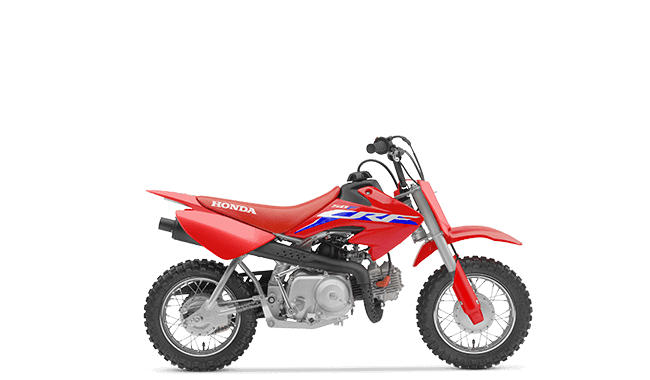 2022 Honda CRF50F comes in a compact size to offer young riders a combination of reliable features. The best parts of this bike are the automatic clutch and adjustable throttle limiter that deliver smooth rides. Interestingly, this bike features a steel frame that is also seen in bigger models. This is why it is best for young riders interested in off-road riding or on bumpy roads.
On top of that, the 2022 Honda CRF50F comes with a removable key ignition to tame young riders. So the young riders cannot go riding without permission or supervision from an adult. Let us cross-examine what this exciting machine has to offer.
Our 2021 Honda CRF50F guide can be accessed here.
2022 Honda CRF 50F Specifications
Four-stroke engine: single-cylinder, air-cooled
Displacement: 49cc
Transmission: Three-speed with an automatic clutch
General dimensions: L*W*H= 130.2 cm × 58.1 cm × 77.4 cm
Bore and stroke: 3.9 cm × 4.14 cm
Starter/ ignition: Capacitor Discharge (CD)/ kick
Carburation: 1.1 cm Piston-Valve Carburetor
Rear brakes: 8.0 cm trailing drum
Front brakes: 8.0 cm trailing drum
Rear tire: 2.50-10
Front tire: 2.50-10
Rear suspension: 2.8-in single-shock with cantilever-type swingarm; 7.0cm axle travel
Front suspension: 3.5-in inverted telescopic fork, 8.7 cm axle travel
Compression ratio: 10.0:1
Final drive: 420 chain; 14T/37T
Seat height: 54.9 cm
Wheelbase: 91.4 cm
Trail: 3.2 cm
Frame type: Mono-backbone; steel tube
Caster angle (rake): 25.0°
Curb weight: 49.9 kg (including all standard equipment, full tank of fuel, and other fluids)
Fuel capacity: 2.6 litres including 0.8 litres, of reserve
Maximum ground clearance: 14.6 cm
Warranty: six months transferable, limited; extended coverage with HondaCare protection plan available
Colour: red (bodywork)
2022 CRF50F Features
The 2022 Honda CRF50F is among the smallest bikes offered by Honda for young riders. However, it is a high-performance bike like the big models with 150cc. It features the same technology as the one used in bikes of the same series; it has a steel frame similar to bigger models.
Has slimmer, raised, and flat seats that allow the rider to move freely while riding. The tank is equally small with a relatively small capacity to prevent the bike from being too heavy.
It features a low-maintenance and durable 50cc engine. The engine is one of the things that you can count on Honda. The four-stroke engine featured in this bike is reliable even on rough road surfaces. There are no more hassles and frustrations.
The 2022 Honda CRF50F features enclosed front and rear drum brakes for efficient, smooth, and predictable braking. Even at high speed, the bike comes to a complete stop within a short distance.
The bike has an adjustable throttle limiter that helps regulate the bike's speed. Younger riders may be curious and willing to drive at high speeds, which is dangerous. The speed can also be increased depending on the level of learning. An adult who is supervising the new riders is in charge of adjusting the speed limit.
It has an automatic clutch, so the new and young riders do not have to worry about stalling. This is why the bike is excellent at mastering shifting. It is a perfect bike for those interested in learning.
The bike comes with a thick seat to improve the rider's comfort, especially when riding off-road. With a flat seat and narrow tank, the bike is more comfortable.
It has a quiet and compact exhaust routed backward and away from the rider. This enhances a comfier ride.
It features a rugged steel frame similar to that found in bigger models of Honda. New riders are usually rough and get hard on equipment as they learn. It is even worse when they are starting. With the strong steel frame fitted in 2022, Honda CRF50F can handle the dings off-the-road and bumpy roads.
The 3.5-in travel inverted telescopic fork front suspension helps in the bike's responsive handling after bumps or on rugged surfaces.
The bike comes with keyed ignition; with a removable key, new riders, especially the young ones, cannot go riding without supervision from an adult. This will prevent unnecessary accidents from learners.
Features a Capacitor Discharge ignition; it is quicker to start the bike than most people think. Because of the removable key ignition, people think it is a long process to start the bike.
The 2022 Honda CRF50F has strong bodywork to withstand all harsh conditions. Learning a bike can be challenging when starting. Also, it has a plastic tank, fenders, and other parts designed to shrug off scrapes and dings. The styling of the bike is inspired by bigger models making it look like a champ as well.
It features large folding footpegs that are on another level. The footpegs are attached with rubber to provide excellent footing and enhanced grip.
Protective gear for the 2022 Honda CRF50F includes goggles (eyewear), jackets, gloves, full-face or open-face helmets, and shoes or boots.
The 2022 Honda CRF50F accessories include waterproof, scratch-resistant, and sticker-like graphics for super looks.
Pros and cons of the CRF50F
Images sourced from Honda.