If your child is riding dirt bikes, they are going to need some protective gear. 
In my opinion at a bare minimum (even for casual, low key riding) your child will need a good motorcycle helmet, a good jacket (or body armour) and dirt bike gloves. If they are riding on bush tracks I would also recommend dirt bike goggles and dirt bike boots as part of their dirt bike gear.  Although boots are quite expensive they are well worth it for the protection factor and the earlier your child gets used to riding with them the better.
There is quite a range of motocross safety gear available, and depending on your budget and safety requirements, you may wish to purchase some of the other items upfront – or add them to your child's kit over time.  We've listed much of the available gear below – along with some of the fun stuff that makes the kit look pretty cool.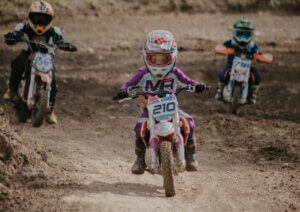 If you have a toddler, you probably already know how important it is to outfit your young child with the age-appropriate safety gear recommended by
Read More »