Off-road biking is incredibly exciting but as with any extreme sport, protective gear is essential – especially when the riders are kids. Any junior dirt bike rider must be protected from their head to toe before hitting the dirt bike tracks.
Parents must choose an appropriate helmet, goggles, chest protector, elbow pads, knee pads, gloves, and of course kids dirt bike boots.
For the sake of safety, refrain from skimping — hard-toed boots are NOT a replacement for proper biking boots even if they look tough! High-quality riding gear doesn't have to be cheap, but it also doesn't have to be too expensive.
What are Ideal Dirt Bike Boots?
Before we dive into the best dirt bike boots for kids on Amazon, it's important to understand first how a good pair of dirt bike boots does its job and why alternatives won't cut it. 
Dirt bike boots are designed to protect not only the feet but the ankles as well. The structure of the boot should protect the ankle when it gets pinned between the foot peg and the ground if the bike falls sideways. 
Another function of this protective gear is to prevent the calves from getting burned should they come into contact with the engine's heated parts. So when choosing motorbike boots for a child, make sure that they rise up and cover the calves.
Best Kids Dirt Bike Boots on Amazon
O'Neal Unisex-Child Dirtbike Boots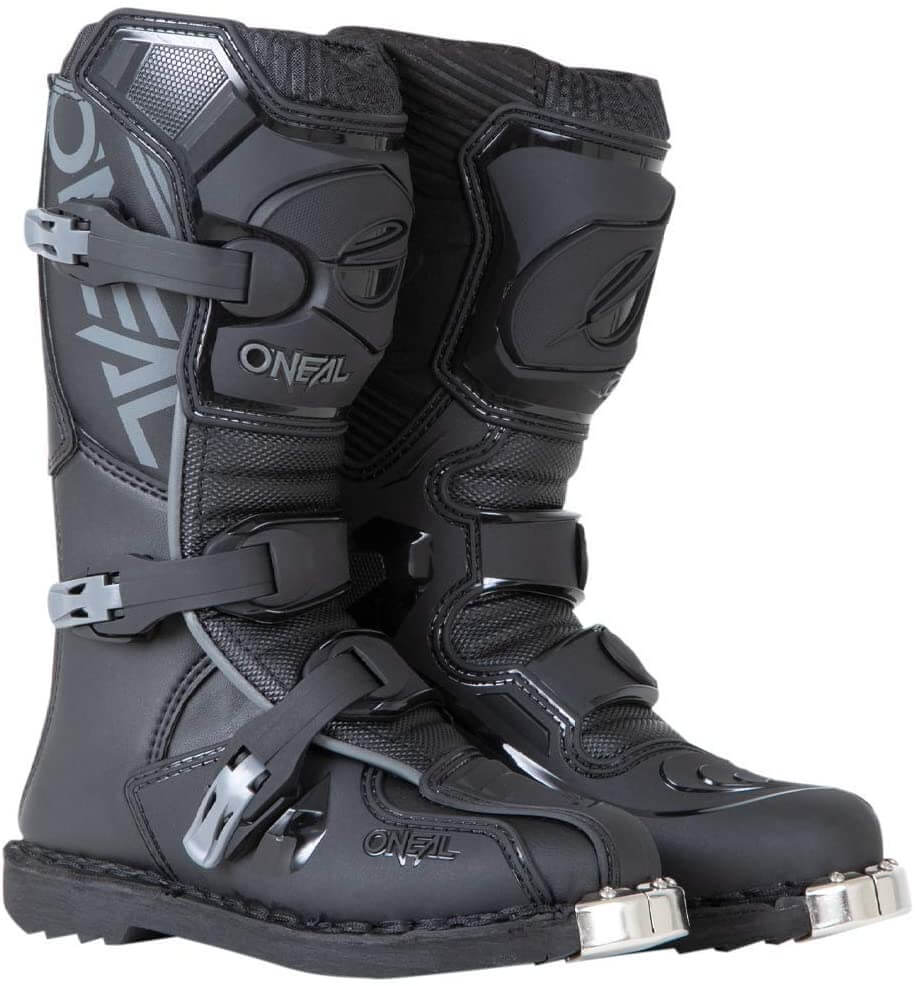 From renowned brand, O'Neal, these dirt bike boots for girls and boys are a solid choice. They are sturdy, comfortable, and easy to put on — thanks to their snap-lock buckles. 
Designed with a metal shank insert, these boots will keep their shape for many uses and offer extra support. On the front, they have a metal toe guard that doesn't just protect the foot, but also keeps the most vulnerable part of the sole from peeling. The entire boot is sheathed in a synthetic leather heat shield to help it tolerate high temperatures. Inside, these O'Neal unisex boots have cushioned insoles, heel support, and air mesh for breathability. 
The general consensus for these boots is that they are a great investment at a reasonable price. Just be extra careful when choosing the size because this design seems to run small for most people. Bonus points that even adults with small-sized feet find these boots suitable for their own biking adventures.
Alpinestars Youth Tech 3S Kids Boots
If you have a bit more in your budget, the Alpinestars Youth Tech 3S are worth looking at. Described on their website as high-performance gear, these boots are constructed with a light microfibre upper which gives nice flexibility. At the bottom, the outsoles wrap around the boots making them less vulnerable to delaminating or peeling off. The exterior is also abrasion-resistant which is a nice feature that will keep these great boots as impressive-looking as when you first get them. 
Inside, you'll find a replaceable EVA footbed that does more than offer comfort — because it is replaceable, kids can wear these boots even as their feet grow a size bigger. How's that for value?
For protection, PU heel and toe reinforcements, as well as ankle support, are moulded into the shoe itself. The shin plate is made with TPU and is designed with a generous flap that allows for a better-fit adjustment.
There are more design features to these boots that avid riders may find cool or simply useful. One thing is for sure, they are worth the price tag! After making the necessary adjustments and breaking in period, these boots will feel snug, secure, and comfortable.
O'Neal Boys New Logo Rider Boot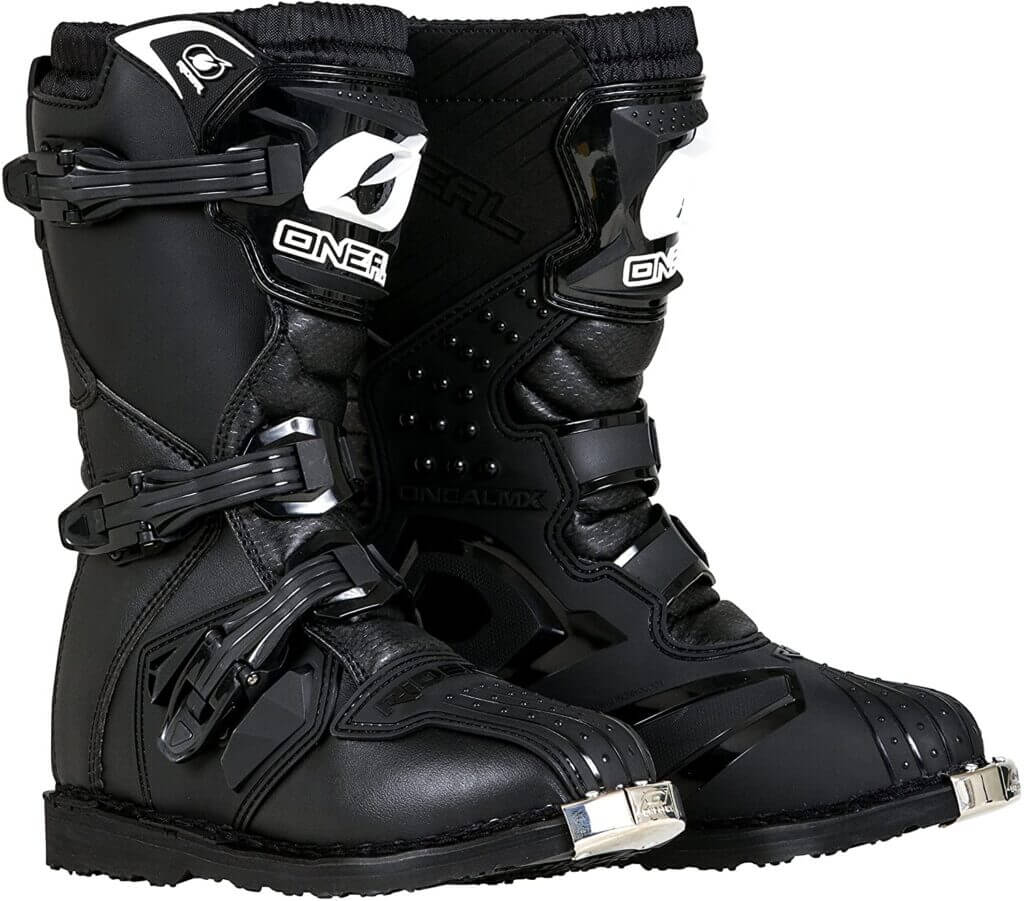 Another hit from O'Neal, these boys dirt bike boots have a familiar structure: snap-lock buckles, a metal shank insert for support, a metal toe guard on the front, and a synthetic leather heat shield. Inside is a cushioned insole, air mesh, and heel support. 
So what sets this apart from the O'Neal Unisex? The design.
These particular O'Neal dirt bike rider boots for kids have an exact iteration for adults. Perfect for when you want to twin with the junior rider in your life.
Like the unisex version, these boots have positive reviews for durability and comfort.
Alpinestars Tech 7S Prodigy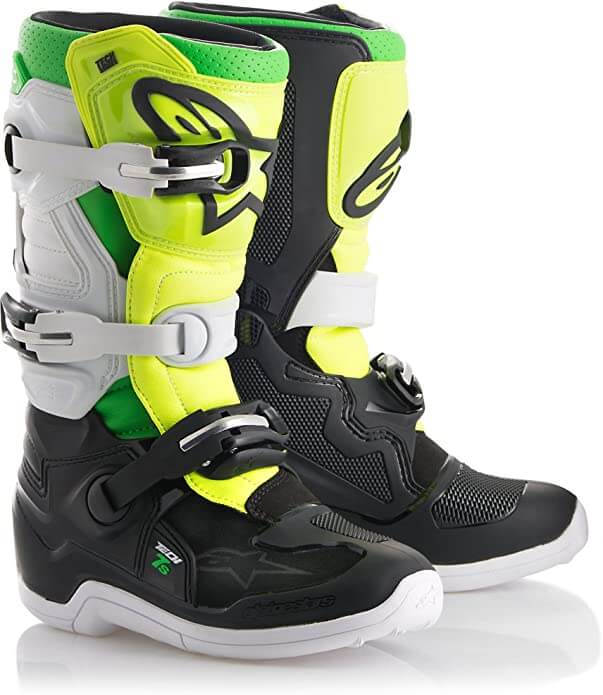 These limited-edition rider boots from Alpinestars are a beauty with their trademark neons. They are a step up from Youth 3S. In the 7S Prodigy, the microfibre upper is reinforced with PU, making it water-resistant in addition to being abrasion-resistant and flexible. This upgraded structure which includes fibreglass buckles is optimised to save weight, making these boots great for racers.
For comfort and protection, the 7S Prodigy is fitted with a soft polyfoam reinforcement at the ankles and collars to absorb shock. The interior of the Alpinestars boots is carefully engineered to make sure that the feet are well-supported yet free to flex.
It has an anatomical footbed that can be adjusted to support even weight distribution. If you think all these features make these boots stuffy, don't worry – the textile mesh with open-cell foam makes for a breathable experience.
Tips for Finding the Best Dirt Bike Boots for Kids
Before you go and click Add To Cart, here are a few more pointers to help you find the best fit for your junior rider:
Measure the child's foot. One of the things we noticed when shopping around for kids' dirt bike boots is how different the size systems are. So it's best to measure your child's foot while wearing socks before referring to the brand's sizing guide. Or…
Jump up a size. No time to measure? Then size up. This is always safer than sizing down. Besides you have to account for the socks. 
Wear-in period. After choosing a pair, don't expect the boots to feel great right away. Almost all biking boots need to be worn in. Give them a couple of wears before deciding if these are indeed the best pair for you.