5 Best Dirt Bikes for 7-10 year olds – 80-110cc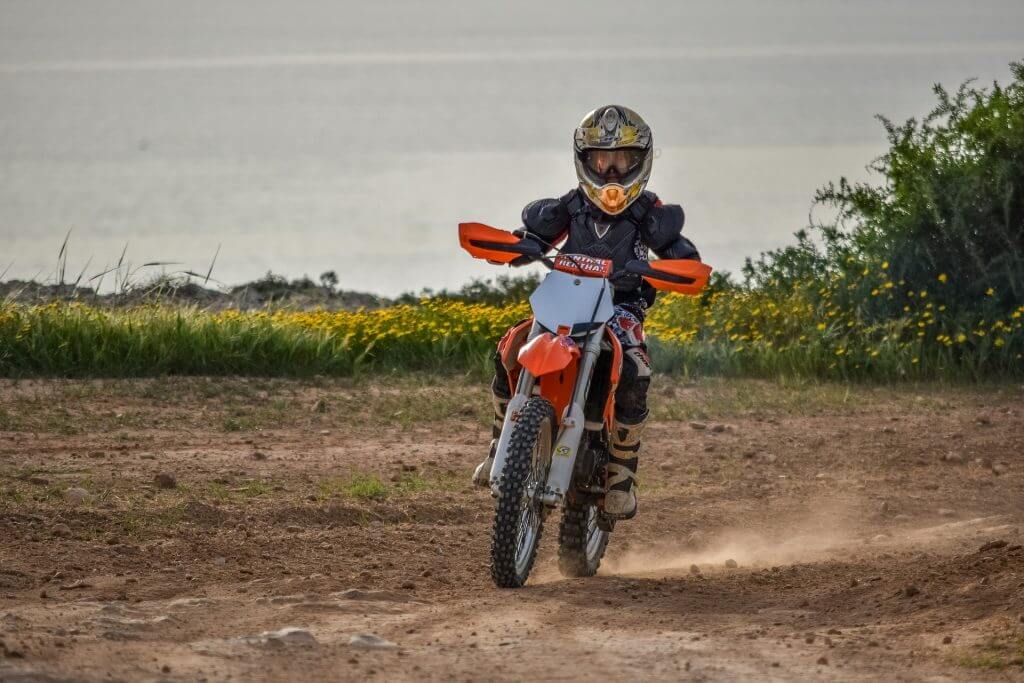 Bikes for 7 year olds, 8 year olds, 9 year olds and 10 year olds are recommended from 80cc up to 110cc
To navigate between bike models please click on the name of the bike you wish to view just below this text. If you have any issues please contact us.
Suzuki JR80
Yamaha YZ65
Yamaha YZ85
Suzuki JR80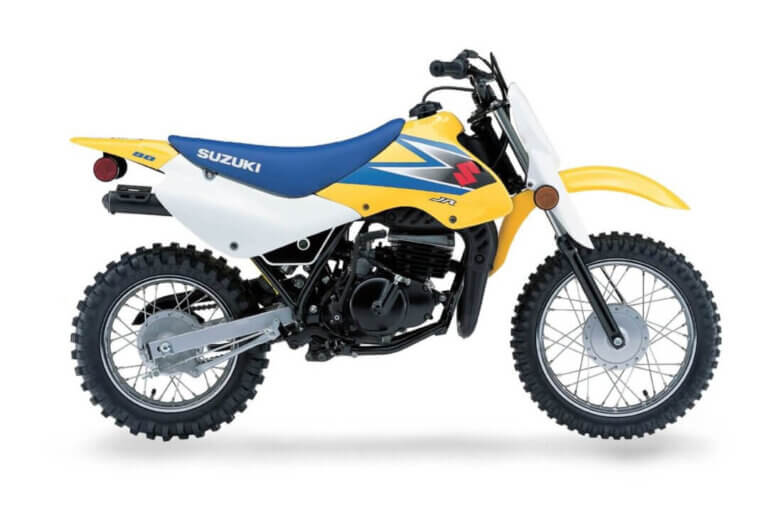 The Suzuki JR80 is a powerful and fast little dirt bike that gives a smooth ride. It is easy to maintain and makes a good progression for those who have started out young on a 50cc motorbike.
| Pros | Cons |
| --- | --- |
|  Very Trendy Design |  Engine is noisy sometimes |
|  Affordable | Low engine power on some models |
|  Good quality to price ratio  |   |
Yamaha YZ65
Yamaha YZ85
Best Dirt Bikes for 10-Year-Old Kids
Dirt bikes are not only for adults but kids 10 (and under 10) can also enjoy the thrill of the ride. As parents, you should choose a dirt bike that will best suit your child. You should look at all the factors and choose the one that is the correct power and weight for safety reasons. 
This post will help you to get the best dirt bike for your 10-year-old kid. Before looking at different brands you should first determine some important factors for the safety of your kids. 
Before Buying a Kids Dirt Bike
Dirt Bike Seat height
One of the most important things to ensure is the dirt bike's seat height because if a child cannot touch the ground easily then it highly affects his confidence and he may lose control over the bike. 
66cm to 78cm (26 to 31 inches) is the ideal height of a dirt bike seat for ten-year-old children. 
Dirt Bike Engine Size
A 7-10-year-old child can only handle a bike that is lightweight and less powerful. So when choosing the dirt bike, choose a bike that can be handled easily. 50cc is the smallest engine size that is ideal for kids. The engine size of a dirt bike must be less powerful so that your child can easily handle it.
Dirt bikes can be two-stroke or four-stroke engine types. Generally, four-stroke engine bikes are ideal for beginners instead of two-stroke bikes. Four-stroke bikes provide a smooth acceleration that reduces the frequency of scary stop-starts that children usually face during the ride. 
Automatic Dirt bikes
Another important decision while choosing a dirt bike is whether it will have a clutch or be automatic.
If this is your child's first dirt bike experience, then it's best to choose an automatic dirt bike instead of a bike that has a clutch. A novice rider can handle the automatic bike without having to change gears. When your child gets older then you can move towards the manual clutch. 
Dirt Bike Wheel size
Wheel size is also an important factor to consider before buying the best dirt bike for your kid. Small-capacity bikes can come with either small or big wheels. 
Both have their own advantages and disadvantages. Smaller wheels are usually lightweight and they allow kids to make turns easily. On the other side, big wheels are generally heavier but they provide stability. Big wheels also allow a comfortable and smooth ride because they soak up small bumps easily.  
If your child is new to bike riding, then you should choose a small wheel as they are lightweight so your child can handle it easily.   
Top-rated Dirt Bike Brands in Australia:
Here's a list of top-selling dirt bike brands in Australia:
Yamaha
Yamaha is Australia's favourite brand which is ranked as the best producer of trail-riding dirt bikes. Although they are bigger bikes, the YZ250F and Yamaha YZ125F are strongly sold in Australia. 
Honda
Honda is the No.2 largest-selling brand in Australia and has been manufacturing dirt bikes since 1959.   
KTM
KTM is the third-highest seller in Australia. Known for their kids' and teen dirt bikes, KTM is a reliable choice. 
Kawasaki
Kawasaki is also a wide-range manufacturing company that is very famous in Australia and produces high-performing dirt bikes.
OSET
OSET produces quality-based electric dirt bikes in an affordable range. This manufacturing company is also one of the more popular electric dirt bike brands. 
Best Dirt Bikes for 10-Year-Old Kids
The kids of this age may not be responsible enough to have a heightened sense of ownership; they will probably not be able to handle gear shifting and clutch control easily. Here's a list that will provide the best options for your kids:
Honda CRF110F:
It is the overall best dirt bike for 10-year-old children. Honda CRF110F is a lightweight dirt bike with a weight of 74kg (163 pounds). It is lighter than Yamaha and Kawasaki alternatives. The seat height is 67.3cm (26.5 inches) which is very comfortable for a 10-year-old child. 
This bike has both a kick starter and an electric starter which makes it suitable for beginners. It is a powerful bike that can climb over rocks, steep hills, and trees. 
It is well built, reliable, and a low-price dirt bike that gives good quality for a comparatively small outlay.
Yamaha TT-R110E:
This is an ideal bike for kids aged 7-10. Yamaha TT-R110E is an affordable option that offers a suitable 110cc 4-stroke engine. The seat's height is 62.5cm (24.6 inches) and its weight is 72 kg (159 pounds), making it easy for kids to handle and enjoy their ride. 
Suzuki DR-Z50:
Suzuki DR-Z50 is one of the favourites among kids. It has a 49cc engine that is lightweight and ideal for beginners. It has 25cm (10-inch) wheels and a seat height of 560mm. it offers an automatic clutch with a 4-stroke engine. 
KTM 50 SX:
KTM 50 SX is another good option for kids around 10 years old. The seat height is 68.3cm (26.9 inches) which is easily accessible for kids. It has a two-stroke 49cc single-cylinder engine. It also offers an automatic clutch that is best for beginners who are learning to ride. 
Yamaha YZ85:
Yamaha YZ85 is a great bike for children aged between 9 and 13 years. It has a two-stroke engine and its weight is 73kg (161 pounds). Yamaha YZ85 has a 43cm (17-inch) front wheel and a 35cm (14-inch) back wheel. 
Kawasaki KLX 110:
Kawasaki KLX 110 is another good ride for 10-year-olds that offers an automatic clutch with a seat height of 68cm (26.8 inches) which makes it easy for kids to use. Its weight is 76kg (168 pounds). It is an excellent option for beginner riders. 
Suzuki RM85:
Suzuki RM85 is a great bike with a reliable two-stroke engine. This bike has low and mid-range racing accessories to increase the top-end power. It has six-speed transmission which makes it more suitable for kids who are already masters of shifting. It offers an 85cc single-cylinder engine and would only be suitable for 10-year-olds with a bit of previous experience.
Yamaha TT-R50E:
TT-R50E is the smallest Yamaha dirt bike which has a four-stroke engine. This bike can go 50km/h (32 miles per hour). It is a three-speed automatic dirt bike that has a 59cc engine size. Yamaha TT-R50E's front and back tires are 48cm (19 inches) and the bike is equipped with drum brakes. 
Yamaha PW50:
Yamaha PW50 is an outstanding choice for young beginners with a seat height of 47.5cm (18.7 inches). It offers an air-cooled 49cc displacement and two-stroke engine with 25.4cm (10-inch) front and back tires. It is a lightweight dirt bike as compared to many others, with a weight of 40.8kg (90 pounds) only. 
Final words:
All the dirt bikes mentioned above are great in their own ways. But aside from the bike itself, you should look first to the safety of your kids. You should take special care to purchase a bike that has all the necessary safety features. Make sure to have dirt bike protective gear that the child can wear while riding the bike. 
You should also consider the experience (or lack of it!) of your child and their level of responsibility and common sense.