5 Best Dirt bikes for 11-14 year olds
Bikes for 11 year olds, 12 year olds, 13 year olds and 14 year olds are recommended from 80cc up to 110cc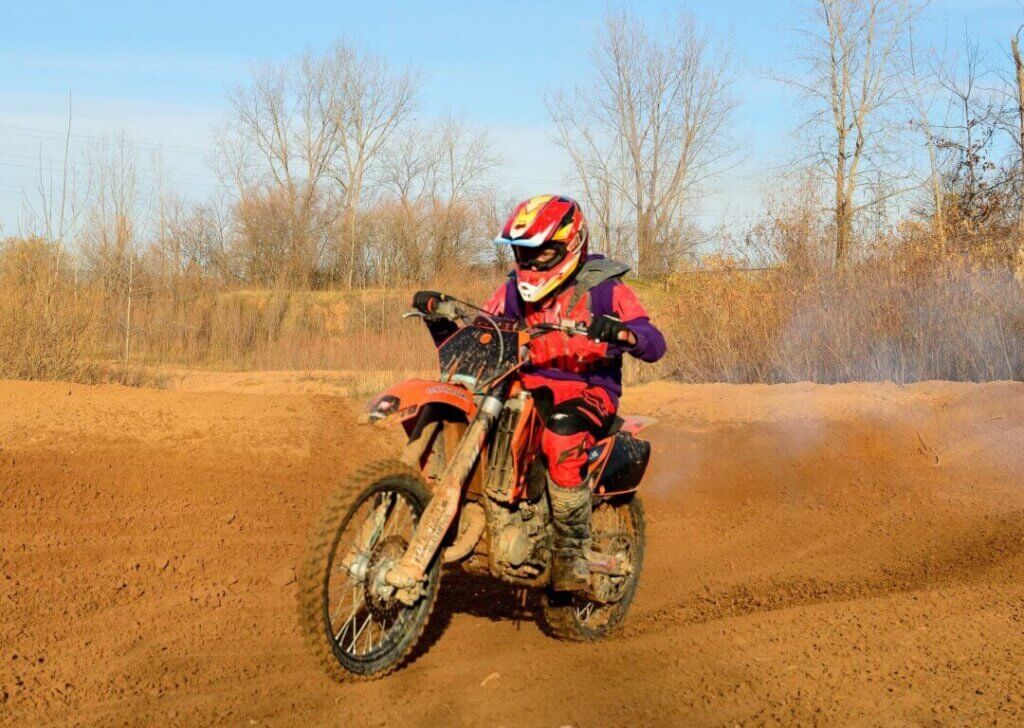 Whether it be for a beginner or an advanced rider, choosing the best dirt bikes for 11-14 year olds will depend on the skill level and type of riding at hand. 
Motocross bikes will have stiffer suspension and torquier engines while trail bikes have softer suspension and engines with a wider, more usable powerband.
The first step to take when considering a dirt bike will be the size. When sitting on a dirt bike, you should be standing on your tippy toes on each side – this will ensure you have enough leg room. 
After this, you'll want to consider what size engine will suit you best – 85cc two-stroke, 100cc four-stroke, 125cc two-stroke, and 150cc four-stroke dirt bikes are all good options, however, two-stroke dirt bikes are typically motocross oriented.
Understanding Age-Specific Requirements
From ages 11 to 14, the majority of children will see a drastic amount of change in the form of height and weight. For example, the average height for an 11-year-old male is 143.5 cm or 56.4 inches, while the average height for a 14-year-old male is 164 cm or 64.6 inches.
At this age, cognitive abilities and decision-making will be developed enough for the use of a clutch and shifter, which opens up a ton of possibilities for different types of dirt bikes. 85cc, 100cc, 125cc, and 150cc dirt bikes will all feature a clutch (apart from a few exceptions).
Key Features to Look for in Dirt Bikes
There are a few important features with dirt bikes for 11-14 year olds that should be prioritized such as:
Size and weight

– Trail bikes tend to be heavier when compared to a motocross bike with the same size engine.




Motocross bikes are usually taller, lighter, and more powerful when compared to trail bikes of the same engine size.

Engine power and speed

– Just because two dirt bikes have the same displacement, or CCs, does not mean they have the same amount of power and speed. For example, a 125cc four-stroke dirt bike is significantly less powerful than a two-stroke 125cc motocross bike.




This is why (in motocross) a 250cc two-stroke must be raced in the 450cc class.

Safety features

– While a trail bike is somewhat safer than a motocross bike due to the more timid powerband, a dirt bike is still a dirt bike.




Some beginner dirt bikes do implement safety features, such as a throttle governor which allows you to adjust how much throttle can be applied.
Brand
Honda
KTM
Kawasaki
Yamaha
Notable Models

CRF110F

CRF100F

CRF125F

CRF150R

TT-R110

TT-R125

YZ85

YZ125

Pros and Cons

Pros:

Reliable

Cheap

Some models are equipped with electric start

Cons:

F models lack power when stock

Pros:

One of the highest quality dirt bike brands

Race ready

Aggressive styling

Cons:

More expensive than other brands

Only offers motocross models at this age level

Pros:

Cons:

Not much variety between models

KLX140R is somewhat heavy

Pros:

Reliable

Cheap

Electric start on trail models

Decent amount of variety

Cons:

Trail models are somewhat heavy
Best Dirt Bikes For 11-14 Year Olds Reviews
Yamaha YZ85

– This dirt bike is great for kids aged 9 to 14 who already have experience on a dirt bike. This is a motocross bike that is capable of winning races at the amateur level without any modifications.

Read our full review here

.

 

Kawasaki KLX110R

– With a seat height of 680 MM, this dirt bike is perfect for shorter riders. The electric start ensures you'll spend more time riding instead of kicking the starter.

Read our full review here

.

 

Husqvarna TC85

– Husqvarna, or Husky, is a brand that

KTM acquired in 2013

. This means that you can expect the same high-tech components and top-tier build quality featured on KTMs. The TC85 comes in a big and small-wheel version, giving riders of most sizes the ability to fit well on the bike.

Read our full review of the TC85 here

.
When looking for dirt bikes for 11-14 year olds on a budget, there are a few secrets we'll share to ensure you get the best bang for your buck. 
First off – it's important to know that motocross bikes will almost always have a higher price tag and typically require more maintenance in the long run which brings the cost of ownership up. 
Trail bikes are more durable and therefore hold their value better than their motocross variants. For someone who doesn't need a brand new bike, used options can be had from third-party sources such as Facebook Marketplace and Cycletrader.com. 
If you're already in the racing scene, it's also good practice to reach out to some fellow riders who may be looking to get rid of their current ride. 
Most racers, me included, prefer to see their beloved dirt bike go to someone with the same interests, even if that means shaving a few bucks off the price tag!
While dirt bikes are plenty of fun, they can be very dangerous. By suiting up in a set of gear that is designed for riding, you'll be minimizing the risk of getting hurt in the unfortunate event that you or your child have a bad crash. 
Be sure to check out our full list of recommended kids dirt bike gear before throwing a leg over the bike.
Choosing the Right Riding Environment
If you weren't aware, every dirt bike is produced with a certain type of riding in mind. "Trail bikes", or dirt bikes like the CRF100F, TT-R110, KLX140R, and more all fall into this category. 
These dirt bikes are best suited for bush riding or open areas with minimal obstacles. They are capable of making it around a motocross track but are not ideal for jumping or hitting deep berms.
Motocross bikes, on the other hand, are perfectly tailored for jumping doubles and tabletops or railing deep berms. They may, however, become harder to ride when navigating through tight trails or low-speed rides. 
By taking all of this into consideration, you should already have a good idea of which options are the best dirt bikes for 11-14 year olds.
Visit our Australian tracks directory for places to ride.