5 Best Dirt Bikes for 3-6 year olds – 50-85cc
Bikes for 3 year olds, 4 year olds, 5 year olds and 6 year olds are recommended from 50cc up to 85cc
If you have a little one who is interested in becoming the next Jett Lawrence, you're probably wondering what the best dirt bikes for 3-6 year olds might be. Purchasing a motorbike that is too tall or powerful can likely scare a young child, making them hesitant to throw a leg over the bike.
Apart from seat height and engine size, there are many other things to consider when choosing the perfect dirt bike for your boy or girl. 
By the end of the article, we'll provide you with all of the knowledge necessary to decide which dirt bikes will best suit your child, regardless of their size, weight, and skill level.
Understanding Age-Appropriate Features
A go-to for many parents who are purchasing their child's first dirt bike are 50cc dirt bikes. There are various models to choose from, such as a Yamaha PW50 which is designed for smaller, lighter riders, or a KTM 50 SX which is more suited for a taller child that already has experience with dirt bikes.
Most of the 50cc dirtbikes that are meant for new riders will also implement ways to limit the speed such as a throttle governor – this works by allowing you to adjust how much the throttle can be twisted back, in turn limiting the speed and RPMs that the dirt bike is able to achieve.
Top Brands In The Market
 

KTM

– the 50 SX Mini and the 50 SX are some of the most popular 50cc dirt bikes in motocross. Both of these bikes are highly competitive two-stroke dirt bikes that are built to excel in rough riding and racing conditions.

Honda

– Honda offers various dirt bikes that are designed with beginners in mind. The CRF50F makes for a great learner bike for smaller riders, while the CRF110F is a great dirt bike for 5 year old or 6-year-olds that might be a bit too big for a 50cc dirt bike.

Stacyc

– This brand is one of the most popular options for children who want to ride but may not be prepared to hop on a petrol-powered dirt bike. Stacyc produces multiple versions of its electric balance bike for children aged three to 12 years old.

Yamaha

– Yamaha is one of the largest dirt bike brands. They produce the popular PW50 which is a bestseller among the children's motorcycling community.

OSET

– This brand is an electric trail bike manufacturer that focuses on electric bikes for children. 
Key Features To Look For In A Dirt Bike
The features to consider in a kid's dirt bike will vary according to the type of riding your child will be doing and whether they are just riding for fun, or planning to race. Many of the same stand-out aspects of adult-sized dirt bikes will carry over to their mini-sized counterparts, but as a general rule of thumb, these are some things to keep an eye out for:
Upgradeability

– As your child grows in size and skill, you'll want to upgrade or modify the dirt bike so that they can continue to improve. By ensuring that there is enough aftermarket support on the dirt bike, you'll be able to do just that.

Replacement part availability

– It is almost inevitable that at some point in a dirt bike's life span, you'll have to fix or replace a part. If you choose to cut corners and purchase an off-brand dirt bike for your child, there is a high possibility that you may not be able to find replacement parts when that time comes.

Noise and emissions

– Electric dirt bikes are becoming more prevalent and allow for riding in areas that may not have previously been possible due to the noise and exhaust gases emitted from petrol-powered bikes. 
Best Dirt Bike for 3-6 Year Olds - Reviews
To navigate between bike models, click on the name of the bike you wish to view below.
Best Dirt Bikes for 3-4 Year Olds
Yamaha PW50
Honda CRF50F
Suzuki DR-Z50
KTM 50 SX Mini
Yamaha PW50
The Yamaha PW50 is an automatic two-stroke dirt bike with a fairly timid powerband that makes for an optimal dirt bike for beginner-level riders. 
Honda CRF50F
Suzuki DR-Z50
KTM 50 SX Mini
Best Dirt Bikes for 4-5 Year Olds
Yamaha TT-R50E
Yamaha YZ65
KTM 50 SX
Yamaha TT-R50E
The Yamaha TT-R50E is the "bigger brother" of the TT-R50 and PW50. 
Yamaha YZ65
KTM 50 SX
Best Dirt Bikes for 5-6 Year Olds
Suzuki JR80
Honda CRF110F
Suzuki JR80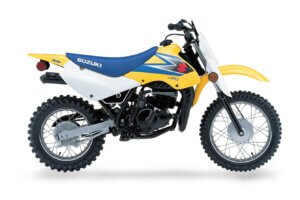 The Suzuki JR80 is Suzuki's take on the 80cc dirt bike market. This bike steps into the 5-6-year-old range perfectly and offers great reliability. 
Honda CRF110F
Choosing Between Electric and Petrol-Powered Bikes
Electric dirt bikes have seen a significant rise in popularity over the recent years, with most manufacturers producing entry-level e-bikes for children as well as full-blown motocross variants that are comparable to 50cc motocross bikes.
Petrol-powered and electric dirt bikes will each have benefits over the other, however, there are some base factors that you should first consider. Are there noise restrictions where you live? Does your local riding organisation have an electric class? Will your child be riding for short periods of time or all day? 
Electric dirt bikes are mostly silent and emit no emissions but will have a limited battery life before needing to be recharged. Petrol-powered bikes will typically be more powerful and can be ridden all day, but are also noisy and produce smelly exhaust gases.
My Experience
I originally hopped on a dirt bike around the age of three. My first dirt bike was a Honda XR50 (an older version of a CRF50F). It was the perfect size and had just the right amount of power, which allowed me to quickly progress in skill until I moved up to a KTM 50 SX. 
The 50 SX was a big step up but allowed me to be competitive with the other kids on the track and swiftly prepared me for the bigger and faster 65cc class.
Conclusion
Riding dirt bikes is a great opportunity to spend some valuable time with your children. It will give them courage and provide great exercise, while also improving skills like hand-eye coordination and quick decision-making. 
Some of my best memories as a child were made at the track – spending quality time with my family and making great friends that last a lifetime.
It's easy to get overwhelmed when choosing a dirt bike, especially when you're not shopping for yourself. Understanding all of the factors that make the best dirt bikes for 3-6 year olds will ensure that he or she will not only have fun and stay safe but also be able to take their riding skills to the next level.
As well as investing in a high-quality dirt bike for your young ones, I suggest that you invest in some good riding gear to keep your little one safe. I would never send a young child out on a dirt bike without at least a helmet, chest plate and boots to keep them safe.