The 2023 Suzuki RM85L is a versatile off-road motorcycle that caters to riders of all skill levels thanks to its lightweight design, 85cc liquid-cooled engine, and fully adjustable suspension. 
This powerful yet manageable engine delivers thrilling performance, while the adjustable suspension ensures riders experience comfort and control in various off-road conditions. Large wheels enhance the bike's stability, making it suitable for both novices and experienced riders.
Built for durability and easy maintenance, the 2023 Suzuki RM85L is an ideal choice for beginners without extensive mechanical knowledge. The adjustable suspension and manageable power also contribute to the bike's reputation for reliability, making it a popular option in the off-road motorcycle market. 
The Suzuki RM85L's ability to adapt to different riding styles and preferences ensures that it remains a sought-after motorcycle, delivering a satisfying off-road experience for riders at all levels of expertise.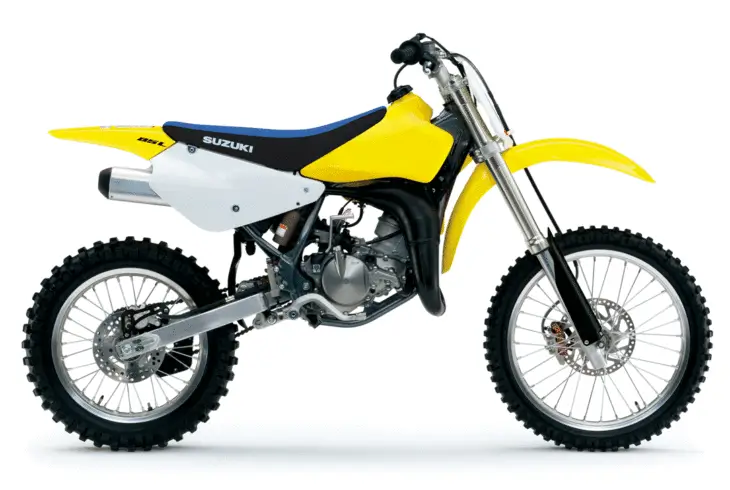 2023 RM85L Power and Performance
The Suzuki RM85L's two-stroke, 85cc motor produces over 17 horsepower and gives users an exciting and competitive experience. This strong motor gives the bike great acceleration and a max speed that can compete with other bikes on the track. Its high-revving nature guarantees an exciting trip for power and performance fans.
A fine six-speed gearbox makes gear changes easy in the RM85L, which keeps bikes moving. This efficient gearbox helps the bike move rapidly to hit its top speed and keep ahead in races.
Light, strong, and with a modern suspension system, the 2023 RM85L is faster than other bikes. Its power-to-weight ratio gives racers an edge on the track. For high-speed runs and tricky maneuvers, the suspension can be adjusted.
Adjustable Suspension for Customized Riding Experience
The Suzuki RM85L's suspension system significantly contributes to the bike's effectiveness by providing stability, control, and adaptability. Riders can precisely change the suspension to fit their riding style and the particular track conditions thanks to its fully adjustable front forks and rear shock. This modification improves the bike's performance by assuring the best traction and handling in various off-road situations.
One of the main benefits of the RM85L is the ability to customize the suspension to suit specific needs and preferences. Riders can change the compression and rebound damping settings to get the right mix of speed and comfort. The bike can suit various riding styles, from aggressive racers to casual trail riders, by catering to individual tastes.
Durability and Sturdiness for Long-Term Use
The sturdy aluminium frame of the Suzuki RM85L is built to endure the demanding conditions of motocross racing. The bike can withstand the strains of aggressive off-road riding and difficult terrains thanks to this lightweight yet strong material's superb rigidity and structural integrity. Additionally, the bike's lighter overall weight improves handling and maneuverability, enabling riders to easily negotiate difficult obstacles like sharp turns.
The 2023 RM85L is outfitted with premium spokes and rims that can endure hard landings and impacts to complement the strong frame. These parts are made of sturdy materials to ensure their sturdiness and dependability during frantic off-road excursions and high-speed competitions. The sturdy spokes and rims provide long-lasting support and stability, which can not only endure extreme weather but also keep their shape and performance over time.
Design Elements that Enhance Riding Enjoyment
The Suzuki RM85L has a low saddle height and a slim profile, so riders of different sizes can sit comfortably and move around easily. This bike's design makes it easy for riders to control it when making sharp turns, jumping, or riding on rough terrain. The low saddle height also makes getting on and off the bike easier, so younger or shorter riders can use it.
The RM85L also has cool graphics that make it stand out and look stylish. These designs make the bike stand out on the track and show off the rider's style and personality. The Suzuki RM85L is appealing because it is comfortable, easy to move around, and has eye-catching graphics, which makes it a good choice for motocross fans.
Beginner-Friendly Features for Novice Riders
The Suzuki RM85L has easy-to-use power and handling, which makes it a good choice for new riders who want to gain experience and confidence. Its manageable power and agile handling make it easy for beginners to ride on different terrains and improve their skills without being overwhelmed.
On the other hand, the RM85L has performance features that are good for experienced riders who want to see how far they can go. Its strong engine, adjustable suspension, and light weight make it good for experienced riders who want to improve their skills and take on tough tracks. Because the bike can be changed, it stays competitive even as riders improve.
Simple Maintenance and High Safety Standards
The Suzuki RM85L is a great choice for riders of all levels of experience because it has features that make it easy to use, like an air filter that is easy to get to and maintenance that doesn't require any special tools. The bike is easy to start because it has a simple and reliable kick-start mechanism, and its high-quality brakes make it easy to stop on all surfaces.
The RM85L's bright headlights and taillights keep users safe in low light. Motocross fans looking for a versatile bike will like the Suzuki RM85L's useful features and good speed and handling.
2023 Suzuki RM85L Price
The Suzuki RM85L is an affordable, high-performance enduro bike. Its power, handling, and adaptability satisfy riders of all skill levels at a reasonable price.
Suzuki's reliability and durability boost the RM85L's allure. The firm makes rugged off-road motorcycles with high-quality components. Riders can relax knowing their purchase will last due to its durability and low maintenance.
The 2023 Suzuki RM85L offers an impressive combination of power, performance, and adaptability. Its lightweight design, adjustable suspension, and durable construction make it suitable for riders of all skill levels, from beginners to experienced racers. With easy maintenance and high safety standards, the RM85L provides excellent value for money and a thrilling off-road experience that can be customized to suit each rider's preferences and style.
2023 Suzuki RM85L FAQs
How much horsepower does a 2023 RM85L have?
The 2023 Suzuki RM85L has just over 17 horsepower.
What age is RM85L for?
The RM85L is a great motorbike for ages 7-10.
Images sourced from Suzuki.