With even bigger wheels for better handling and comfort, the 2022 Suzuki RM85L is the bike for first-time motocross racers. In conjunction with the Keihin PE28 carburettor, the high-revving 85cc reed valve engine has alloy exhaust valves for more stable combustion.
Although the 2022 RM85L is not the latest model. We have left this review live on our site as we know how valuable a 2nd hand dirt bike can be. Read the latest Suzuki RM85L review.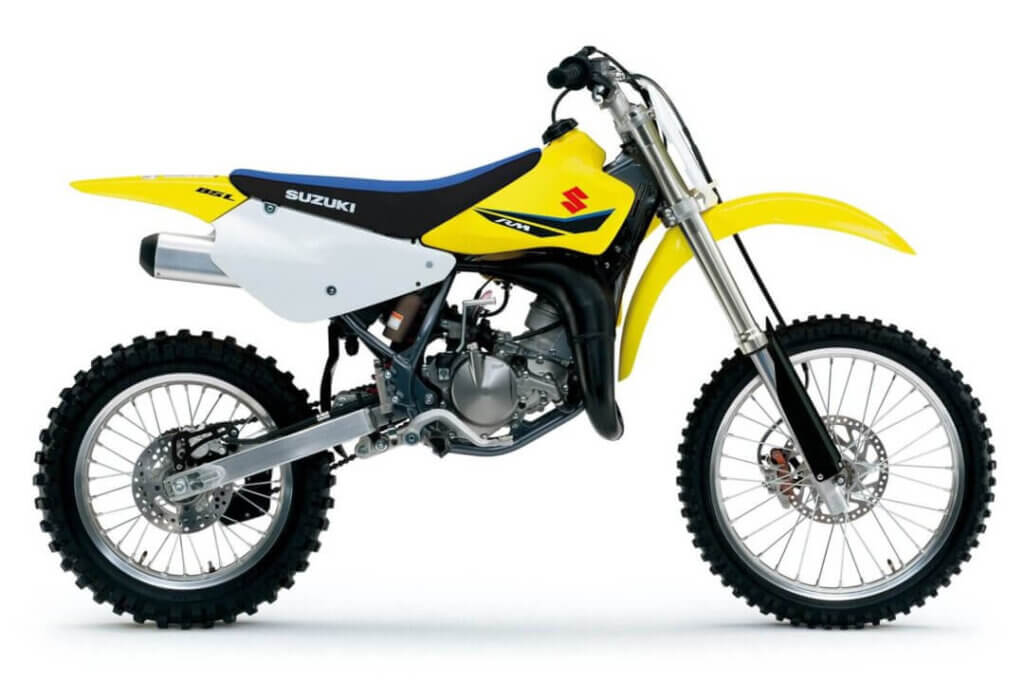 A progressive valve system is used on inverted Showa cartridge forks with damping tuned for the strong rear shock. The braking system is equipped with large discs and twin-piston callipers upfront.
To top it off, you also get the RM85L big wheel, with 19-inch front and 16-inch rear tires, offering a 1,280mm wheelbase and 875mm seat height.
2022 Suzuki RM85L Product Review
A tradition of excellence in motocross racing continues to exist in the line of Suzuki dirt bikes for kids with the 2022 Suzuki RM85. An engine with a two-stroke mechanism provides smooth power regardless of rpm, thanks to its high performance and low-to-mid-range performance. RM85 offers class-leading handling to both experienced racers and first-timers alike, just like its larger RM-Z cousins. If you are in the process of learning to race and trying to win, then the RM85 is the perfect bike for you!
2022 Suzuki RM85L Top Features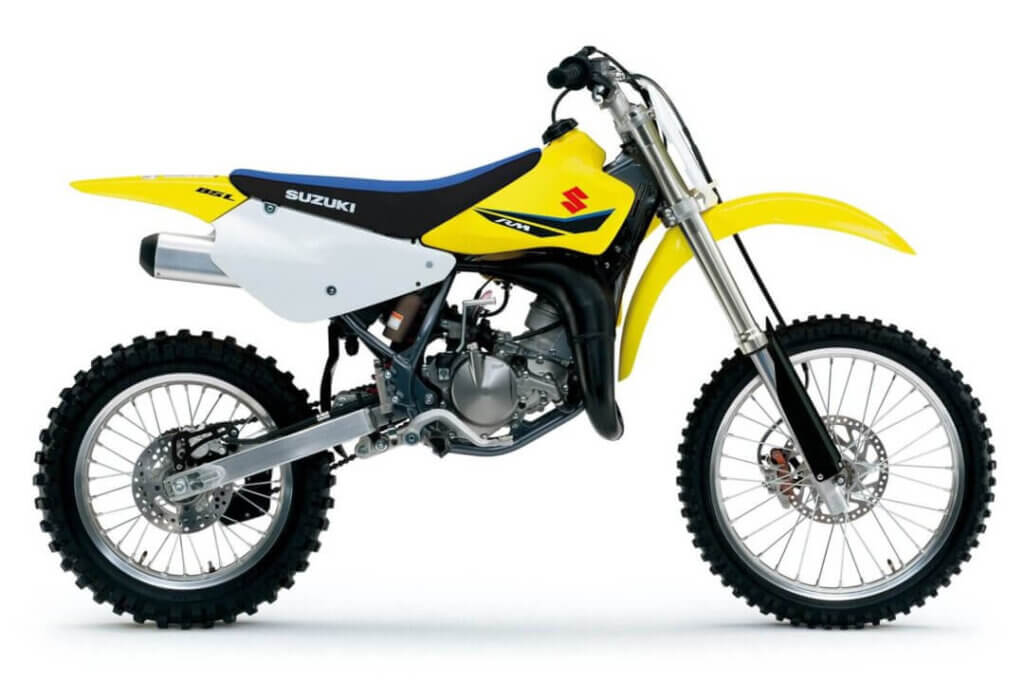 Key Features
Smooth power at any RPM is provided by a liquid-cooled, 84.7cc, 2-stroke, single-cylinder engine.
Riders can blast out of any corner with the six-speed transmission and clutch action.
Lightweight and nimble handling make it the best in its class.
Piggyback reservoir rear shock and fully adjustable Showa inverted forks.
This includes the possibility of earning Suzuki contingency and track-side support.
Transmission Features
With its six-speed transmission and rack-and-pinion clutch, the RM85 is equipped with smooth shifting.
When starting and when driving off corners, the long clutch lever makes it easy to locate and operate the engagement point.
The shift drum of this durable transmission features a needle bearing and detent spring on the left side.
For precise gear selection, the shift pedal tip is knurled for excellent grip.
Top Chassis Features
Performance on the track, especially in the corners, is enhanced by a tubular steel frame with an aluminium beam swingarm. A large front reinforcement plate, large-diameter tubing in key areas, and large-diameter tubing provide rigidity, durability, and straight-line performance.
Forks are completely adjustable for ability, rider weight, and style with Showa 37mm inverted-style front forks. With a cartridge damping system and 20 ways of compression damping (guards protect the inner fork tubes), it has a fully adjustable rebound damping system (which can also be adjusted). The fork legs have 275 mm (10.8 inches) of travel.
With their large diameter, Showa shock absorbers have a plush, bottom-resistance feel. There is an adjustable compression and rebound damping force adjustment for a wheel travel of 277 mm (10.9 inches).
There is a twin-piston calliper brake upfront with a 220mm (8.7-inch) disc and a rear brake with a 200mm (7.9-inch) disc for excellent braking performance.
2022 Suzuki RM85L Specs
Engine Features
One cylinder, 84.7cc, two-stroke, liquid-cooled, the reed-valve engine is 48.0 mm in bore and 46.8 mm in stroke.
With Suzuki Composite Electrochemical Material (SCEM), the cylinder is durable, lightweight, and offers outstanding heat transfer for superior performance.
To improve engine performance, the exhaust valves are made of aluminium to best match the expansion rate of the engine cylinder.
Good throttle response and overall tractability are provided by the actuator and exhaust valve.
A smooth throttle response is provided by the Keihin carburettor (PE28), and it is designed for simplicity in maintenance and tuning.
High-rpm engine performance is made possible with digital CDI mapping.
All engine speeds are efficiently cooled by the large radiator.
Additional Fork Features
The narrow, light, and light-weight brake hoses provide an excellent feel and feedback to the rider. As the front hose runs behind the fork leg, there is no need for a brake hose cover.
Rigid rear brake callipers offer reliable braking performance and long pad life, and they are easy to maintain. With its plastic guard, the calliper is less likely to be damaged and lighter.
Despite its lightweight design, the rear brake pedal is strong, accurate, and made from forged aluminium alloy.
A high-quality foot peg is made of cast chrome-molybdenum steel, not stamped steel, so it is more durable and provides a better grip.
It has a professional race look with Champion Yellow bodywork and RM-Z type graphics as well as black fork guards and protectors.
The new colour seat features textured surfaces for better knee grip.
Wheel sizes of the RM85 comply with AMA 85cc class regulations (Front: 70/100-17; Rear: 90/100-14).
Additional Features
According to California Air Resource Board (CARB) regulations, competition motorcycles like the RM85 can only be ridden on non-public lands.
The New 2022 Suzuki RM85L Dimensions
Seat height – 850 mm
Curb weight – 73 kg
Rear Suspension – Link type, coil spring, oil damped, adjustable spring preload
Front Suspension – Telescopic, pneumatic/coil spring, oil damped
Fuel capacity – 5 litres
Ground clearance – 325 mm.
| Pros | Cons |
| --- | --- |
| Comparatively affordable to other models | When the revs drop too low, the engine can stall |
| Includes a bonus race kit worth $1,100 (AUD) | Suspension of lower quality than class leaders |
| Excellent feel at the lever and unmatched braking performance | |
| Smooth and confident handling on rough terrain | |
2022 Suzuki RM85L Price
The ride away price of the 2022 Suzuki RM85L will vary slightly depending on the area code, but on average it costs $6190. Be sure to check the Suzuki AU website for more details on specific pricing.