If you are a first-time motocross racer, the 2020 Suzuki RM85L is a great bike for you. It has big wheels for better comfort and handling. The high revving 85cc reed valve engine is connected to a Keihin PE28 carburettor with alloy exhaust valves that control the exhaust port timing, allowing for controlled combustion. Its braking system has a twin-piston calliper that squashes a 20mm disc and a single-piston floater on the rear.
With a progressive valve system, the front end runs an inverted 37mm Showa open cartridge fork that tunes damping to equalize the strong rear shock. In addition, the RM 85L has 48.3cm front and 40.6cm rear tyres. The wheelbase is 1.280 mm and the seat height is 875mm. The bike comes with graphics to make it look good for competition and a bonus race kit.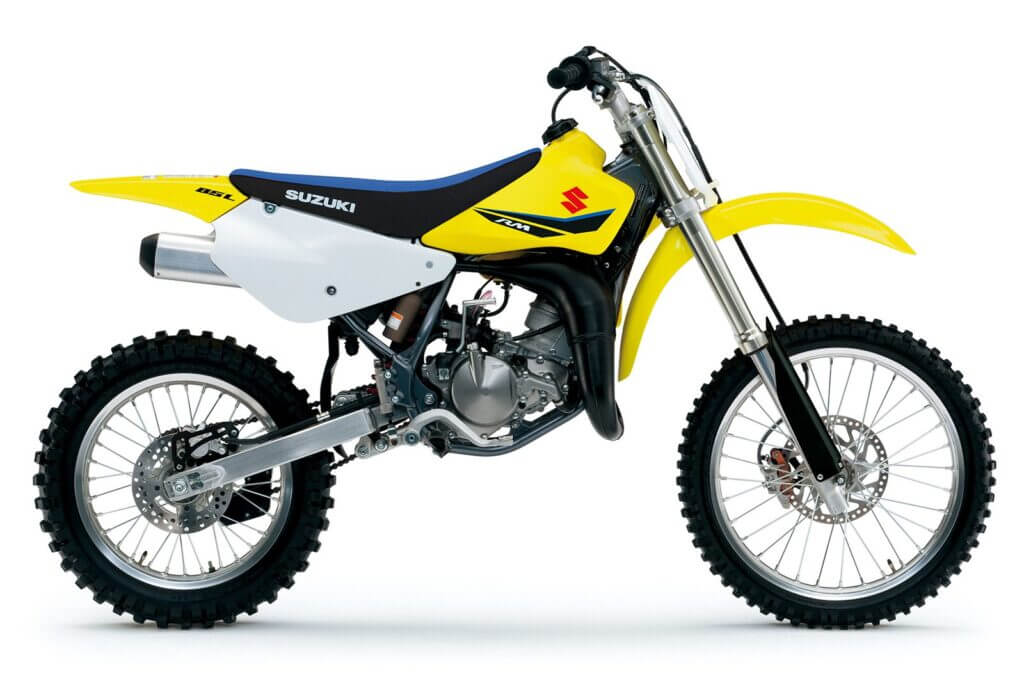 RM85L Specs:
85cc displacement
Primary kick starter
Liquid-cooled, 2 stroked reed valve, single-cylinder engine
6-speed constant mesh transmission
37mm Showa inverted cartridge fork, front suspension with rebound damping and adjustable compression
Link-type Showa shock rear suspension with adjustable compression 
Tokico twin-piston calliper front brakes with 220mm in diameter disc
Tokico single-piston calliper rear brakes with 220mm in diameter disc 
5-litre fuel capacity
1280mm wheelbase
Weight: 74kg 
875mm seat height
Key Features
Two-stroked, 85cc reed valve engine.
Suzuki composite electrochemical material ensures durability.
Effective heat transfer and weight reduction to improve performance.
Can you Rely on the Suzuki RM85L?
Suzuki has chosen to stick with the RM85 lengthy engine production run because it is reliable. It has been tried and tested over time. The RM has been a popular race machine for many young racers for years. People riding the bike have not complained about common mechanical problems. If serviced regularly and kept in good condition, the bike is very reliable. However, if it overheats or if you leave the piston in there for too long without replacement, there can be an engine failure just like other motorcycles.
When should the RM85L be used?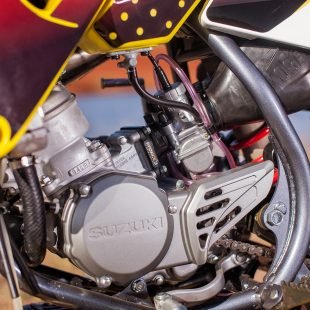 The RM was once a front runner but not anymore. Due to a lack of development, the RM is not up to scratch compared with the industry's new models. It does not have the same high-quality suspension standards.
It does, however, have its place. While it may not be the best for Australian championships, it may be suitable for an A-grade junior joining the championship. The cheaper price tag is worthwhile for anyone who is on a budget but wants to race competitively. The less aggressive power means it is a good choice for beginners, as it is easier to operate. The RM85L is perfect for kids who enjoy riding with the family, on farms, or just recreationally. While it is not advisable to neglect it, the bike is capable of withstanding a bit more neglect than most brands do.