In the exciting world of motorsports for kids, safety comes first, especially in junior dirt bike riding. One of the most important protective gears a rider must wear is the chest plate. Also aptly called a chest protector, this piece of armour protects the chest cavity from injuries that can be sustained from the impact of a fall or a crash.
The Anatomy of Protective Chest Plates
Made from a combination of high-quality plastics, breathable fabric, and foam, chest plates are designed to be relatively lightweight, shock-absorbent, and incredibly durable. Well-designed chest plates are fully adjustable to fit the rider well thus increasing its protective capabilities. Worn over the shoulders and around the chest and the back, the armour also provides protection for the spine, the ribs, as well as the waist.
Although chest plates are primarily worn by dirt bike riders, this type of protective gear is quite versatile and can be used with other kinds of extreme sports like mountain biking, skiing or skating.
The 5 Best Kids' Motorbike Chest Plates
| | | | | | |
| --- | --- | --- | --- | --- | --- |
| Brand | Adjustable? | Available in Adult Sizes? | Features | Amazon Rating | Price |
| Gohinstar Children's Dirt Bike Safety Armor | Yes | No | EVA shell Lycra Reflective tape | 4.7/5 | Check Price |
| Webetop Kids' Dirt Bike Chest Protector | Yes | No | PE armor Breathable mesh lining Velcro waistband | 4.5/5 | Check Price |
| Barhar Kids' Protector Vest | Yes | No | PE armor Breathable mesh lining Velcro waistband | 4.5/5 | Check Price |
| Seahouse Kids' Dirt Bike Chest Spine Protector | Yes | No | PE armor Honeycomb design Velcro waistband | 4.7/5 | Check Price |
| Webetop Kids' Body Armor Vest | Yes | Yes | Vest-type Sleeveless | 4.3/5 | Check Price |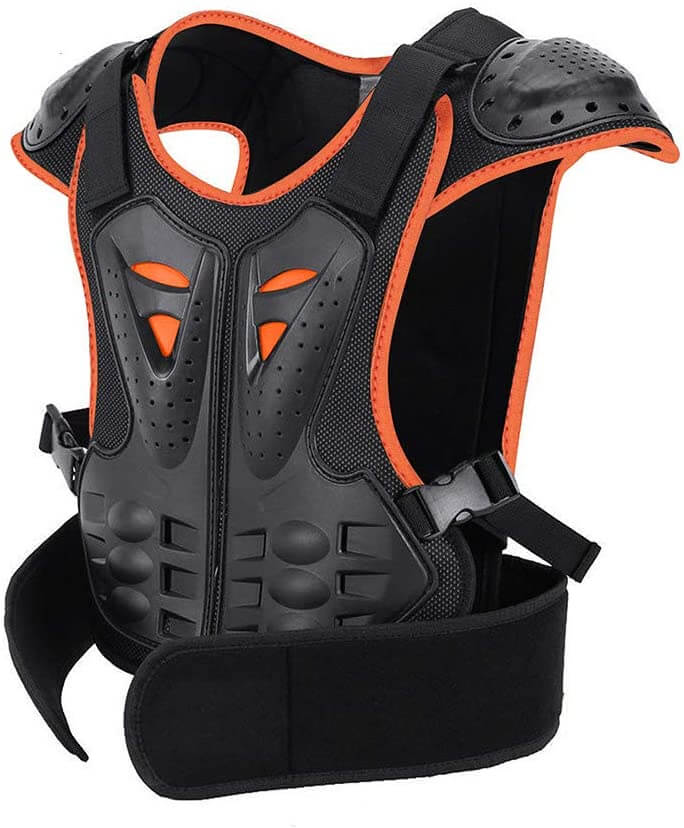 Gohinstar Children's Dirt Bike Safety Armor
Gohinstar's body armour for children is made with high-density EVA, elastic PVC, and Lycra fabric. Fitted with velcro, this chest plate is adjustable at the shoulders and the waist. Both the front and back armours are shock-resistant. It is also lined with reflective tape all over, making it a great armour for nighttime use. 
We like that the Gohinstar is not bulky, and that is thanks to the reinforced sponge used throughout the armour. Reviews of this chest protector highlight its comfortable weight, wearability, amped up protection, and value for money. At a little over $80, we agree that it is a good buy. While it is not for extreme riding, the Gohinstar is reliable enough for weekend bike romps in the dirt.
Webetop Kids' Dirt Bike Chest Protector
This shock-resistant kids' armour by Webetop is made with high-quality PE and breathable mesh fabric. Its centre is reinforced with durable foaming to increase the protection of vital organs. The shoulders are also padded and adjustable for a secure fit. Down at the waist, you'll find straps on either side to keep the armour snug against the body. And below that is an extra-wide velcro waist strap which can be adjusted to ensure that the protector doesn't slip away from what it's supposed to protect throughout the ride. 
Many of the reviews of this Webetop chest protector praise the waistband that keeps the whole thing in place no matter how rough the ride gets but the most impressive review we came across was about its protective capabilities: one user shared that after their junior rider got into a tough whiskey throttle, this armour prevented the worst of the injuries. A closer inspection of the gear showed the points of impact but the lack of injuries proved how fantastic this Webetop number is at dispersing the force.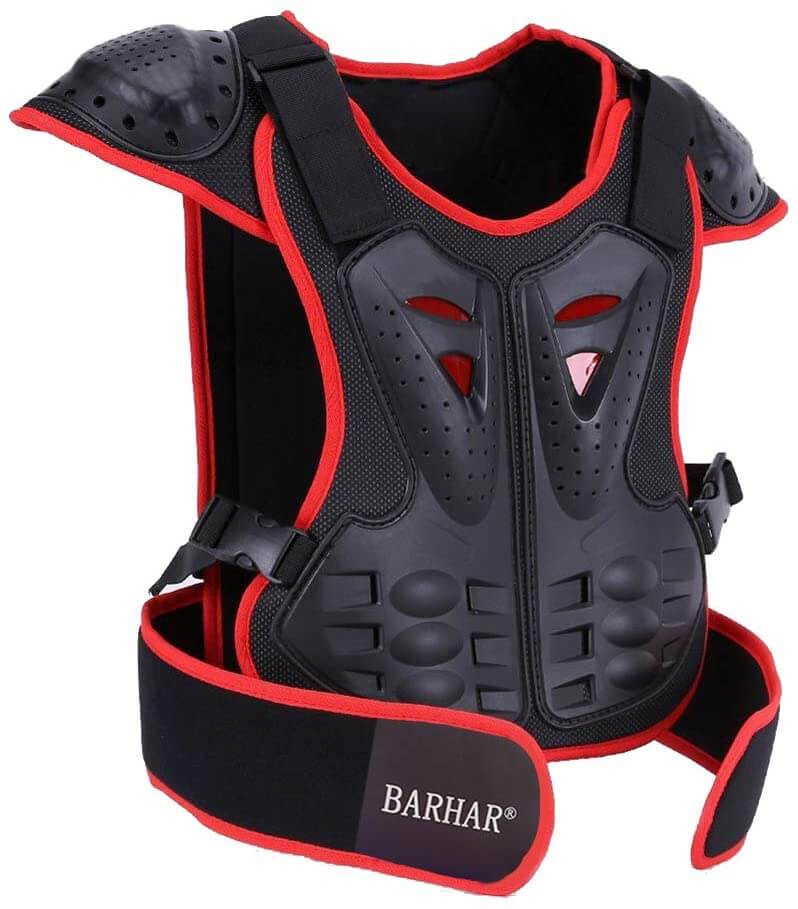 Barhar Kids' Protector Vest
The Barhar Kids' Protector Vest has plenty of similarities with the Webetop: the PE armour shell, the wide velcro waist, the adjustable straps, the reinforced middle, etc. With most of its reviews positive, we'd say this is a cheaper alternative! And if you're looking for some colour, the Barhar offers that as well.
Most of its reviews are positive save for a few where the sizing was a minor issue but this isn't really a problem as you size up. The strategically designed armour made with hardy plastic and the thick foaming provides both ample comfort and protection to the rider.
Seahouse Kids' Dirt Bike Chest Spine Protector
Like its peers, this Seahouse chest protector has a shell structure made with high-quality PE and foam-reinforced centre. It is adjustable at the shoulders, at the sides of the waist, and also has a wide velcro strap that can be tightened around the waist. Underneath the shell armour is a breathable mesh fabric that allows the wearer's skin to remain cool. 
Most of the reviews echo this chest plate's perfect fit but some complain that too many adjustments are needed to make it snug. In terms of protection, the Seahouse is effective and has kept a user safe after a tumble off a quad. 
At around $90, this chest protector sits in between our two previous choices when it comes to price and it's almost head to head in benefits.
Webetop Kids' Body Armor Vest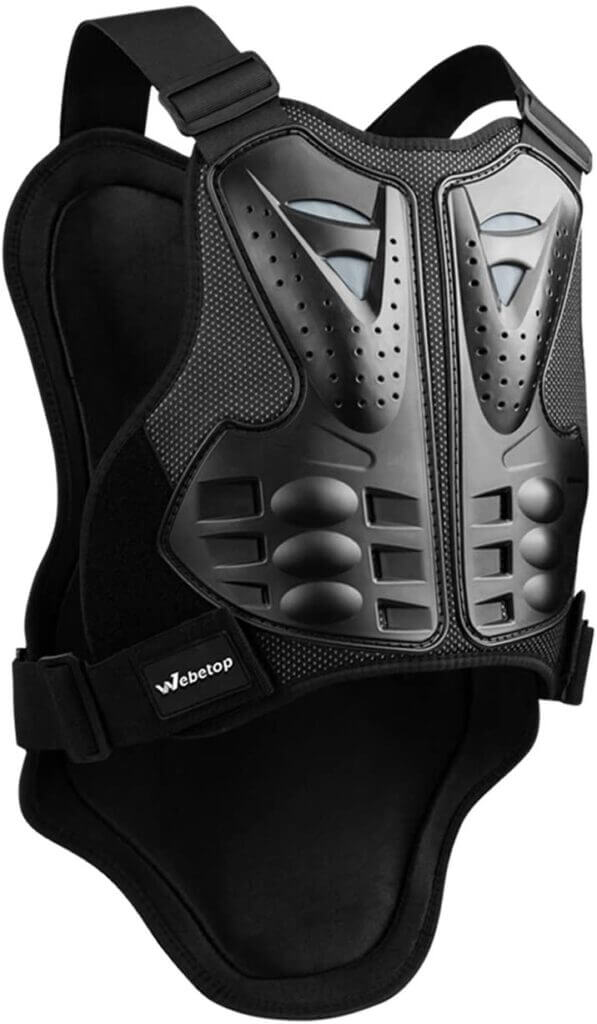 Last on our list is another number from Webetop. Unlike the other chest protectors we've featured so far, this body armour is almost purely a chest plate. 
This vest-type chest protector has no shoulder pads and hangs over the body with thick adjustable straps. Both its front and back are fully equipped with hard plastic armour. The back extends further down than the front, protecting most of the spine. Below the rib cage are adjustable straps to help secure the vest. And finally, underneath the armour is a thick foam that keeps this protector both effective and ultra-comfortable.
What we love about this Webetop armour vest is its versatility. Without the shoulder pads and the thick elastic waistband, it's the more comfortable choice for the warmer months or for indoor sports. It's also more lightweight without sacrificing protection. 
Final Thoughts
Although most chest plates share the same features, there are still small differences between each one that you need to pay attention to. When picking a bike chest plate for the junior rider in your life, always begin with finding the right size.
Our top picks above have clear size charts which makes getting the right one easy. Don't hesitate to size up. In fact, it's practical to choose a body armour that a child can grow into – just make sure to pick a chest plate that's fully adjustable.