It is exciting for young bike enthusiasts how a fully automatic transmission 2022 Yamaha PW50 will look like. This is a world-renowned bike that ensures young riders have fun-filled experiences.
Yamaha PW50 is affordable and fantastic. The price makes it one of the bestsellers in the industry. The 2022 Yamaha PW50 has been improved to give young champions an excellent riding experience. 
Let's break down the specific features, specs, pros, and cons of this fantastic mini-bike.
2022 PW50 Specs (Specifications)
Two-stroke engine: reed-valve-induction and air-cooled, single
Displacement: 49cc
Transmission: wet centrifugal automatic
General dimensions L*W*H= 124.5 cm × 61 cm × 70.6 cm
Bore and stroke= 4.0 cm × 3.92 cm
Ignition/ Starter; Capacitor Digital Ignition (CDI)/ electric/kick
Front brakes: drum
Rear brakes: drum
Tires (rear): 2.50-10-4PR
Tires (front): 2.50-10-4PR
Suspension/ rear: 2.0-in travel unit swingarm
Suspension/ Front: 2.4-in travel 26mm telescopic fork
Final drive: Shaft
Fuel delivery carburettor (VM12)
Compression ratio: 6.0:1
Wheelbase: 85.6 cm
Seat height: 47.5 cm
Trail: 5.1 cm
Wet weight: 40.8 kg
Caster angle (rake): 25.5°
Maximum ground clearance: 9.4 cm
Fuel capacity: 1.9 litres or 0.5 gallons
Limited factory warranty of 30 days
Yamaha blue (bodywork) 
Yamaha PW 50 Features
Features a 50cc two-stroke, case-reed-inducted, and air-cooled engine that is fine-tuned to produce predictable power. It eases the off-road learning curve for new riders and gives new experiences to veteran riders.
The 2022 Yamaha PW50 has a maintenance-free shaft drive that comes enclosed to enhance durability and efficiency.
It comes with a convenient oil injection system that eliminates the need for oil premixing. Also, with the final shaft drive, no chain maintenance is required.
2022 Yamaha PW50 features an efficient reed-valve induction and well-designed VM12 carburettor, enhancing throttle response and acceleration. This improves the bike's ability to accelerate faster, especially after bumps or immediately after taking off.
Features a digital CDI system that enhances quick and easy ignition. The system works by discharging a spark at the combustion chamber when ignited. So you can start and get going within a short period.
Has ultra-low seat height for stability. The height is as low as 47.5 cm allowing for an increased centre of gravity. It also allows kids to put both feet on the ground for added confidence and ease of taking off.
The 2022 PW50 features dual rear shocks with 12-in smooth travel. This inspires the confidence of new riders, especially on rough surfaces like when riding off-road.
The vast front suspensions enhance smooth travel in rugged terrain. It has a large 2.6 cm telescopic front fork that travels about 6.1 cm for responsive handling after bumps.
Features adjustable restrictors used by adults to regulate speeds. The adults control the speeds, meaning they can increase the speeds as the kid's skills improve.
The enclosed rear and front drum brakes provide predictable and smooth stopping power. This is possible even when the rider is at high speed.
Durable knobby tires with superior threads provide excellent resistance to wear and also improve traction.
2022 Yamaha PW50 comes with a quiet and compact exhaust placed away from the rider. It also contains a removable baffle.
The bike has a fully automatic transmission that allows even learning carburettor efficiently. This single automatic transmission gives the rider time to concentrate on the ride rather than the gears. It is simply twisting the throttle and going.
It is simple to service. The seat, side panel unit, and rear fender are easy to remove during maintenance. No need for the opening of solid nuts and bolts is required here.
Has maintenance-free mag wheels, meaning no, there is no need of replacing or tightening spokes. This also means no maintenance costs.
The bike has a comfortable saddle. It comes with a thick seat that enhances rider comfort. The exhaust is also routed away from the rider for a comfier ride.
The team Yamaha's racy styling is generally appealing. The graphics, colours, side, and front number plates bring in a new dimension of styling like bigger versions of Yamaha.
Has flat and slimmer seats to allow free movement of the rider. It also comes with a small and narrow tank with symmetrical shrouds to enhance rider ergonomics.
The grippy footpegs are on another level. It has a folding, large footpeg embedded with thick rubber for improved grip and excellent footing.
The Yamaha PW50 accessories include sticker-like graphics for enhanced looks, scratch-resistant, and water-proof. It also includes seat covers for comfy rides.
Protective gears for the Yamaha PW50 include boots and shoes, jackets, eyewear (goggles), gloves, jerseys, and open-face or full-face helmets.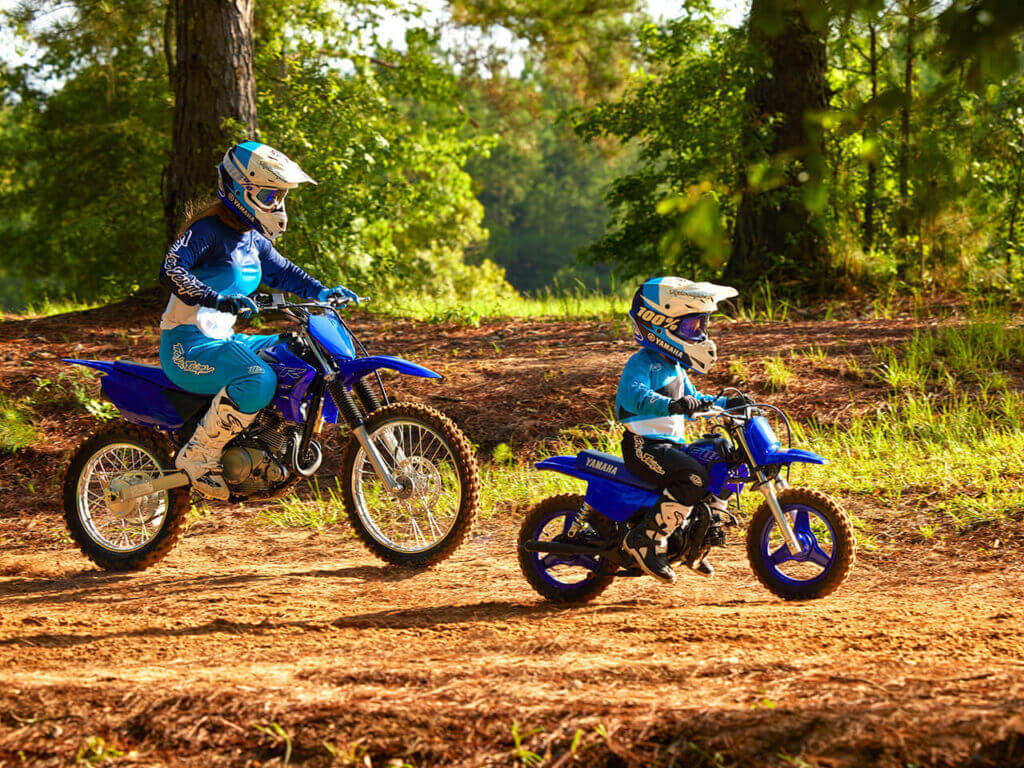 Our 2021 Yamaha PW 50 guide can be found here.
2022 Yamaha PW50 Pros and Cons
Images sourced from Yamaha Motorcycles.