The 2022 Honda CRF110F is a durable and stylish bike that riders cannot get enough of. With fuel injection, the bike is easier to start and has minimal pollution. The combination of an automatic clutch and four-speed transmission gives riders complete control of the bike. 
Gear shifting is more manageable without having to worry about stalling. A rigid steel frame and generous suspension complete the package. With Honda, reliability is guaranteed. This reliable machine offers excellent performance with a broad powerband. It is perfect for all riders, including beginners. Let us take a look at what the machine entails.
Our 2021 Honda CRF110F guide can be found here.
2022 Honda CRF110F Specifications
Four-stroke engine; single-cylinder, air-cooled
Transmission: Four-speed with automatic clutch
Displacement:109cc
Ignition/ starter: Full transistorized
Bore and stroke: 5.0 cm × 5.56 cm
General dimensions: 
Compression ratio: 9.0:1
Induction: fuel injection, 1.9 cm throttle bore
Valvetrain: SOHC; two-valve
Final drive: 420 chain
Front suspension: 3.9-in travel; 3.1 cm telescopic fork
Rear suspension: 3.8-in travel; single-shock
Rear brake: 8.0 cm leading drum
Front brake: 8.0 cm leading drum
Rear tire: 80/100-12
Front tire: 70/100-14
Rake (caster angle): 25.2°
Trail: 5.3 cm
Wheelbase: 106.4 cm
Seat height: 65.8 cm
Curb weight: 77.1 kg (including a full fuel tank, standard equipment, and other fluids)
Fuel capacity: 3.8 litres
Frame type: steel-tube; Mono-backbone
Maximum ground clearance: 17.0 cm
Warranty: six months limited, transferable; extended HondaCare Protection Plan available
Colour: red (bodywork)
CRF110F Features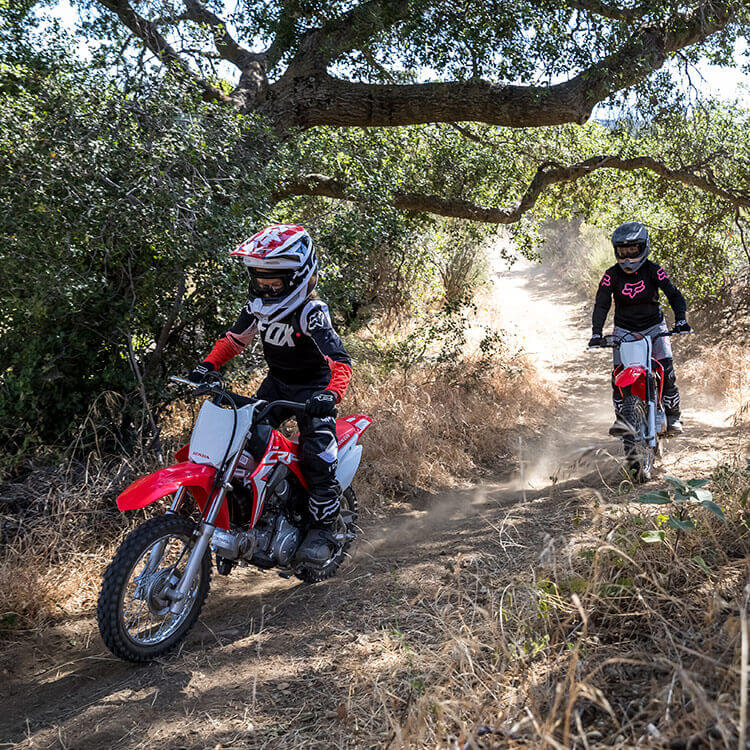 The 2022 Honda CRF110F is a medium-size bike with the abilities of bigger models. It has a solid rear suspension for smooth rides on bumpy roads or when riding off-road.
It features a solid and dependable single-cylinder, four-stroke engine with a broad powerband. This enhances its performance abilities and general reliability. Also, this makes it ideal for all kinds of riders, with beginners included.
The fuel injection fitted in the bike means the CRF110F starts immediately, even when the weather is cold. Also, it helps enhance fuel-efficiency, bike performance and reduce emissions. So the bike runs while cleaning the engine, meaning less maintenance will be required.
Honda CRF110F features an electric starter, so you only push a button and get going. Riders can get on track with a simple push of the button even when they switch the engine off accidentally. It is that easy.
It also features a key ignition to help supervise new and young riders. This can compel them to do some tasks like homework before going for a ride. That means it allows adults to decide on how they want to operate.
The bike features a backup kick starter just in case it stays long without going. Most bikes have problems starting if they stay longer without ignitions. Honda CRF110F gets going with a single kick.
The adjustable throttle limiter allows riders to increase the speed with a screw. This can help prevent beginners from going too fast. Consequently, it allows matching the rider's skills with CRF110F's power output.
The bike has an automatic clutch, meaning there is no clutch lever to master for new riders. That also means that there are no chances of stalling even with zero experience. Additionally, the smooth transmission involves four gear ratios. What riders need to do is shift using their feet as they go on.
The bike has folding footpegs fitted with rubber to enhance grip. They are large enough to carry the rider's feet comfortably.
It comes with enclosed rear and front drum brakes for efficiency. They are smooth and predictable even when at the highest speed.
The strong 3.9-in travel telescopic fork front suspension enhances smooth rides on bumpy roads or during off-road rides.
It is made up of tough bodywork. Riders are known to be rough on equipment, especially when learning. This is a natural part of learning, but fortunately, Honda CRF110F can take care of that. It is fitted with plastic tanks, fenders, and other parts similar to those in bigger CRF motorcycles. The machine can withstand minor dings and scrapes.
The swingarm and twin-spar-type steel frame fitted in the Honda CRF110F handle the dings and bumps of off-road riding. This takes care of new riders who tend to be tough on the machine.
It features a low seat height that helps build the confidence of the rider right from the beginning. The rider can put both feet down on the ground with ease.
It comes with upgradable half-waffle grips. They can be adjusted to fit the rider's preferences.
The bike is fitted with slimmer but thicker seats to improve the rider's comfort. Also, with a narrower tank, the rider can move freely on the bike.
Accessories for the 2022 Honda CRF110F include scratch-resistant and waterproof graphics for enhanced looks.
The 2022 Honda CRF110F protective gear includes gloves, jackets, shoes or boots, full-face and open-face helmets, and eyewear.
Pros and Cons of the 2022 CRF 110F
Images sourced from Honda Motorcycles.