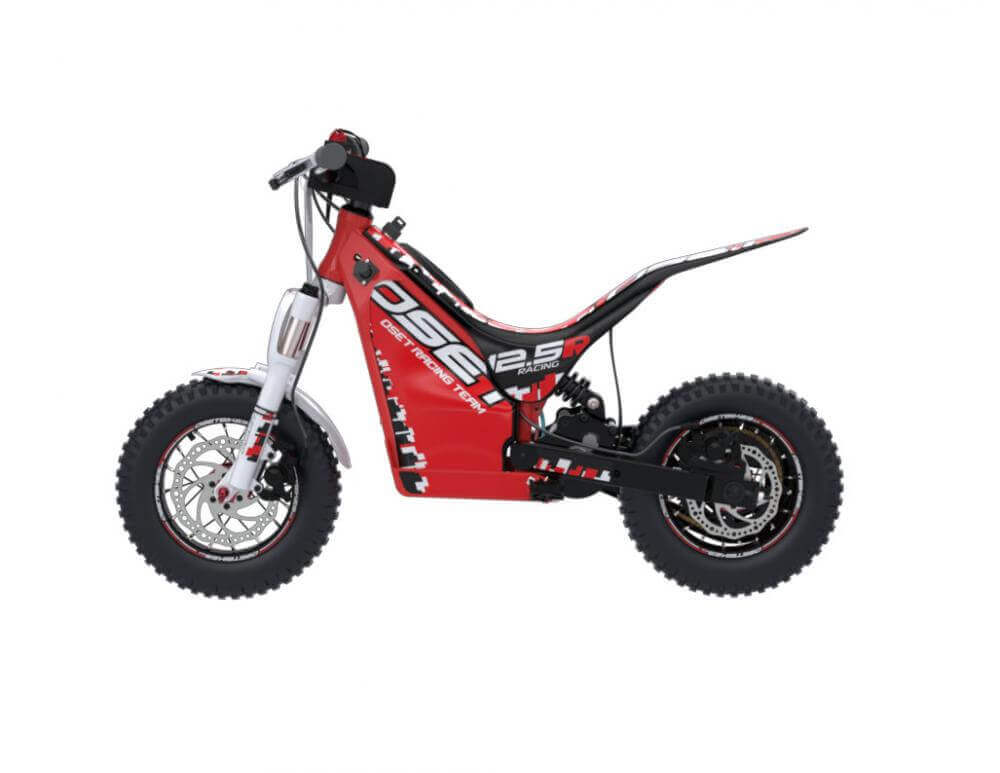 The 2022 OSET 12 Racing is a mini-bike setting the bar for other tiny motorcycles. It is a high specification bike that grows with riders from the age of two to around five depending on the kid's weight. This is a bike that riders of all kinds can use, including those who have not ridden a motorcycle before.
This bike allows new and young riders to try riding motorcycles in challenging terrains. It is a high specification starter bike that will get a kid off to the best riding experience in the future. The two-dial controller featured in the bike creates a better experience for parents and young riders as well.
Let's examine what this amazing mini-bike has to offer for kids.
Read our 2021 OSET 12 guide here.
2022 OSET 12 Racing Specs (Specifications)
Wheelbase: 72.5 cm
Wheels: 31.8 cm alloy hubs/ rims
Maximum ground clearance: 15.2 cm
Bike weight: 26 kg
Seat height: 39.0 cm
Age range: 2-5 years old
Batteries: 2×10 ah AGM SLA
Charger: 2 amp 24V
Stem fitted with Padded Chin Guard
Front Suspension: 1.6-in travel telescopic fork
Rear Suspension: Preload adjustable shocks; oil dampened.
Magnetic kill switch fitted
Motor: DC motor, 600W 24V OSET; neodymium magnet
Handlebar height: 65.0 cm
Seat height: 39.0 cm
New black footpegs
New front forks
New mini Gripper Tire
New Response Dials and Resistant Speed
Rider weight limit: 27.3 kg
Controller: 24V OSET, adjustable for response and speed
Colour red (bodywork)
2022 OSET 12 Racing Features
The 2022 OSET Racing is a small bike that offers an excellent experience like the bigger models of bikes. Young riders enjoy the same riding experience similar to that enjoyed by adults. It is designed to give the child different kinds of experiences regardless of the road.
The bike has thicker and slimmer seats to enhance the child's comfort while riding. Also, it comes with a relatively narrower "tank" to allow the child to move freely on the bike.
It features a 600W 24V neodymium magnet direct current motor for maximum power. The motor is powerful enough for more speed if the kid is experienced and wants to go faster.
The bike has a reliable 2×10 ah AGM SLA battery that lasts longer while riding. The battery is also durable and gets to full charge within a short time.
It has an ultra-low seat height to enhance stability. The seat is only 39 cm to increase the centre of gravity and balance as well. Also, it allows the young riders to put both feet on the ground, which helps them take off quickly. It also boosts their confidence when handling the bike.
The 2022 OSET 12 Racing comes with essential safety features like a magnetic lanyard cut-out switch. The switch comes with a strap going around the child's wrist. The power is switched off when the lanyard is pulled.
The bike features a removable key switch that parents can use to control the kids. So the parents have authority when the child needs to rest and when it is appropriate to go riding.
The two-dial controller system featured in the 2022 OSET Racing allows parents to adjust the bike's characteristics to fit the child's skills. Also, the adult can adjust the bike's response rate and speed by removing the rubber bung attached to the area near the "tank." For beginners, the speed can be adjusted to be as low as a walking pace. While for experienced kids, the bike can be adjusted to give maximum power.
It comes with a throttle limiter that can be adjusted accordingly. The throttle response can be adjusted to enhance softening of throttle opening when training new riders. That is also another way speeds and bike response rates can be adjusted.
The 2022 OSET 12 Racing is made of rigid bodywork to withstand any harsh conditions. Consequently, the kid may go hard on the bike during the first day, but this bike is designed to sustain all that.
It has new reliable black footpegs to enhance comfortability. They are big enough to ensure the child's feet fit correctly. Also, they are equipped with rubbers to improve their grip.
The bike features new mini gripper rear tires. More grip means the bike can withstand harsh conditions like slippery roads. Consequently, the tires have deeper treads for durability.
It features a stem fitted with a padded chin guard to prevent the child's knee and the entire lower parts of the leg.
The 2022 OSET Racing 12 accessories include a 2 amp 24V charger. This is a supercharger that gets the bike fully charged within a short period. It also has waterproof and scratch-resistant graphics for beautiful looks.
Protective gear for the 2022 OSET 12 Racing includes shoes or boots, full-face or open-face helmet, goggles, and reflector jackets.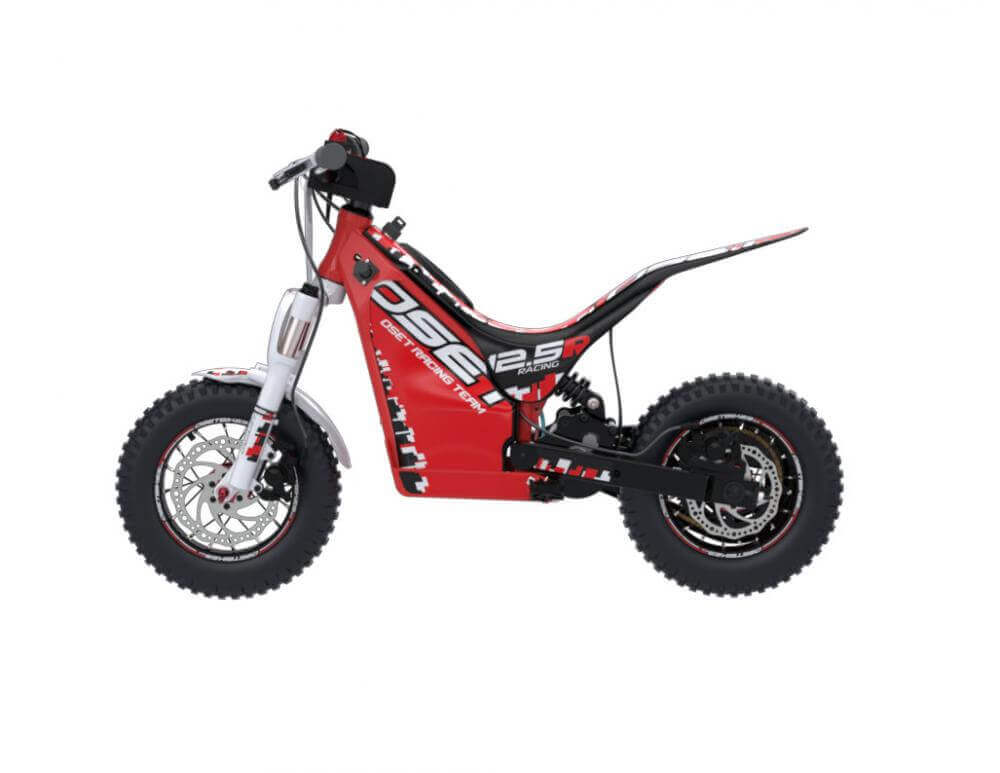 Pros and Cons of the OSET 12 Racing
Images sourced from OSET.