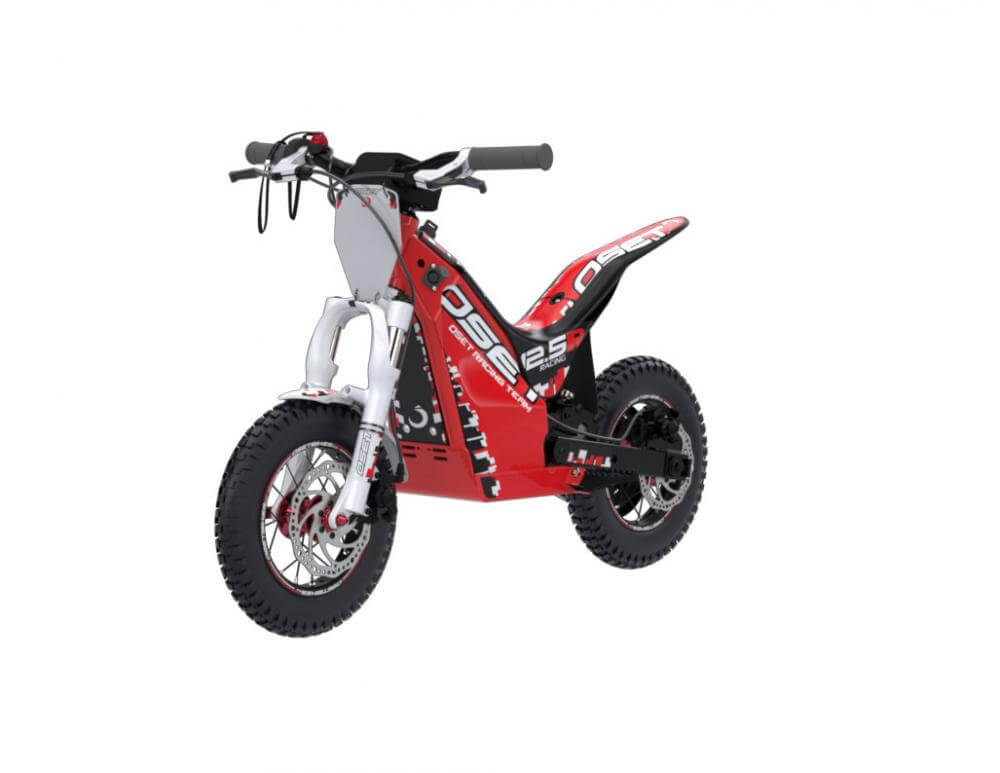 OSET 12 Racing, arriving in May-June 2021 is the ideal bike for your 2.5-year old. Your child will not have to deal will fuel smell, or chance of burns anymore. Just lots and lots of fun. The bike boasts features that have never been seen before on such a small bike.  The disc brakes, 600W OSET motor, 2 dial controllers, and the frames have been made based on larger OSET models to create the best experience for young riders. 
2021 OSET 12 Racing New Features
Black footpegs.
The stem is fitted with a padded chin guard.
Magnetic kill switches.
New forks.
Durable, deeper tread and more grip rear tyre.
Water-resistant response and speed dials.
Strong wheels.
Just like the 12.5 Eco, the OSET 12.5 racing is a bike that can be ridden by kids who have never stepped foot on any bike. What's more, the child can grow with the bike. It is particularly interesting to have your child as a beginner with this bike and finally venture into more challenging terrains with the same bike. OSET 12.5 will never disappoint, its specifications fit perfectly for getting your child off to the best possible start. 
Other features
While the bike offers the ability to step into a competition, it is easy to learn, just like learning how to ride a bicycle. The OSET 12.5 racing boasts of high-end features. It has thin handle grips to offer a better grip for kids as young as 2.5 years.
It provides a rider with a magnetic lanyard cut-out that has a strap that is tied to the rider's wrist. This safety feature has been added to this bike so that the bike powers off when the rider pulls the cut-out. Besides, there is the key switch that can be easily removed by the parent when it is time for riders to relax or take some time off.
The 2-dial system enables the parents to adjust the bike's characteristics to suit the rider. For example, a parent can easily adjust the bike's response and speed by removing the rubber bung from the tank area. The speed can be adjusted from a mellow walking machine to the maximum speed for experienced riders. 
The speed throttle too can be adjusted for learners.
The small machine raises the bar for the bikes its size. It can suit anyone from 2.5 years to experienced riders who are 5 years old.
2021 OSET 12 Racing Specifications:
39.0cm seat height.
65.0cm handlebar height.
15.2cm ground clearance.
4.0cm travel front telescopic suspension.
Adjustable, oil dampened, preload rear shock.
12.5 "alloy rims wheels.
24V adjustable controller.
2-amp 24V charger.
Weight: 26kg.
27.3kg rider's weight limit.
2 x 10ah AGM SLA batteries.
725 mm wheelbase.
All images were sourced from OSET