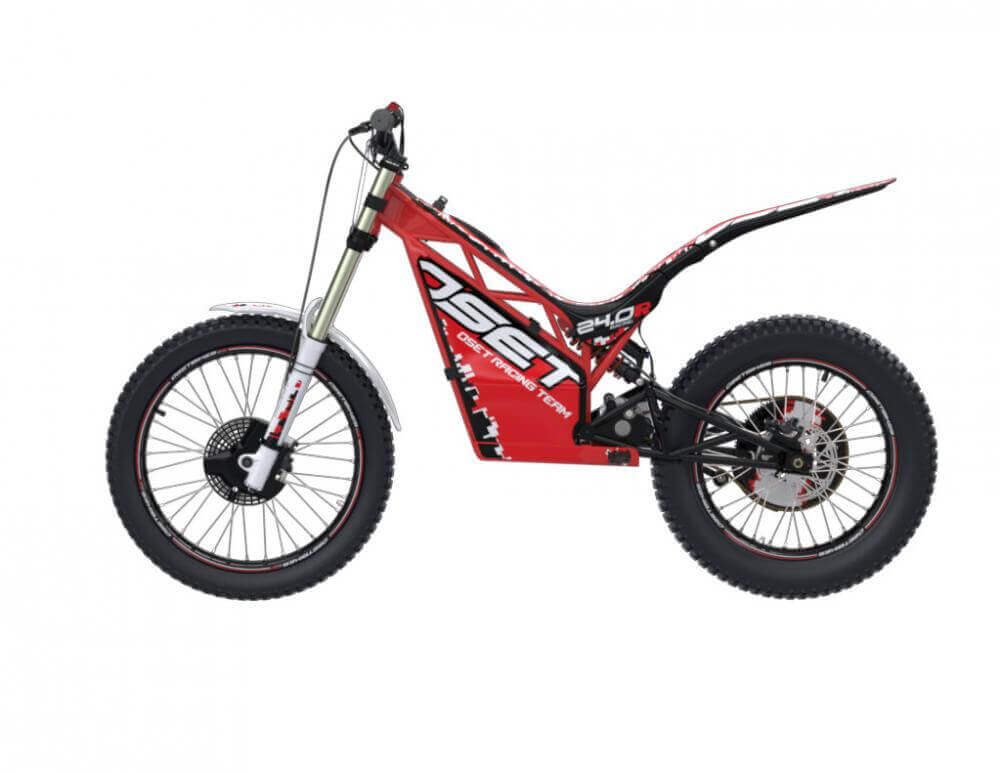 The 2022 OSET racing is regarded as one of the most fun electric bikes created for teenagers and adults. This machine is designed for people with a wide range of riding interests. It offers maximum entertainment value for new riders and experienced riders as well.
The adjustability of the bike allows its use in more delicate situations. This enables learner riders to venture into the world of electric bikes easily. It is lightweight with ultra-light parts. The reduced weight gives more run time and power.  The tall and light bike is suited to critical maneuvers and trick riding.
Let us check out what teenagers and adults expect from this dirt bike.
Our 2021 OSET 24 Racing guide can be found here.
2022 OSET 24 Specs (Specifications)
Bike weight: 46.8 kg
Motor: 48V, 1400W OSET: neodymium magnet direct current motor
Wheelbase: 121.5 cm
Maximum ground clearance: 31.5 cm
Age range: teenagers to adults
Wheels: 19″ × 14″ alloy hubs/rims
Seat height: 67.0 cm
Rider weight limit: 90 kg
Charger: 3 amp 48V, Lithium-ion
Batteries: 1× OSET 48V, 20ah lithium battery with diagnostic, charging, and discharging ports
Stem attached with a padded chin guard
Controller: 48V thermal cut-out; adjustable for speed, response, and power
Handlebar height: 109.0 cm
Front brakes: 18.0 cm hydraulic disc
Rear brakes: 18.0 cm hydraulic disc
Front suspension: Telescopic fork; oil dampening and compression adjustment
Rear suspension: Shock, oil dampening, preload, and compression adjustment
New folding black footpegs
New Gripper tires
3-dial adjustability; speed, power, response
Colour: red (bodywork)
OSET 24 Racing  Features
The bike features a 48V, 1400W neodymium magnet direct current motor. This powerful motor enhances power, speed, and response. The motor is improved with a strong chain and hardened sprockets.
The 2022 OSET 24 Racing is a tall but lightweight bike that suits teenagers and adults as well. The big motor fitted ensures riders are getting an excellent experience without any hassles.
It features a 3-dial controller system that is used for speed, response, and power. This allows riders to adjust the bike to fit their preferences. Beginners can adjust speed, power, and response to a low rate while learning. It is easier to change by just turning the knobs.
The bike features a throttle limiter that riders can adjust when necessary. It enhances softening of throttle opening, especially when learning how to handle an electric bike for the first time. This can also be used to regulate speeds accordingly.
The 2022 OSET 24 racing bike has safety features like the magnetic thermal cut-out switch. This ensures that teenagers cannot leave with the bike without consent.
It comes with large black footpegs that fit the rider's foot correctly. This enhances confidence and the ability to handle the bike. The footpegs are fitted with rubbers to improve grip.
The bike has tough bodywork that is waterproof and scratch-resistant. This helps the bike to remain firm while riding in harsh conditions. Also, learners may tend to go hard on the bike.
It has a removable key ignition switch. This, combined with the thermal cut-out switch, enhances the safety of the bike.
The bike features a stem attached with padded chin guards. They help protect the rider's knee and the whole lower part of the leg during an accident. When learning to ride electric bikes, minor accidents may occur.
The 2022 OSET 24 Racing bike comes with a reliable 20ah OSET lithium battery. This is a high-quality battery that stays charged for an extended period and is durable. The battery has a two-hour run time.
It features gripper rear and front tires. With more grip, the bike can survive harsh conditions like slippery roads. Also, the tires have many deeper threads that enhance their durability.
The telescopic fork front suspension promotes a smooth riding experience on bumpy roads and off-road. Also, the suspensions are adjustable to match the rider's needs.
The bike has small thick, and slimmer seat that is comfortable. It also comes with a narrower "tank" to allow free movement of the rider on the bike.
It has a low seat height which improves the stability of the bike. The bike is only 67 cm to allow the rider to put both feet on the ground. This boosts the confidence of those learning to ride an electric bike.
The bike features lightweight 19″ trial tires rear and front. The reduced weight gives the bike more run time, more power and is suited to trick riding.
The 2022 OSET 24 Racing protective gear include full-face or open-face helmets, reflector jacket, goggles, and boots or shoes.
Accessories for the 2022 OSET 24 Racing include 3 amp 48V, lithium-ion. This is a high-quality charger that is durable and charges the battery to full charge within a short time.
Pros and Cons of the 2022 OSET 24 Racing
Images sourced from OSET Electric Bikes.