The 2022 OSET 20R MKII Lipo is an electric dirt bike that offers riders reduced bike weight, maximum run time, and ultimate performance. 
Racing MKII's suspensions can be adjusted to suit different rider's preferences and weights. It is designed to help riders develop confidence and motorbike skills. Consequently, the bike is fully electric, meaning no hot parts, virtually silent, no petrol and fumes.
Generally, the bike is loved by adults and kids because of its fun and sheer versatility. They can be used in places other bikes cannot. Let's examine what kids and adults expect from this motorcycle;
Our 2021 20R MKII Lipo guide can be found here.
2022 OSET 20R MKII Lipo Specifications
Bike weight: 34.7 kg (including the battery)
Wheelbase: 105.0 cm
Maximum ground clearance: 29.0 cm
Front wheels: 20″ front alloy hub/rim
Rear wheels: 14″ rear alloy hub/rim
Motor: 48V, 1200W neodymium magnet; thermal protected direct current motor
Age range: 8+ years
Rider weight: up to 50 kg
Charger: 48V, 3-amp lithium-ion
Front brakes: 18.0 cm hydraulic disc
Rear brakes: 18.0 cm hydraulic disc
Handlebar height: 98.0 cm
Seat height: 55.0 cm
Controller: 48V, adjustable speed, power, response; thermal cut-out switch
Front suspension: telescopic air fork; compression adjustment
Rear suspension: shock; oil-dampened and preload-adjustable; compression adjustment
Batteries: 48V lithium battery; 1× OSET 20ah; diagnostic, discharging, charging ports
Brand new MKII graphics; electric bolt
New black footpegs
3-dial adjustable knobs; power, response, speed
New Gripper tires
Stem fitted with chin guard
Colour; red bodywork
20R MKII Lipo Features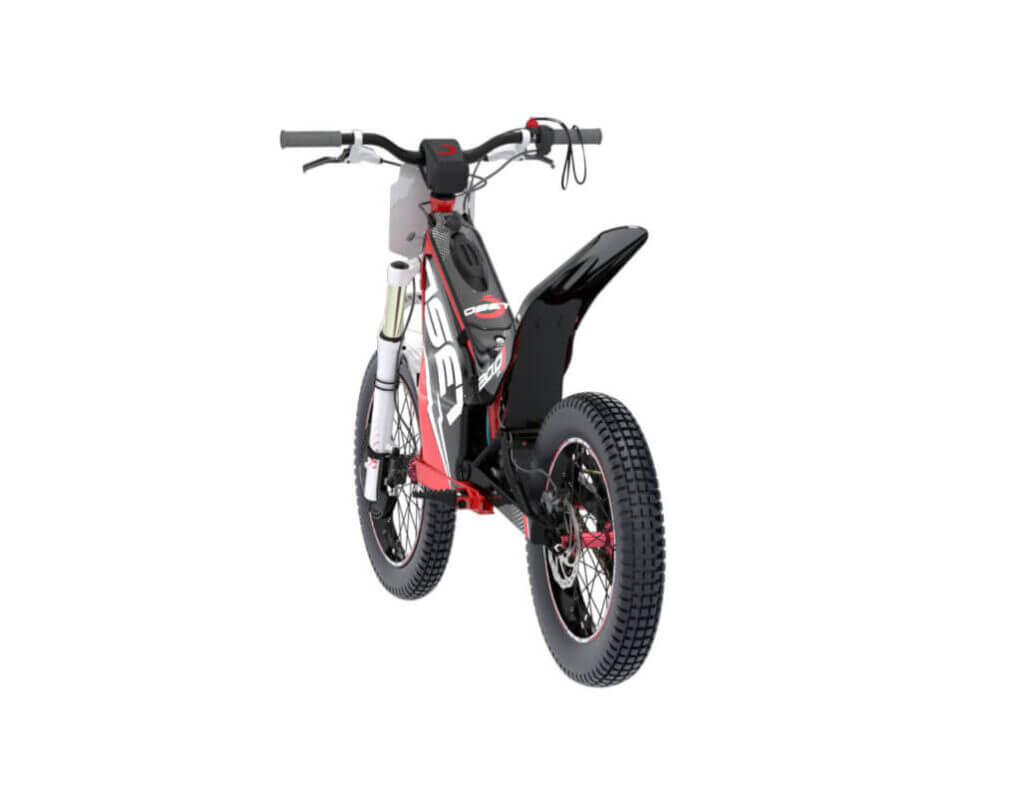 The 2022 OSET 20R MKII is a lightweight bike suited to different environments. It is suitable for teenagers and adults who are below 50 kilograms. It is also fitted with a big motor that ensures new riders are getting desired experience with ease.
The 1200W motor fitted to the bike enhances the bike's response, speed, and power. That motor is hardened with rigid sprockets and strong chains.
It is fitted with an adjustable throttle limiter. The throttle is responsible for softening the response of the bike. Also, it can be used to adjust speeds.
It features an ultra-low seat which gives riders confidence to explore new styles. The bike's seat height is 55 cm, allowing the rider to put both feet on the ground. This is essential for an electric bike.
It has lightweight 19″ trial front and rear tires. This helps learners kick-start their learning process in earnest.
The bike is fitted with a slimmer and thicker seat. This is also enhanced with a narrower "tank" to allow riders to move freely on the bike.
It has front and rear tires with closely packed threads. This improves the grip of the bike when riding in harsh environmental conditions. The threads also help enhance the durability of the tires.
The 2022 OSET MKII is made up of tough bodywork. It is scratch-resistant and waterproof to withstand some conditions that riders may subject the bike to.
The stem of the bike is fitted with a chin guard. It protects the rider's lower parts of the leg during accidents. Some minor accidents may occur when learning to ride an electric bike, that is normal.
The bike has a 20ah lithium battery that lasts up to two hours and beyond. It is also durable with minimal maintenance and servicing.
It features a removable key ignition switch that improves the safety of the bike when combined with the thermal cut-out. This also ensures that the teenagers do other tasks before giving them consent to go riding.
The bike comes with safety features like the cut-out switch. This helps adults to supervise the young riders effectively.
It features new folding black footpegs. They are large enough for the feet to fit on them correctly. This improves the confidence of the young riders.
It has a 3-dial controller system responsible for power, speed, and response. This helps the parents and young riders to adjust accordingly to match the rider's skills.
It features beautifully designed red bodywork. The colour is appealing and loved by many young riders.
The 2022 OSET 20R MKII features front telescopic fork suspensions suitable for a wide range of environments. It also promotes a smooth riding experience for the riders.
The protective gear for the MKII bike includes open-face or full-face helmets, goggles, reflector jackets, and shoes and boots.
The 2022 OSET 20R MKII accessories include a 48V, 3-amp lithium-ion charger. It is a durable charger that charges the bike quickly.
Pros and Cons of the 2022 20R MKII Lipo
Images sourced from OSET Electric Dirt Bikes.