The 2022 Yamaha TT-R110E is a combination of performance and style. Yamaha's YZ bike series has inspired its unique, stylish structure. On top of looks, it offers exceptional comfort for riders. The semi-automatic gearbox and strong performance 110cc engine enhance its appeal.
This is a perfect bike for riders graduating from the small bikes with 50-80cc transmissions. Its long-travel rear and front suspensions contribute to its ease of use. Also, it is easy to ride the TT-R110E because there is no clutch. Here is a cross-examination on what the bike offers;
Although the 2022 TT-R110E is not the latest model. We have left this review live on our site as we know how valuable a 2nd hand dirt bike can be. Read the latest Yamaha TT-R110E review.
Our 2021 TTR 110E guide can be found here.
2022 Yamaha TT-R110E Specifications
Transmission: multiple wet clutches; 4-speed, constant-mesh
Engine type: 2 valves, SOHC 4-stroke, 110cc air-cooled
Bore and stroke: 5.1 cm × 5.4 cm
Starter/Ignition: kick/ electric starter/ capacitor discharge ignition (CDI)
Fuel delivery: Mikuni carburettor (VM16)
General dimensions L*W*H= 156.5 × 67.1 cm × 91.9 cm
Seat height: 67.1 cm
Wheelbase: 108.0 cm
Trail: 6.1 cm
Caster angle (rake): 26.0°
Maximum ground clearance: 18.0 cm
Fuel capacity: 3.8 litres
Fuel economy: N/A
Final drive: chain
Rear suspension: 4.3-in travel motocross
Front suspension: 4.5-in travel, 3.1 cm telescopic fork
Rear brakes: 11.0 cm, drum
Front brakes: 9.5 cm, drum
Rear tires: 3.00-12-4PR
Front tires: 2.50-14-4PR
Wet weight: 72.1 kg
Limited factory warranty of 90 days
Colour: Yamaha blue (bodywork)
2022 TT-R110E Features
It features a powerful 110cc torque-rich engine. The four-stroke, air-cooled engine is tuned for a wide range of trail conditions, including off-road. Also, the engine requires minimal maintenance because of an automatic cam chain tensioner that promotes its long life.
It has a compact cylinder design. The compact chamber with compression of 9.3:1 produces maximum horsepower at around 7,500 rpm and maximum torque at around 4,000 rpm.
The Yamaha TT-R110E is easy to service and maintain. It features tool-free and easy-to-access air filters that enhance convenience during servicing and maintenance.
It comes with a forest-friendly exhaust. The exhaust system is quiet and features a USFS-approved spark arrestor. Also, the exhaust is routed backward and away from the rider to improve the comfortability of the rider.
The bike comes with an ultra-low seat to enhance the stability of the bike. The seat height is 67.1 cm, allowing riders to put both feet on the ground for enhanced balancing.
It has nimble wheels and tires. The 30.4 cm rear and 35.6 cm front wheels keep the steering light and the seat. This improves the rider's confidence.
The bike features a well-designed and reed-valve induction MV16 carburettor that enhances acceleration and throttle response. This enables the bike to take off quickly or accelerate faster after bumps.
It has an advanced steel swingarm and motocross rear suspension that facilitate rear wheel control.
The bike has a digital CDI system for easy and quick ignition. This is combined with an electric starter for an effortless engine start-up. It also comes with a kick starter as a backup. On top of that, the CDI ignition is reliable with minimal maintenance requirements.
The bike features black folding grippy footpegs. They are fitted with thick rubber to enhance their grip and offer excellent footing. Also, the footpegs are large enough to increase the surface area of where the feet rest.
The team features Yamaha's racy styling, which is generally appealing. The colouring, graphics, and front and side number plates give an exceptional styling dimension similar to bigger bikes.
Has a slimmer and flat seat that allows free movement of the rider. The bike also features a narrower tank that enhances rider ergonomics.
It is to service and maintain the Yamaha TT-R110E. It is easy to remove the rear fender, side panel unit, and seat during maintenance. There is no need to open rigid bolts and nuts.
The bike features an automatic clutch for easy riding. This ensures that young and new riders don't stall.
It has durable knobby tires with closely packed treads. The deep treads improve traction and the general durability of the tires.
The enclosed front and rear drum brakes provide smooth and predictable stopping power. The bike can come to a complete stop within a short distance, even when the rider is at the highest speed. Emergency braking is also possible.
The extended rear and front suspensions promote smooth riding in rugged terrains. It comes with a 3.1 cm telescopic fork front suspension that enhances the responsive handling of the bike.
The bike features a compact and robust frame with the swingarm pivot and steering head tied straight by the steel backbone. Also, the engine is mounted at three places for high ground clearance and more strength.
The protective gear for Yamaha TT-R110E includes reflector jackets, goggles, shoes or boots, open-face or full-face helmets, and jerseys.
The Yamaha TT-R110E accessories include scratch-resistant and waterproof graphics for beautiful looks. Seat covers are also included for comfier rides.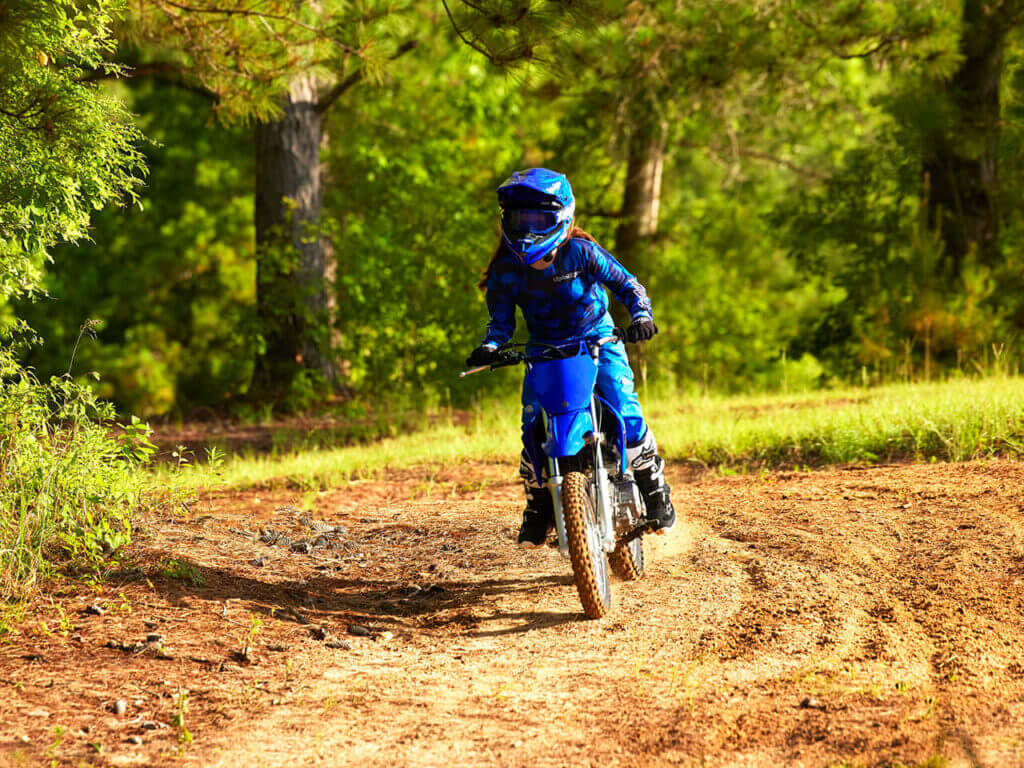 2022 Yamaha TT-R110E Pros and Cons
| Pros | Cons |
| --- | --- |
| The 2022 Yamaha TT-R110E has super acceleration because it is fitted with an MV16 carburettor. | The 2022 Yamaha TT-R110E may not be suitable for small kids or short riders. |
| The compact and quiet exhaust pipe is routed away from the rider to enhance an excellent riding experience. It also comes with a removable baffle. | It may challenge new riders who have not handled bigger bikes before. |
| The 110cc, four-stroke engine is strong enough to withstand a wide range of trails. The automatic gearbox enhances its functionality. | |
| It comes with a digital CDI system and an electric starter for an effortless engine start-up. It requires a few seconds to start the engine and take off. | |
| The Yamaha TT-R110E is a lightweight and performance bike for riders who want to experience advanced racing experiences. It is fitted with light parts for easy management and handling when maneuvering. | |
| Rear and front suspensions are solid and rigid to withstand uneven road surfaces. | |
| Rear and front enclosed drum brakes provide smooth and predictable stopping. Emergency braking is also available. The bike takes the shortest distance possible to stop completely. | |
Images sourced from Yamaha motorcycles (United States and Australia)