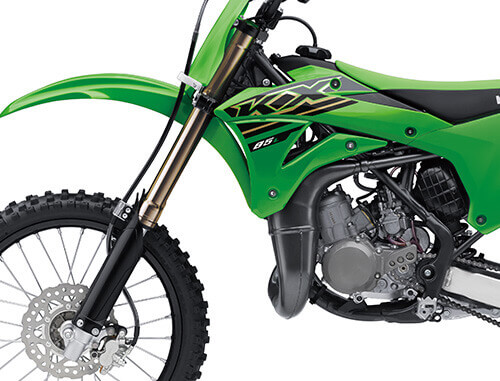 Known for keeping its performance on par with its professional counterparts, the 2022 Kawasaki KX85-II is an extremely affordable big wheel motorcycle. Race-ready technology combines with the proportionate power of an 84cc engine to provide young racers with the opportunity to win championships. 
Designed with a slim frame and a small fuel cap, this KX85-II makes it easy to switch from front to rear, no matter which end of the bike you are on. This remarkable 275 mm travel bike comes with an inverted cartridge fork of 36 mm with adjustable compression damping. 
There is a fully adjustable KYB shock at the rear of the Uni-Trak suspension system, making it versatile and stable. KX85-II's black and green anodized spring adjusters add to its factor look. This bike's disc rims have a whimsical appearance thanks to their petal-like shapes. 
The powerful 2-stroke engine of the KX85-II helps you complete each ride with confidence thanks to its high performance and crisp, responsive power, as well as its guaranteed durability. Hand-built to suit the power output of the bike, the radiator is designed to fit the motor. The KX85-II remains cool even when the racing action becomes intense. 
Kids will find the KX85-II to be a great motorcycle as it is built to grow with them. The handlebar mounts can be adjusted in six positions and the forward-backward adjustment can be adjusted in two positions. Three different spacers are available to adjust the handlebar height. Smooth operation and ease of maintenance are assured with this KX85-II's pull-type clutch actuator. 
(See the 2021 KX85-II Review Here)
Whats New with Kawasaki in 2022?
Kawasaki's KXTM mini motocross lineup is even stronger for 2022 with the all-new Kawasaki KXTM112, an updated KXTM85, and the KXTM65. Every member of the line-up has a long history of success stemming from building champions from the ground up.
A supermini racer called the KX112 will be launched in 2022, bridging the gap between supermini bikes and full-sized motocross bikes. It has the largest displacement engine in its class, measuring 112 ccs. The KX85 is equipped with many of the same improvements as the KX112, including more power, improved cooling, and Dunlop MX33 tires. In the Kawasaki KXTM lineup, the KX65 is the smallest and most convenient model.
What's New with The KAWASAKI KX™85
Stronger 6-speed transmission
NEW factory-inspired styling
Dunlop MX33 tires
NEW radiator shroud design
KX85 motorbikes feature much of the same race-winning technology as the KX112 and have been updated again for 2022 to deliver championship-winning performance to young racers. KX85 combines instant power with nimble handling, racing-inspired styling, and factory-race-inspired handling to win races.
An easy-to-use wide-spread powerband is generated by the power valve system, which generates a powerful, two-stroke engine with one cylinder, 84cc. It uses the same transmission and new tires from Dunlop, the MX33s for improved traction. In addition, it has a redesigned shroud that contributes to a slimmer, more ergonomic design, along with aggressive styling and improved cooling. It is this power that makes the KX85 stand out from the competition.
For over four decades, the Kawasaki Team GreenTM racing team was the dominant force in amateur racing, providing racers across the country with a superior level of contingency and trackside support. Throughout the country, amateur motocross and off-road events have been held under the Team Green racing program to involve community members. Besides technical assistance, Kawasaki race transporters and technicians can provide parts and critical assistance to riders. With the help of aspiring young stars, Kawasaki has created winning products across its line-up.
Top Features of the 2022 Kawasaki KX85-II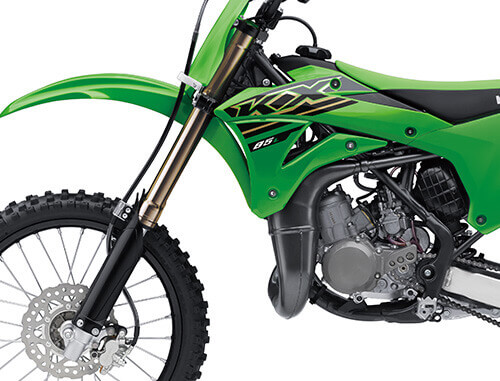 PETAL DISC BRAKES (FRONT AND REAR)
As with the full-size KX250 and KX450 models, the KX85-II comes with a petal-shaped disc for the ultimate look. The front and rear discs measure 220mm and 184mm respectively.
ICONIC SLIM DESIGN
By designing the bodywork to be flat, slim fuel tanks, and low fuel caps, the motorcycle is made for easier transitions between front and rear.­­
REAR SUSPENSION
With its KYB shock, Uni-Trak's rear suspension provides stability and versatility with 27.5cm of travel and fully adjustable KYB shocks. To give the factory look, the springs and adjusters are black and anodized.
HANDLEBAR POSITION ADJUSTABLE IN 6 WAYS
The KX85 motorcycle grows with your young racer. Handlebar mounts may be adjusted in six positions; two positions allow forward-backward adjustment, while three positions allow height adjustment.
KX DNA
The KX85's bodywork has been designed for stunning, aggressive looks similar to the full-size KX250/KX450 models. 
EXTRA COOLING IS AVAILABLE THROUGH A LARGE RADIATOR
Radiator design on the KX85 matches power output. Keeping the bike cool during hot racing action.
TRANSMISSION HAS 6-SPEEDS 
Due to hard chromed shift forks and newly added bushings to the output shaft of the second, third and fourth gears, the KX has a smooth-shifting six-speed transmission with rugged durability.
INTEGRATED KAWASAKI POWER VALVE SYSTEM
By varying the exhaust port height, the KIPS system increases horsepower and torque. 
PULL – TYPE CLUTCH
Enjoy easy maintenance and smooth operation due to pull-type clutch actuation. 
STYLE AND FLAIR
KX85-II has a slim body, racy graphics, and a bold design. Further strengthening their factory image are the black aluminium rims, black fork guards, green anodized suspension adjusters, and black rear springs.
2022 Kawasaki KX85-II Specs
POWERFUL ENGINE (2-STROKE)
With its high-performance 84cc two-stroke engine, it produces crisp power and is durable enough to last through countless rides. 
FRONT FORK
With an impressive 27.5cm of travel, the 36mm inverted cartridge fork boasts adjustable compression damping for excellent tuning.
Dimensions of The KX85-II
Seat height – 840 mm
Curb weight – 77 kg (including a full fuel tank, and all fluids at optimum levels).
Wheelbase – 1,310 mm. 
Rear Suspension – Uni-Trak multi-link system with adjustable preload and 24-way compression dampening, 21-way rebound dampening 
Front Suspension – 36 mm inverted 20-way compression damping on a telescopic fork
Fuel capacity – 5 litres. 
Ground clearance – 330 mm.
Pros & Cons of the 2022 KX85-II
Price
The price of the 2022 Kawasaki KX85-II will differ slightly per area code however it has an average ride away price of $5701.99
Bottom Line
KX85-II's (big wheel) proven performance is now available for amateur riders. Young racers will gain an advantage with the 84cc engine's powerful power and race-ready technology for championship success.
With top features including:
Pull-Type Clutch
6 – Speed Transmission
Rear Suspension
Large Radiator for Extra Cooling
KX DNA, and
Iconic Slim Design.
This Kawasaki bike is sure to please your kids!
Images sourced from Kawasaki.