A long-travel suspension, powerful engine, disc brakes, and a lightweight chassis make the 2022 Kawasaki KX65 dirt bike stand out among its competitors. If your child is interested in racing, then this bike would be a great choice for them.
Read the 2021 Kawasaki KX65 Review here.
2022 Kawasaki KX65 Review
The 2022 KX65 manual clutch transmission will be new to anyone who has mastered the 50cc or just started on the 65cc. The 64cc motor is utilized to the fullest extent by the six-speed transmission. Plus, there is an adjustable recoil damping can be found on both ends of the 2022 KX65 suspension. 
With more than 203 mm of fork travel and 229 mm of shock travel, this 2022 Kawasaki KX65 is both strong and significant to use. Aside from disk brakes and a curb weight of 60 kgs, it has wheel travels of 210mm and 240mm (front and rear). 
Throughout its 30-year history, Kawasaki's smallest KX motorcycle has played a key role in motocross, providing race-winning platforms for countless national and world champions.
Today's Kawasaki KX65 has the same characteristics that made it so successful, including a reliable and powerful two-stroke engine, disc brakes, lightweight chassis, and long-travel suspension. Young racers taking their first steps into competitive riding well deserve its reputation as the quintessential learning tool.
How Fast Does A KX65 Dirt Bike Go?
The KX65 is powered by a 64cc two-stroke engine. We can go up to 62 miles per hour on this bike, which is best reserved for kids who have experience with dirt bikes and know what they're doing.
Top Features of the 2022 Kawasaki KX65
KX65 64CC Engine (Two – Stroke)
Designed to help them stand out against the competition. Motocross skills are developed easily with this easy-to-use, competitive operation.
Disc Brakes in The Front and Rear
The brakes on the KX65 have incomparable durability and deliver exceptional stopping power. The front and rear disc brakes each have a 180mm diameter and a single-piston calliper. 
Kawasaki Kx65 Rear Suspension
As the suspension of the KX65 compresses, its UNI TRAK rear suspension system increases the damping strength. With a nitrogen-charged shock, you can adjust the rebound damping in four different ways, the spring stiffness, and the damping settings to meet your preferences.
Lightweight Aluminium Rims
Similarly, to both larger KX models: 450 and 250, the KX65 is also equipped with black aluminium rims. Aluminium provides better suspension action because it reduces unsprung weight.
Conventional Fork (33mm)
For excellent handling over rough terrain, the large 33mm inner tubes provide rigidity. The rebound-damping adjustment has four positions to accommodate varying riding styles. 
Mikuni Carburetor (24mm)
Provides excellent throttle response by feeding a quadratic reed valve. A good amount of power and torque is produced at all RPMs.
Check Valve for Fuel Tanks
Fuel seepage is reduced by a check valve on the fuel tank cap vent hose.
Ignition By Capacitor Discharge (CDI)
The ECU is a digital engine that controls timing precisely regardless of how fast the revs change. Acceleration is enhanced by the hot spark produced by the special ignition coil.
Kawasaki KX65 Signature Transmission (6-Speed)
Smooth-shifting and durable hard chromed shift forks provide strong durability to the smooth-shifting six-speed transmission of the KX. For maximum control and performance, the clutch is operated manually. 
Aluminium Silencer
There are removable silencers and replaceable packings. Its oval shape is similar to that of the KX model, which has a larger displacement.
Semi-double Cradle Frame Made of High Tensile Steel
KX Motocross bikes feature the same high-tensile steel for an extremely rigid frame, so they handle well with excellent torsional rigidity for utmost control. Strength and durability are enhanced by the reinforced downtube. Several bolts on the engine and chassis are covered in rust-resistant coatings.
Cast steel footpegs provide excellent grip and resistance to bending.
Electrofusion Cylinder
A coating of electrofusion on the aluminium cylinder walls provides consistent power output by improving heat transfer. It is designed to provide greater power, seizure resistance, and excellent wear, as well as closer piston-to-cylinder clearances.
Multi-plate Clutch
Smooth clutch actuation is achieved through needle bearings in the actuating arm. A circlip secures the clutch basket to the hub, which rides on involute splines. In order to improve the feel of the clutch plates, they are specially treated. KX models with manual clutches are similar to larger models.
2022 Kawasaki KX65 Specs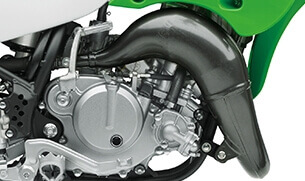 Dimensions of The KX65
Seat height – 760 mm
Curb weight – 60 kg (includes full fuel tank, all fluids at optimum levels)
Wheelbase – 1,120 mm. 
Rear Suspension – Uni-Trak system with four-way rebound damping, gas-charged shock, and adjustable preload
Front Suspension – 36 mm inverted 20-way compression damping on a telescopic fork
Fuel capacity – 3.8 litres
Ground clearance – 305 mm. 
Pros & Cons of the 2022 KLX65
How Much Does a 2022 KX65 Cost?
The price of the 2022 Kawasaki KX65 will differ slightly per area code however it has an average ride away price of $5200.
Bottom Line
It has been over 30 years since Kawasaki's most affordable KX motocross bike has provided a race-winning platform for numerous national and world champions to begin their motocross career.
The KX65 today retains many of its successful aspects, including KX65's two-stroke engine, disc brakes, long-travel suspension and lightweight chassis. Young racers who are beginning to make their way into the world of competitive riding will find it an invaluable learning tool.
With top features including:
KX250s and KX450s inspired the styling
Digital ignition provides better throttle responsiveness throughout the rev range in a 64cc two-stroke engine
For excellent performance and power at high speeds, an electrofusion coated cylinder is available.
This transmission provides positive action, rugged durability and hard-chromed shift fork ends that resist wear
A steel frame featuring high tensile strength and superior torsional rigidity gives users excellent handling.
When the suspension compresses, the springs and damping strengths steadily increase for a more controlled ride
Lightweight, powerful and resistant to fading, disc brakes are available for both front and rear axles
There's nothing better than a Kawasaki KX65 dirt bike for your kids!
Images sourced from Kawasaki.