Age Range: 7-10 Year Olds
The Kawasaki KX 65 (2020) is a consistent performer in the Kawasaki KX line. The KX65 is an amazing kids' dirt bike for any child that is 7-10 years old. It has been improved to include 0.33cm front forks and a rebound damping that can be adjusted, making it capable of performing at its best condition even in very rough terrain. Kawasaki KX 65 offers good engine improvement influenced by Kawasaki's racing attempts for more power.  
The durability and reliability of this model create a dependable platform for kids who are just starting in racing. It is an essential tool for kids who are stepping out into the world of competitive racing for the first time. The Kawasaki KX 65 is likely to produce champions.  
If your goal is to introduce your kid to the competitive ranks of motocross, then the KX 65 should be your ideal choice. With proven durability, agility, and a 64cc engine, the rider will be able to build their skills on an absolutely solid platform.
Kawasaki KX 65 Specs: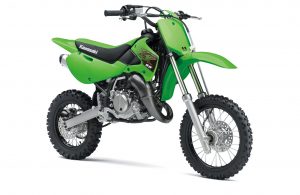 64.7cc, single, 2-stroke engine:
KX 65's digital ignition includes rare magnets that make it light and long-lasting. The reduced inertia improves the small-rpm response. The powerful ignition distributes a more powerful subordinate voltage for a more powerful spark. Using lock-nuts, the primary gear has been secured to reduce mechanical noise.
Engine reliability has also been improved using a stopper on the oil seal on the left crankcase. The generator, water pump elbow, and water pump cover all have improved sealing using meta form gaskets.
6-speed chain drive transmission:
The 6-speed transmission improves shifting action made possible through the shift forks that are chromed. This manual clutch provides for ultimate control and performance. 
Fuel system: Carburetor. Mikuni VM24SS.
Adjustable Uni-Trak rear suspension.
CDI w/digital advanced ignition system.
Fuel capacity: 3.8 litres. 
Weight: 60 Kg including oil and fuel.
Seat height: 76 cm.
Liquid cooling system.
Semi-double steel frame.
Bore x stroke: 44.5 x 41.6 mm.
Compression: 8.4:1.
Front and rear brakes: both are single-disc hydraulic.
Front-wheel travel: 21.0 cm.
Rear-wheel travel: 24.0 cm.
Overall length: 159.0 cm.
Overall width: 75.9 cm.
Kick starter.
Wheelbase:11.20 cm.
Lx W x H: 15.9 x7.60 x 9.55 cm. 
Colour: Lime green.
Kawasaki KX65 Key Features
This bike might be a small dirt bike, but its high-performance engine makes it extremely efficient. The 6-speed transmission creates high power that can satisfy any aspiring racer.
The Kawasaki KX 65 has a rear Uni-Trak link feature that is not just fully adjustable but also has a four-position rebound damping providing almost 29 cm of travel.
The light and powerful rear and front brakes provide continuous braking performance. This results in a firm and responsive brake system that improves driving confidence and sharpens skills with small riders.  
A low 76.0 cm seat height with a high tubular semi-double steel cradle frame provides a dependable platform that allows riders to gain experience and build skills comfortably. 
The hard-chrome finished forks are wear-resistant.
The graphics are beautifully updated on the Kawasaki KX 65 as inspired by the KX 250 and KX 450.
Kawasaki KX 65 Pros and Cons