KX85 age range: 7-10 Year Olds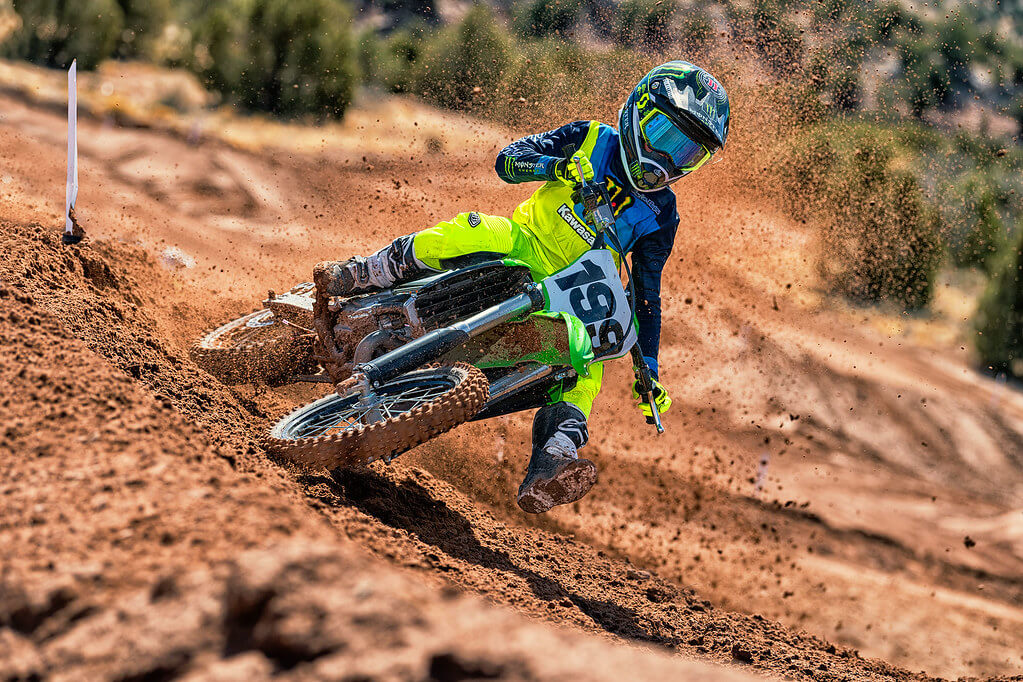 The 2020 Kawasaki KX 85 can be rightfully described as a sizeable bike in a little package. This dirt bike has been deliberately improved so that it meets the standards of youth racers looking for a bike that can give them an upper hand over their competitors. 
The KX85 comes equipped with a power valve system that is easy to use and control. 
KX85 Specs: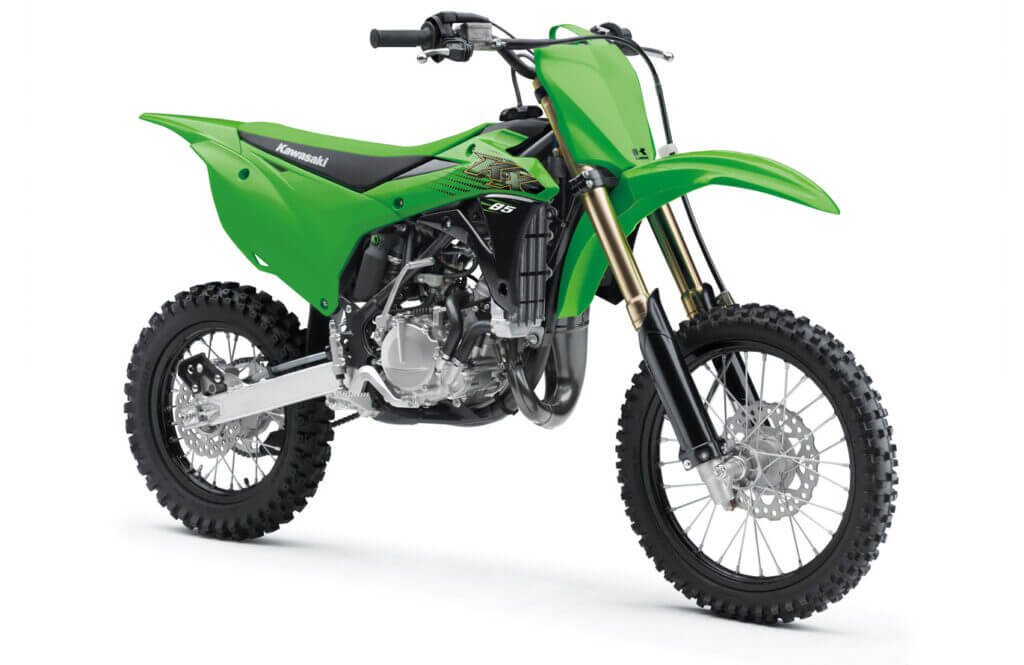 84.6cc engine displacement.
2-stroke, liquid-cooled, single valve engine system.
Final drive: Chain.
Electric CDI ignition with a digital advance.
Compression ratio speed: 9.0:1 (high) 10.9:1 (low) 
It has a 6-speed, wet manual clutch with a return shift transmission system.
Fuel system: 28mm Keihin carburetor.
High tensile steel perimeter frame with a subframe member.
Bore x stroke: 48.5 x 45.8 mm.
Overall length: 182.88 cm.
Overall width: 76.6 cm.
Overall height: 109.98 cm.
Seat height: 83.06 cm.
Ground clearance: 28.96 cm.
Curb weight including oil, gas, etc.: 74.8 Kg
Wheel-base: 126.5 cm
Fuel capacity: 5 litres
Colour: Lime green.
Warranty: none available.
2020 KX 85 Key Features 
The adjustable handlebars provide extra room for kids' growth. 
The 2-stroke engine boosts the performance of the bike.
The strong braking performance is exceptional, because of the improved 220mm disc at the front and 184mm disc at the rear. 
The slim body works provide for an easier transition when riding. Added to this is the low positioned fuel cap to make transitioning from the rear to the front part of the motorcycle easier.
This bike's pull-type clutch actuation improves operations and allows for easy maintenance. 
The second, third, and fourth gears have hard chromed shift forks and new bushings added to them to offer positive shifting action and rugged durability. 
Kawasaki KX85's image has been strengthened further by the black alunite rings, and fork guards, together with the green adonized finish on the suspension adjusters. 
Because the radiator in Kawasaki KX85 has been enlarged, it matches the engine power perfectly. It works hand in hand with the power output. These features keep everything cool when the action gets too hot.
The forks on this bike offer efficient damping and higher resistance so that the rider can achieve an even higher pace with maximum comfort. 
Again, this bike has petal-shaped discs to provide massive stopping power.  
Riders of these bikes can choose between two different sizes. There is the Kawasaki KX 85-II that has 48.26cm front and 40.64cm rear wheels the Kawasaki KX85 comes with a 43.18 cm front and 35.56cm rear wheel.
Kawasaki Integrated Power Valve System; In Kawasaki KX85 the KIPS cover helps to remove the excess exhaust pressure so that the valve action is more precise and the rpm performance is improved. The spring stopper absorbs the over stroke for improved durability. The KIPS governor also works to open the cylinder valves fully.