Best for First Time Off-Road Riders   
The 2021 KLX110RL is packed with kid-friendly features such as a 4-speed transmission system, a manual clutch, a neutral only starter, and an adjustable throttle limiter. This bike has several speeds and plenty of power for the young rider.
With a high tensile steel body, a rear shock for secure handling, and a 30mm telescopic fork, the KLX110RL is excellent for riders who want to go off-road for the first time. Its construction ensures maximum longevity and durability irrespective of where you ride it. This KLX110RL also has an automatic centrifugal clutch system that helps you to take off and shift gears, thus ensuring that you maintain your focus on the terrain.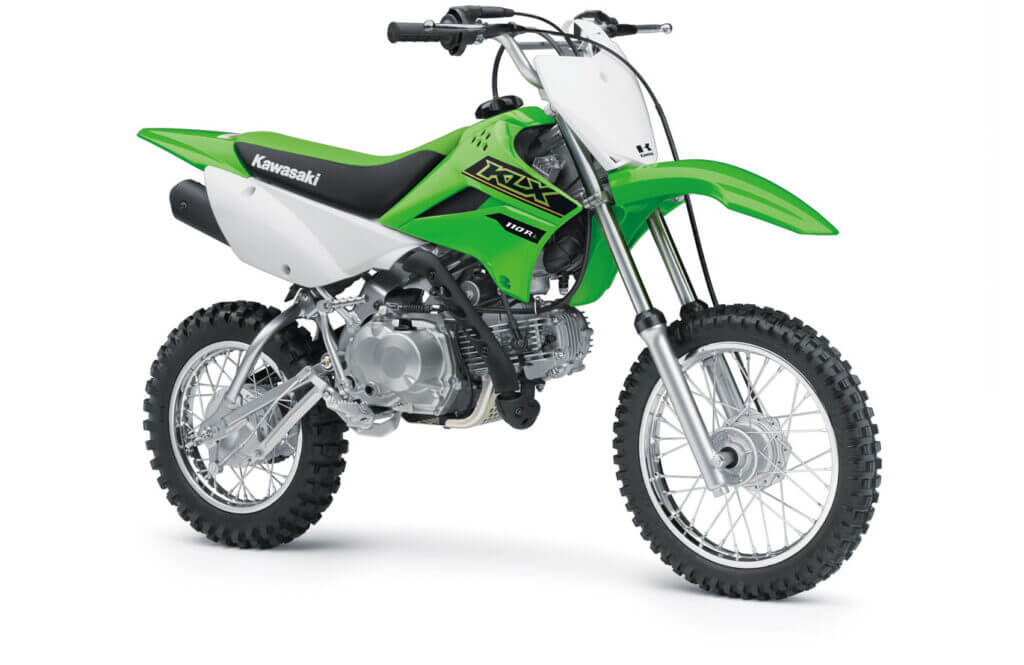 With a 112cc single-cylinder and four-stroke engine, this KLX110RL is bound to give you a better experience than the smaller version. The large version also has a taller seat, a more extended suspension length, a manual clutch, and an added 4.8cm of ground clearance. No matter your skill level or size, this KLX110RL model will allow you to play out there without experiencing breakdowns. 
When you are on the tracks, you don't want to be riding a dirt bike that keeps breaking down or that you can't start. That is why this KLX110RL is a perfect pick. With an electric start, you will start the fun with a single push of a button using its reliable starting mechanism. 
The 110cm3 air-cooled engine is simple to operate and maintains a high level of reliability. It comes with optimum camshaft timing, which results in excellent engine power at all speeds. The piston rings are designed in a low-tension model that decreases cylinder friction and ensures increased performance. 
KLX110RL Top Features:
A taller seat height of 728.98 mm than the previous version.
Higher ground clearance of 264.16 mm than the previous version.
Four-speed transmission with a manual speed.
Sporty race-inspired styling. 
122cc air-cooled, four-stroke engine. 
Throttle limiter.
4-speed transmission. 
Electric start. 
2021 KXL110RL Specifications (Specs)
1.     Engine
Type – 4-stokes transmission, air-cooled. 
Compression ratio – 9:5:1. 
Displacement – 112cc.
Fuel – Keihin PB18.
Induction – Reed Valve. 
Bore x Stroke – 52.5 x 45.8mm.
2.     Chassis
Brakes – Disk.
Front Suspension- Travel.
Rear Tire – 90/100 x 19.
Front Tire – 90/100 x 16.
3.     Dimensions
Curb weight – 76.2 kgs.
Seat height – 871.22 mm.
Wheelbase – 1074.42 mm.
Rake – 29 degrees.
Ground clearance – 264.16 mm. 
Trail – 109.22 mm. 
Fuel capacity – 4.92 litres.