As with any sport, the right dirt biking garments can enhance one's performance, offer protection, or at the very least, keep the experience comfortable. Proper gear can also boost a rider's confidence and provide a sense of belongingness. This is especially true for junior riders whose enthusiasm for the sport is often unmatched.
Why t-shirts won't cut it
Professional riders know how important it is to wear the correct clothing when hitting dirt roads. However, the reasons may not always be obvious to casual riders or parents of kids who are only starting out in the sport.
Dirt bike jerseys are functional first. Style only comes second. They should be comfortable and protect the wearer from the heat of the sun. A proper dirt bike jersey covers the entire length of the torso and the arms. It should be form-fitting to some extent but not too tight that it restricts movement or breathing. Neither should it be too loose. A dirt bike vest or jacket should be able to rest nicely on top of it.
Unlike ordinary t-shirts that can get saturated in sweat and unavoidably soak your back too, dirt bike jerseys are made with moisture-wicking fabric. This kind of fabric is thin, breathable, and effectively removes the sweat away from the skin to the top layer of the cloth which dries quickly. 
Finding the right jersey for a junior rider can sometimes be difficult. Some options out there look amazing but lack the functions expected in a jersey. So to help you out, here are the best dirt bike jerseys for kids that we found on Amazon. 
The Best Dirt Bike Jerseys for Kids on Amazon
| | | | | |
| --- | --- | --- | --- | --- |
| Brand | Moisture-wicking? | Available in Adult Sizes? | Features | Amazon Rating |
| Fox Racing PeeWee Jersey | Yes | No | Mesh collar and cuffsElongated back | 4.4/5 |
| O'Neal Element Youth Jersey | Yes | Yes | Non-fade design elbow padding Raglan cut | 5/5 |
| O'Neal Element Racewear | Yes | Yes | Non-fade design elbow padding Raglan cut | 5/5 |
| Kids Thermal Fleece Jersey | No | No | Velveteen Extra warm honeycomb design velcro waistband | Unrated |
Fox Racing PeeWee Jersey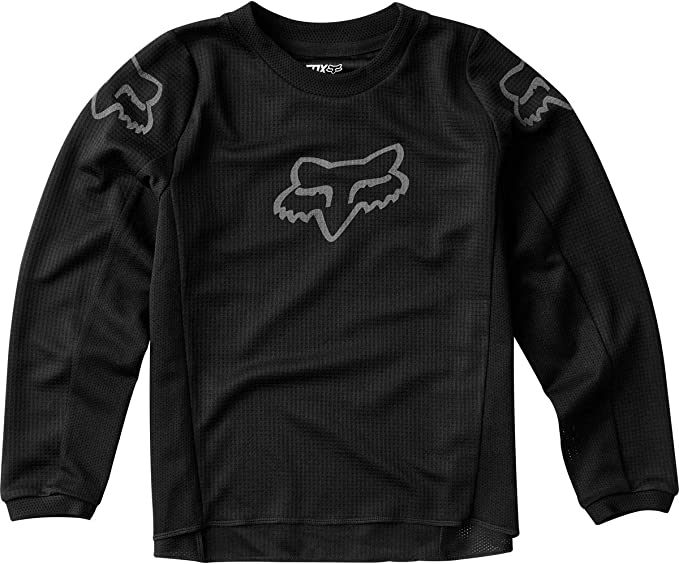 Kids will feel like a pro with this Fox Racing jersey in black. Made with lightweight, moisture-wicking fabric, it works very well in keeping the rider cool and dry. The collar and sleeve cuffs are lined with structured mesh for an improved fit — the sleeves won't roll back on their own no matter the movement! It also has an elongated back which helps in keeping the jersey tucked into the pants when needed.
O'Neal Element Youth Jersey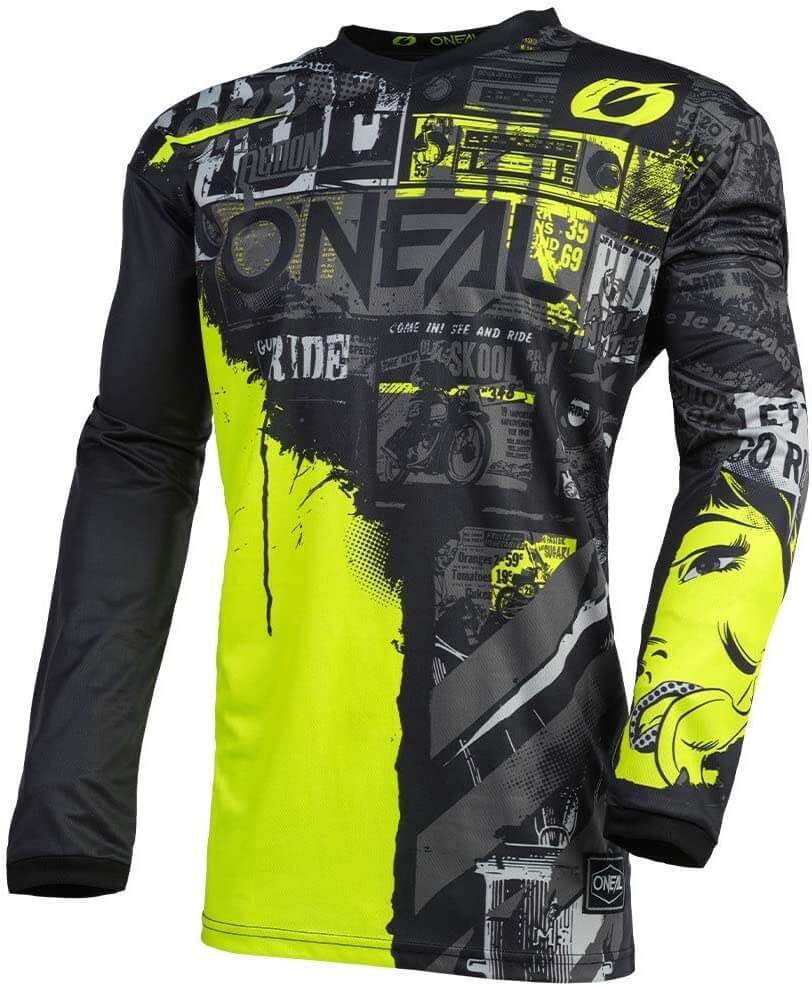 O'Neal is one of the best-known brands when it comes to riding gear thanks to its superb quality and their youth dirt bike jerseys are no exception.
The O'Neal Element Youth Jersey is a raglan cut, long-sleeved jersey. It has a relaxed fit in the torso and is a little snugger towards the chest and shoulders without being uncomfortably tight. Like all good jerseys, this O'Neal number is made with breathable, sweat-wicking fabric to keep you dry. One review points out that this shirt is warmer than other jerseys so that's one thing to keep in mind if you're shopping around for the cooler months. Another thing that sets this youth jersey apart from others is the sewn-in elbow padding which adds a layer of protection in case of a crash. 
We also love its pop art/graffiti design printed using a non-fading technique. However, if you're not into wild colours, you may want to check out the next O'Neal jersey on this list.
O'Neal Element Racewear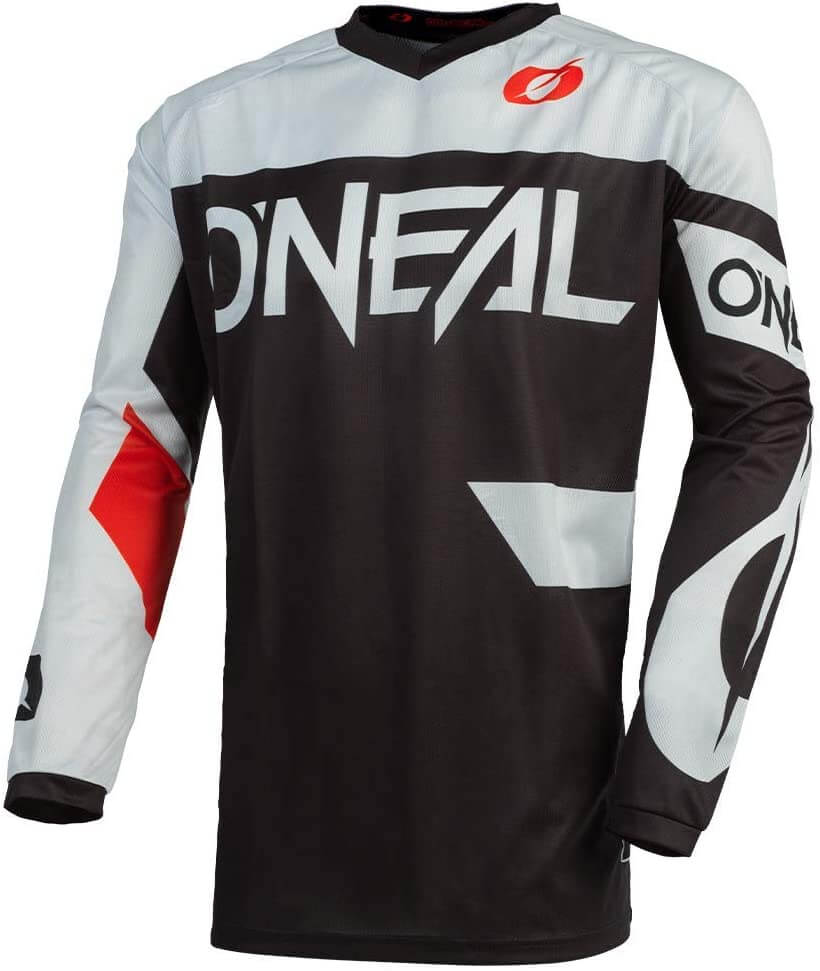 Like its more colourful sibling, this O'Neal jersey is raglan cut and made with moisture-wicking fabric. It also comes with padded elbows and is well-made throughout — a quality that is always praised by fans of the brand. 
Longer in the back, this jersey's extended tail makes sure it stays tucked into the pants even on the roughest rides.
Kids Thermal Fleece Jersey
If you are looking for something warmer than the O'Neal Element jerseys, then this is for you. 
This pick from the Amazon Outlet Store is unrated but we haven't found anything quite like it yet.  Made with 100% velveteen, this extra warm thermal dirt bike jersey promises to keep you feeling toasty when riding out during winter. The fabric is also treated with UV protection, which is perfect on those blinding days. 
Design-wise, this jersey is available in a variety of bright, sporty colours. It is quite secure in the collar and sleeve cuffs to further keep the cold out. 
Final Thoughts
Don't let the options overwhelm you. Many of these jerseys are essentially the same and oftentimes, finding the best one means finding the best fit. Different brands, including the ones mentioned on this list, have different sizing so be sure to check out their guide. If you plan on riding throughout the year, invest in a couple of jerseys for different seasons.