Age group 13 and above
The 2019 Honda CRF50F is designed for young dirt bike riders just starting. It has a strong frame that can withstand nearly anything. The 2019 Honda CRF50F and the classic 1986 model of the mini-trail dirt bike basic designs are similar, although a massive upgrade has been done to it since that time. The fame of this model in itself speaks for its durability, the only person that will probably be sad that you got this product is your mechanic. 
A major problem with most kids' dirt bikes is that their tires get punctured easily but kids' Honda dirt bikes have found a way around this because the CRF50F tire has been inculcated with a substance that cannot be punctured. For a child starting, a dirt bike like this is needed; the 2019 Honda CRF50F is available for sale in Australia for your child.
2019 CRF50F specifications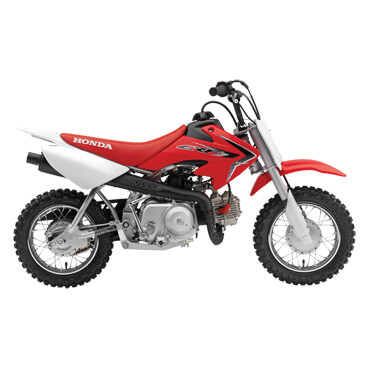 Engine Type: 49cc air-cooled single-cylinder four-stroke
Valvetrain: SOHC; 2 valves
Bore and Stroke: 39mm x 41.4mm
Compression Ratio: 10:1
Carburation: 13mm piston-valve
Ignition: CDI
Starter system: kick
Driveline: 420-chain; 14TT/37T
Transmission: 3-speed
Clutch: Automatic
Weight: 50 Kg
Front suspension: Inverted telescopic fork; 87mm stroke
Rear suspension: single shock; 70mm travel
Front brakes: 80mm leading Drum
Rear brakes: 80mm leading drum
Front tires: 2.50 25.4cm
Rear tires: 2.50 25.4cm
Seat height: 548 cm
Fuel capacity: 2.6 L Including 0.8 L reserve
2019 Honda CRF50f Features:
Can limit the speed of the bike by altering the throttle limiter to match the skill of the rider.
Low cost of maintenance due to the durability of the engine and the strength of the chassis.
Easy to ride as a result of its automated clutching system allows riders to focus on riding. 
Frames are made of steel to ensure durability.
Suitable handle to ensure a comfortable gripping for even the smallest kid