Many beginners will experience a manual clutch and gearbox for the first time with Husqvarna TC 65. Even better, the transition is simplified by the 6-speed gearbox and hydraulic clutch. Its components are premium fitted with the same superior quality that is found in the bigger motorbikes in this brand.  
What features does the TC 65 have?
Husqvarna TC 65 competes in the 65cc class because it features the latest 2-stroke technology. 
The engine has been manufactured using light and durable materials. The exhaust valve has also been designed in a way that the pressure is controlled so that the performance is of a high level.
The 6-speed transmission and hydraulic clutch are designed to allow the rider to have total control and maximum power delivery. 
Just like the other top performers, the cylinder is made of lightweight and durable aluminium whose performance is unrivalled. The intention is that its young riders have an advantage over the rest of the field.
The hydraulic clutch is designed to ensure even wear and a maintenance-free operation as well as perfect modulation in all conditions.
The exhaust valve's pressure is controlled; it can only deliver the best quality of performance. The riders will have maximum power delivery control that is made possible by the hydraulic clutch and manual 6-speed transmission system. 
The waved front and rear brake wheels are advanced in a way that ensures maximum stopping and braking performance in all conditions.
The aluminium alloy handlebars are stable and safe. An additional handlebar bend is available to offer a better ergonomic position. 
In addition to all these, the brace on the handlebars protects the rider from any impact that is likely to happen.
Husqvarna TC 65 Specs (specifications)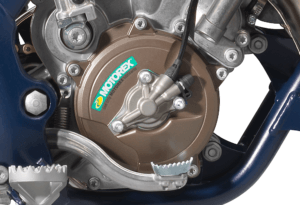 6-speed transmission.
1-cylinder, two-stroke transmission system.
Kick-starter.
Bore x Stroke: 4.5 cm x 4.08 cm.
Formula hydraulic multi-disc, wet clutch. 
64.9 cubic centimetres displacement.
Weight: 53kg without fuel.
Tank capacity: 3 ½ litres.
Front brake disc x rear brake disc diameter:198 x 160 mm. 
Chain 0.5 x 0.25. 
Ground clearance: 280 mm.
Mono shock rear suspension.
Seat height: 750 mm.
Front suspension travel: 215 mm. 
Rear suspension travel: 270 mm.