Age group 7-10
Built for riders with some riding experience, the 2019 Suzuki JR80 is an ideal dirt bike to transition to once your child has learnt to ride. It's a great 2-stroke bike with plenty of pickup and power for a young rider. The 5-speed transmission gives plenty of opportunities for its rider to make the most of its power. The JR80 is better for more confident riders with its manual clutch, no throttle limitation and kick start options. 
The JR80 has a good oil injection system, meaning that you don't have to mix 2-stroke oil in with your fuel. The bike automatically mixes the fuel and oil in the correct ratios. This makes it easier if for the person maintaining the bike. Spare parts are also readily available for this bike.
This bike is a lot of fun to ride, it's easy to maintain and perfect to manoeuvre. It's a good buy for someone that has already taken the first steps in learning how to ride. 
2019 Suzuki JR80 specifications: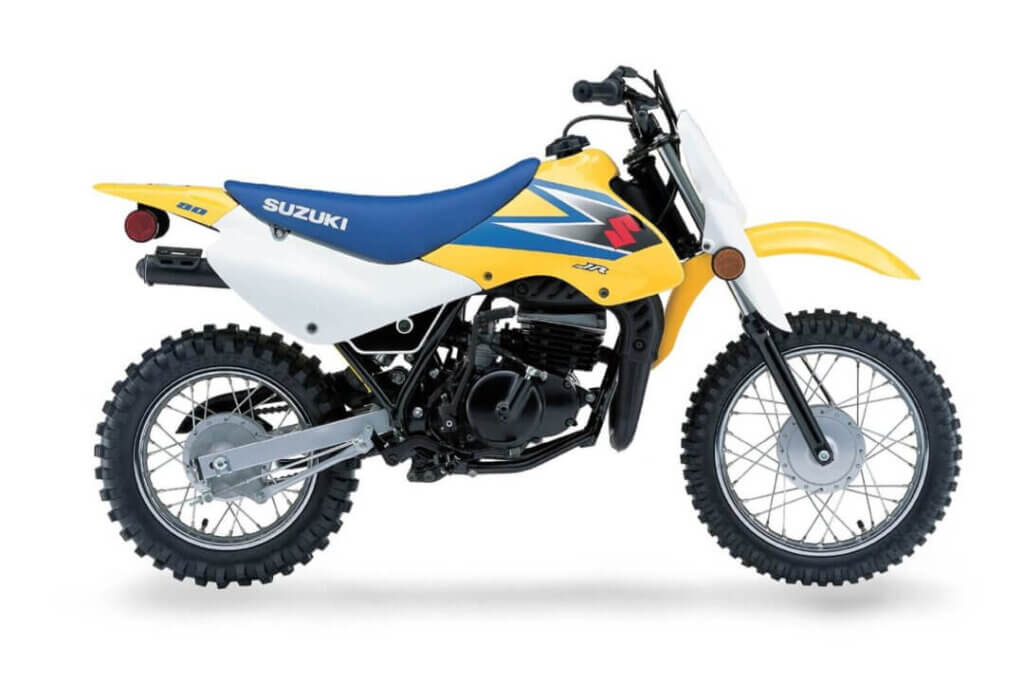 Engine: 2-stroke, single-cylinder, air-cooled
Starter: Primary kick
Transmission: 5-speed constant mesh
Front suspension: Telescopic, coil spring, oil damped
Rear suspension: link type, spring preload 5-way adjustable
Both brakes: drum
Weight: 65kg
Seat height: 685mm (adjustable, this is its lowest setting)
Bore and stroke: 49.0mm x 42.0 mm
Fuel capacity: 4.1L
2019 Suzuki JR80 Features:
A dependable engine that guarantees sound power transmission
Easy to start with its newly advanced pointless electronic ignition
Good shock absorbers make riding easy and enjoyable
Mixes fuel and oil automatically taking away one of the common hassles of a two-stroke bike