Age range 3-6, under 25kg
The Yamaha PW50 is a classic Australian beginner's dirt bike. It tends to last really well and gives a great ride for a beginner. When I started out, it was an old Yamaha PW50 that got me going and helped me develop a love for motorbike riding. I have fantastic memories of my dad teaching me to ride this little bike. The Yamaha PW50 (A newer version than mine!!) is still available in Australia and I can't see any reason it won't be popular for many years to come.
Although the 2019 PW50 is not the latest model. We have left this review live on our site as we know how valuable a 2nd hand dirt bike can be. Read the latest Yamaha PW50 articles.
The Yamaha PW50 is made for learners. It's as safe as possible for the accidents common to learners. Its height makes it comfortable for young kids and its smooth power makes it nice to ride. The PW50 has a kickstart system with no electric start. It has a fully automatic gearbox for easy learning. 
For parents concerned about the bike's acceleration or their child having too much power to play with, the throttle screw allows for control of the engine speed. There are also training wheels available through Yamaha, for kids who haven't yet perfected their balancing. 
No matter how you look at it, the Yamaha PW50 has to be one of the best bikes for first-time riders. If you do decide to buy a PW50, just be careful when making the purchase, because there are a number of PW50 fakes being produced in the Chinese market. 
These PW50 copies have a price tag similar to a genuine second-hand PW50, but the Chinese copies often compromise on quality and reliability. There is a large second-hand market in Australia for Yamaha bikes, and I personally would get a second-hand genuine PW50 over a new Chinese copy.
How Do I identify a Fake PW50?
The first thing you'll notice about the Chinese copies is the plastics. The plastics look cheap and inferior. The clear-cut difference though, between the genuine and the fake is that the original has Yamaha engraved on side covers of the engines. 
Where can I buy the 2019 Yamaha PeeWee 50
The 2019 Yamaha PW50 listed in this review is for sale on the Yamaha website.
SPECIFICATIONS FOR 2019 PW50: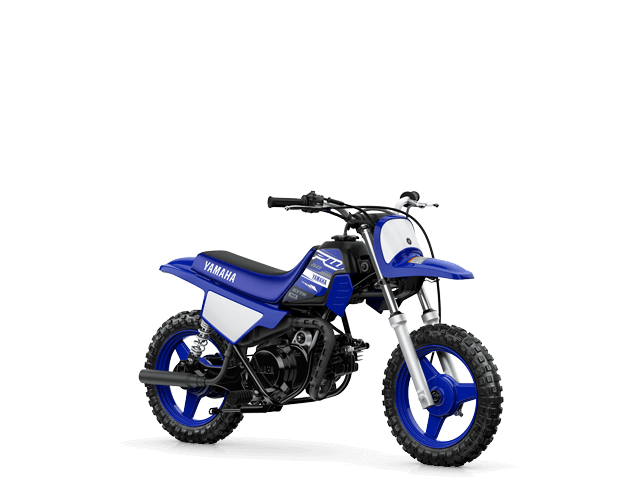 Engine type: 49cc air-cooled 2-stroke; reed-valve induction
Seat height: 485mm
Bore and stroke: 40.0mm x 39.3mm
Compression ratio: 6.0:1
Fuel delivery: VM12
Ignition: CDI
Starter system: kick starter (no electric start)
Transmission: automatic
Final drive: shaft
Fuel tank capacity: 2L
Weight: 39Kg
2019 PW50 Features:
The shaft's final drive has been added, eliminating the cost that would have been incurred for chain maintenance. Yamaha has also introduced an auto lube oil injection system. Introducing this auto lube oil injection system means that there's no need for oil premixing.
Now boasts a fully automated transmission system which means your child can now focus on riding and not changing gears. 
Seat styling and height (485mm) allows small children to sit comfortably.
Speed control has been added to the throttle, for the parent or supervising adult to control speed. 
No need to tighten or remove spokes because mag style wheels have been added.