Age range: 3-7
The 2019 Yamaha TT-R50E is a fantastic choice of dirt bike for your child to start their dirt bike riding adventure. Yamaha has made this bike strong and durable and it's a pleasure to ride!
Although the 2019 TT-R50E is not the latest model. We have left this review live on our site as we know how valuable a 2nd hand dirt bike can be. Read the latest Yamaha TT-R50E review.
The 2019 Yamaha TT-R50E has an electric start system. This is useful as it saves you or your child having to kickstart the motorbike over and over again when teaching or learning to ride. It also requires having the key in the TT-R50E's ignition so a child cannot accidentally start the dirt bike when learning to ride. The 3-speed gearbox has an automatic clutch which makes this bike easy to operate and one of the simplest bikes to learn on.
If you have a really small child, it is worth noting that this Yamaha dirt bike is a little bit heavier to lift than some other Yamaha dirt bikes.
The 2019 Yamaha TT-R50E is a small dirt bike, but irrespective of the size, at a pinch, you can have an adult double a child while teaching them to ride. The 2019 Yamaha TT-R50E should last you a long time. Once your children have outgrown this dirt bike, you might just find you want to keep it, so you have a reliable little bike to teach others on, (or for a little fun now and again)!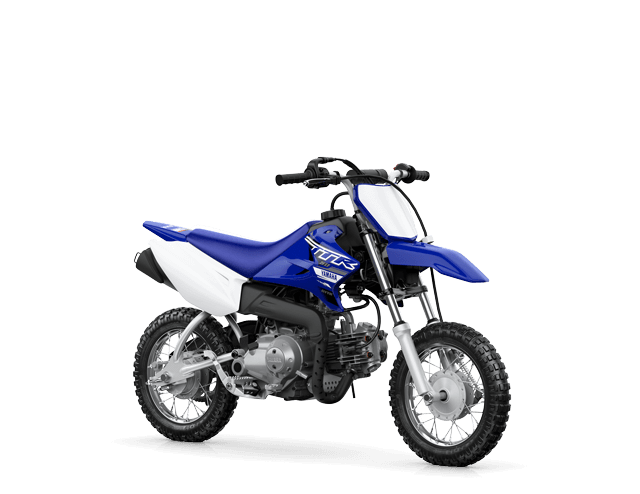 Specifications for Yamaha TT-R50E 2019:
Engine type: 50cc air-cooled SOHC 4-stroke; 2 valves
Seat height: 555mm 
Bore and Stroke: 36mm x 48.6mm
Compression Ratio: 9.5:1
Fuel delivery: VM11
Ignition: CDI
Starter system: Electric (no kick start)
Transmission: Constant-mesh 3-speed, automatic clutch 
Final Drive: Chain 
Fuel tank capacity: 3L
Weight: 57Kg
2019 Yamaha TT-R50E FEATURES:
Seat styling and height (555mm) allow small children to sit comfortably. The 2019 Yamaha TT-R50E has a Big YZ seat styling.
Advanced suspension model: the monocross rear end ensures good handling and provides stability in jumps and landings
Wide cover over the chain for good protection. This reduces the cost of maintaining this bike.
Automatic clutch system for easy gear changes. (This is like the difference between an automatic and manual car.) 
Easy to operate electric start system.
Quiet exhaust system.
Keyed ignition system to prevent un-approved riding.
Speed reduction mechanism that allows you to change the max speed as your child increases in skill.