Age group 9-14
There are only a few dirt bikes around the 85cc engine range. A shakeup has occurred over the past ten years in the 85cc two-stroke class with only some bike manufacturers keeping a bike in this range. Some, like Honda, decided to withdraw totally and concentrate its effort on the production of 150cc four-stroke model. Yamaha has a great offering with their 2019 Yamaha YZ85 dirt bike.
Designs for the 2019 Yamaha YZ85 dirt bike are focused on improving the power of the dirt-bike and even at a high revolution per minute (RPM), its optimum power output remains constant. The power output is predictable making it reliable during acceleration. Improvements were made on its chassis, making it more attractive and its steel reinforcement makes it even more rugged. The new Kayava fork setup makes for great compression and bump absorption. Older versions of this dirt bike had an inconvenient handle-bar, but with the introduction of adjustable handle-bar, this problem has been fixed, it now has four positional adjustments, allowing it to be altered according to the rider's preference and size. Its braking system also was improved with new brake-line in front for comfort when braking. Its sub-frames are now detachable.
Feedback on the 2019 Yamaha YZ85 has been good so far. Overall, the 2019 Yamaha YZ85 is a great dirt bike to purchase as your child progresses in their riding skills, and as it is now more adjustable this allows for more use at a time when your child will be growing quickly. The other advantage is that many of the Yamaha YZ65's parts are interchangeable with the Yamaha YZ85 parts.
2019 Yamaha YZ85 Specifications:
Engine type: 85cc liquid-cooled 2-stroke, reed-valve inducted.
Seat height: 841mm
Bore and Stroke: 47.5mm x 47.8mm
Compression Ratio: 8.2~9.6:1
Fuel Delivery: Keihin® PWK 28
Transmission: Constant-mesh 6-speed; multi-plate wet clutch
Final Drive: Chain
Front Brakes: Hydraulic disc, 220mm
Rear Brakes: Hydraulic disc 190mm
Fuel tank capacity: 5L
Weight: 73Kg
2019 Yamaha YZ85 Features: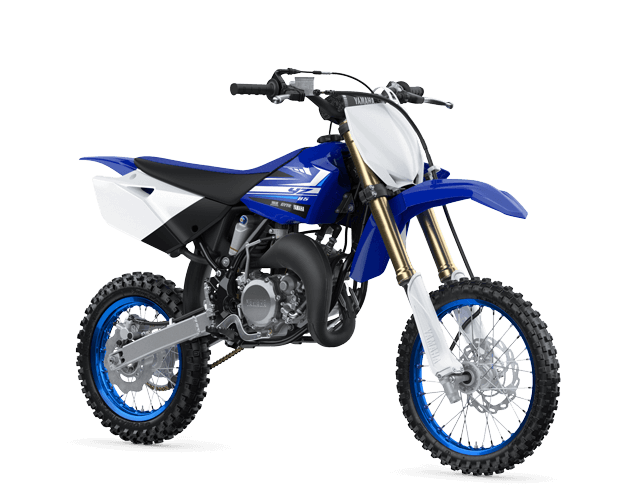 Equipped with two-stroke 85cc liquid-cooled engine for efficient power delivery.
Power valve system can be trusted to deliver without losing optimum power.
Handlebar for the 2019 model is adjustable, thus the bike can be modified according to the rider preferences.
Gear transmission of the 2019 model has been improved for easier engagement.
Good quality radiator for efficient cooling.