The KTM 50 SX 2020 is a fantastic KTM for riders aged 3 to 6 years old, who are taking their first steps into the world of motocross racing. It features a revolutionary WP XACT front fork with AER technology, cool colour, and rear suspension that can be easily adjusted. 
The KTM 50 SX, just like the rest in its family, comes with top-quality components. The power delivery is steady, the automatic clutch is ideal for beginners, and above all, it ensures budding riders concentrate on the essentials and learn the basic skills very fast.
KTM 50 SX Specs: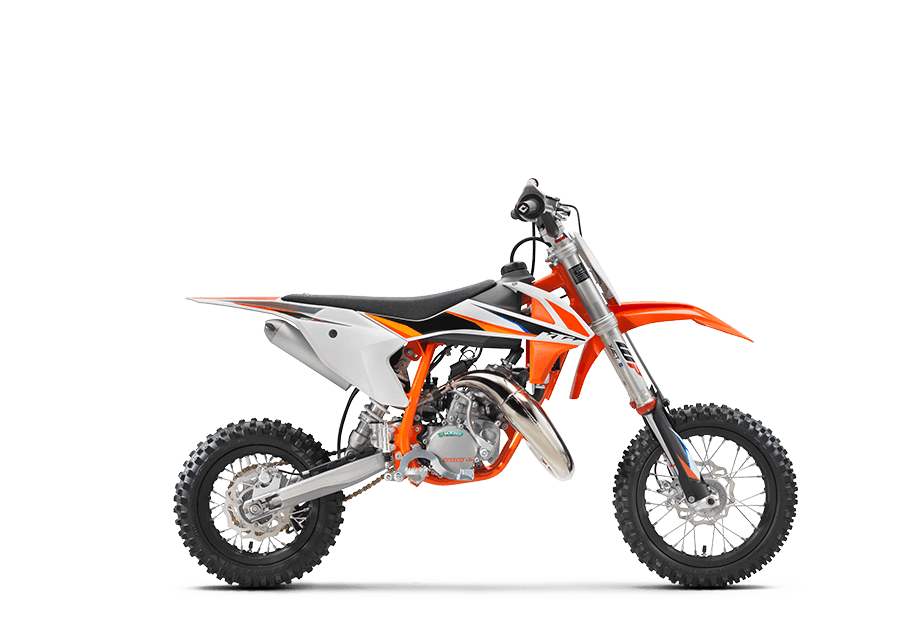 Single-cylinder two-stroke engine.
49 cc displacement.
Bore x stroke: 39.5 x 40.0 mm.
Kick starter.
6-speed transmission system.
Fuel; Premix @60:1 lubrication.
Front brake: 160 mm.
Rear brake: 160 mm.
Adjustable centrifugal clutch.
Wheelbase: 91.44 cm.
Rake: 23.6 degrees.
Seat height: 684 mm.
Ground clearance: 18.288 cm.
Fuel capacity: 2.3 litres.
Curb weight inclusive of oil, petrol, etc.: 41.7 Kg.
Key Features: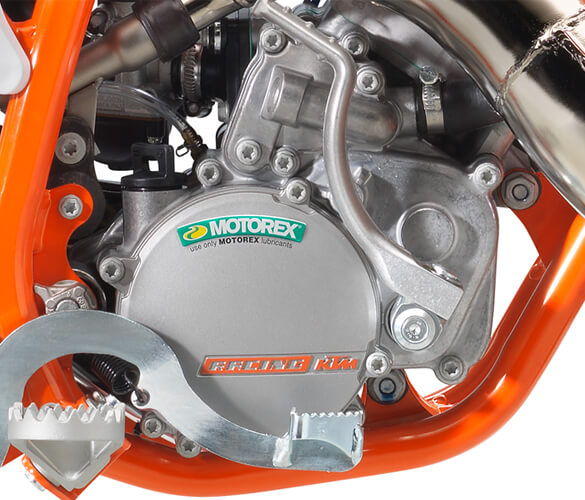 The new graphics designed to match the SX range's full-size bikes give a racing appearance.
The aluminium swingarm characteristics provide more stability and ease of chain adjustment.
The ultra-light WP XACT 35mm fork can be adjusted easily so that it fits different track conditions and the requirements of different riders. 
The crankshaft is kept close to the centre of gravity by the 3-stroke engine and this allows for quick handling and increased room for reed valve angle.
The slim profile of the KTM 50 SX, is perfect for efficient ergonomics and handling.
Lightweight aluminium discs combined with the hydraulic brakes give powerful feedback that can be controlled by riders of all skill levels.
Acceleration can be adjusted -without tools- to fit any track conditions in a matter of minutes. This acceleration is provided for by the centrifugal multi-disc automatic clutch. 
The black, super light aluminium rims match the MAXXIS tyres perfectly for maximum grip.