The 85cc class bridges the gap between junior riders and full-sized motocross, taking riders a step closer to the big leagues. With the advanced engine and chassis technology, TC 85 19/16 increases riders' confidence while maintaining their composure on tracks.
Features:
Made using advanced robot welding, the chromium molybdenum steel frame offers precise feedback to young riders.
The 43mm split fork design on the front suspension offers remarkable suspension performance.
The rear shock has a progressive damping system, meaning the rear end of the bike can stay stable over bumps or rough terrain while soaking up big hits.
TC 85 19/16 features a subframe made from aluminium which contributes to its lightweight and also improves mass centralization.
The airbox's twin-air filter can be accessed easily without tools by just removing the side panel for quick maintenance. Additionally, the airbox design allows for efficient airflow and maximum filter protection.
The radiators are designed with computational fluid dynamics for efficient air passage through cooling fins regulating the engine's temperature.
The swingarm features a one-piece aluminium to offer strength for low weights. Also, the chain markings are visible from above making it easy to maintain.
The exhaust system is perfectly suited to the power characteristics of the engine ensuring outstanding performance and all-around rideability. It also has a lightweight silencer to improve mass-centralization while keeping noise levels low.
The engine uses two-stroke technology to deliver unrivalled performance in the 85cc competitive class. The 2021 model has the same bore and stroke to deliver power and improved rideability along with the complete RPM range.
The innovative power valve system cylinder controls the exhaust valve and sub-exhaust port for torque, power, and controllability. For this reason, the bike has a significant mid-range performance to reduce clutch use in sandy conditions.
Its crankcase features a thin wall to save on weight while ensuring durability and strength. For improved handling, the crankcase is made from a die-cast production process placing shaft arrangements close to the centre of gravity.
The 2021 model has a new diaphragm spring clutch replacing the coil spring design on previous models. The design is lighter and more compact to increase durability. The formula hydrated system has been used to actuate the clutch.
Black excel rims deliver maximum performance on a variety of terrains.
The bike's body works fit perfectly for an 85cc rider. While leaving room for free and unrestricted movement, the bodyworks instil confidence with exceptional ergonomics.
TC 85 19/16 Specs (Specifications):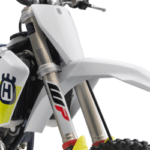 6-speed transmission
47mm x 48.95mm bore x stroke
Formula hydraulics, wet, multi-disc clutch
68kg heavy without fuel
5.2l tank capacity
240mm front brake disc diameter
220mm rear brake disc diameter
43mm front fork suspension
377mm ground clearance
875mm seat height
278mm front suspension travel
305mm rear suspension travel