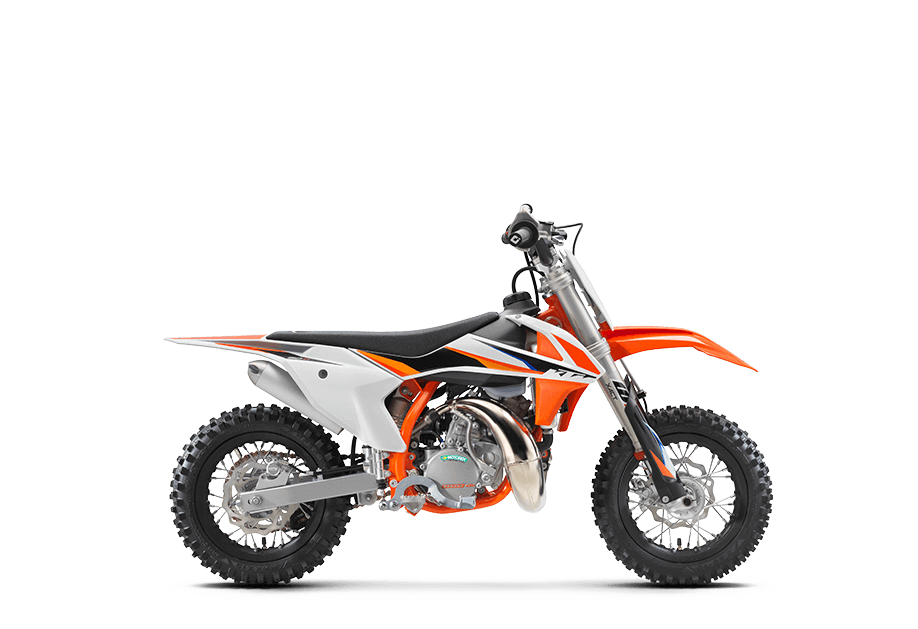 For the youngest shredders
KTM 50 SX Mini, as the name suggests, is for the youngest shredders who want to take to the tracks from a young age. Built for 4 to 10-year-olds, this bike is the perfect addition to any family. But this small size doesn't mean it is small in features too because this bike uses pretty much the same technology that powers the big bikes. The only difference is that it has smaller wheels and a lower seat size to suit these young children.
In addition, it has a child-friendly power delivery, so the young ones can control it all by themselves, without needing much help from the adults. In fact, this bike is one of the first choices that many parents make when they want to introduce their child to the world of dirt bike racing. 
Overall, it has been built with these young children in mind, so it comes with an engine that delivers steady and optimal power that can be handled by the children. Plus, it comes with an automatic clutch, high-quality WP XACT shock absorbers on the front and rear side, and graphics that are sure to look cool and appealing. 
Top Features
The graphics on the bike are ultra-cool, and they appeal to young kids as well. Since these graphics are similar to the big bikes, it makes the young ones feel happy too.
The WP Suspension that comes with a 35mm diameter provides excellent stability while riding.
A three-shaft engine keeps the crankshaft close to the bike's centre of gravity so that the young riders can handle it easily. At the same time, it provides excellent performance as well.
The clutch is multi-disc and centrifugal, and this helps to give maximum acceleration and it can be adjusted easily to match any track.
The handlebar is ergonomically designed and the high-quality aluminium used for making it ensures that kids don't get tired holding them. Also, it provides reasonable control and stability, as well.
2021 50 SX Mini Specs 
Detailed Specifications
1.     Engine
Engine: 2-stroke and one cylinder
Displacement: 49 
Stroke: 40 mm
Induction: Reed-valve
Bore: 39.5 mm
Starter – Kickstarter
Transmission – Single-speed and automatic
Clutch – Centrifugal clutch that is also adjustable
2.     Chassis
Brakes – 160mm on the front and the rear. Both are disc brakes.
Front Suspension – XACT  WP Upside-Down fork,  of 35 mm
Rear Suspension – XACT WP mono-shock absorber
3.     Dimensions
Weight – 40 kg
Seat height – 558mm
Frame design – Central tube type 25CrMo4 steel frame
Chain – 1/2 x 3/16″
Ground clearance – 184 mm
Fuel capacity – 2.1 litres
Images sourced from KTM.