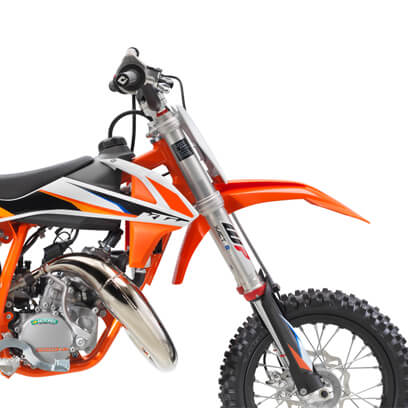 For the young dirt bike riders
KTM 50 SX is designed for young riders, typically between the ages of 4 to 10 years. These bikes mimic the bikes of their older siblings and even dads, but at the same time, it is comfortable enough for them to ride and control easily. This way, the riders can accompany their family on dirt bike trips and races and at the same time, get a hands-on feel of dirt bike riding that could even possibly prepare them for a career in motocross. 
Since these bikes are designed for young riders, they are made of top-quality components. Also, they offer a steady power that is controllable for kids of this age, to make it a fun experience not only for the child but also for the parents accompanying them. 
It also has many features like an automatic clutch, adjustable suspension, and cool graphics to enthuse young riders to try their hand in this sport. With such convenient features, this bike undoubtedly sets the bar high in the 50 cc category. 
Top Features
It provides maximum possible performance with a high-performance cylinder, exhaust pipe, and reed intake system. 
The frame is modern and lightweight. It is prepared by high-strength Chromalloy steel profiles that tend to last for a long time.
The frame provides high levels of stability with its top-quality components and precise engineering.
The handlebar is made from an aluminium alloy with a bend to suit small hands. In addition, a slide pad is also there that protects the handlebar in the event of contact. A vulcanized grip on the right-hand side and a lock-on grip on the left add to the comfort and handling as well.
The graphics are modern with an aggressive style that looks attractive to young riders.
2021 KTM 50 SX Specs 
Detailed Specifications
1.     Engine
Engine: 2-stroke and one cylinder
Displacement: 49 
Stroke: 40 mm
Induction: Reed-valve
Bore: 39.5 mm
Starter – Kickstarter
Transmission – Single-speed and automatic
Clutch – Centrifugal clutch that is also adjustable
2.     Chassis
Brakes – 160mm on the front and the rear. Both are disc brakes.
Front Suspension – XACT  WP Upside-Down fork,  of 35 mm
Rear Suspension – XACT WP mono-shock absorber
3.     Dimensions
Weight – 41.5 kg
Seat height – 684mm
Frame design – Central tube type 25CrMo4 steel frame
Chain – 1/2 x 3/16″
Ground clearance – 252 mm
Fuel capacity – 2.3 litres
Images were sourced from KTM.