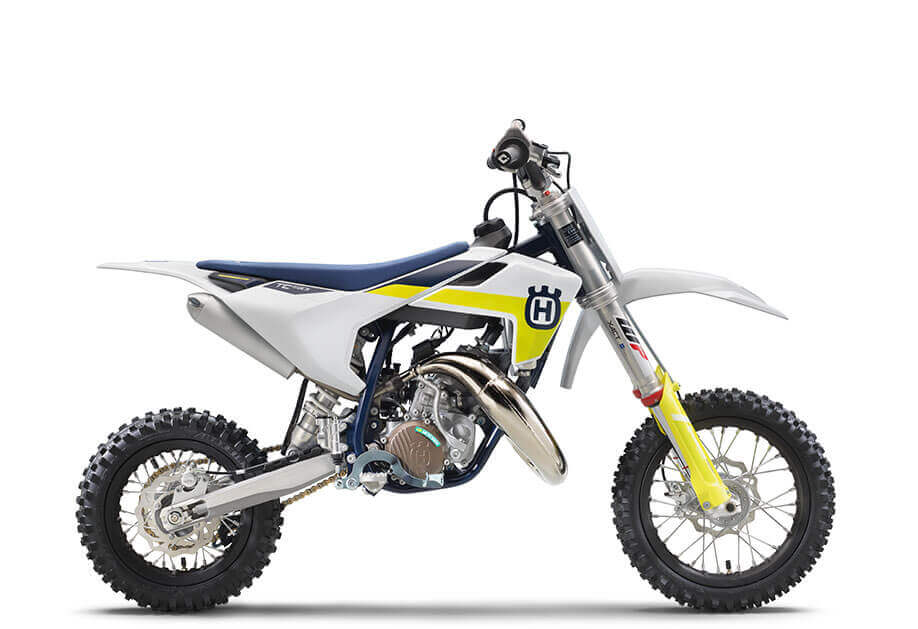 It might be a smaller machine, but the 2022 Husqvarna TC 50 offers the same level of technology, performance, and comfort as the full-sized full-sized Husqvarna. Similarities do not end here. This motorcycle was created in keeping with Husqvarna's culture and history.
It has a greater level of agility, power, and technological advancements than the previous bikes of this generation. New front and rear brake systems have been installed; they are much more sensitive now.
Is Husqvarna Trustworthy?
Husqvarna is a Swedish motorcycle manufacturer. A global reputation for durability and reliability precedes the brand. There isn't as much publicity for this company as some of the more recognizable brands, but its product is often durable, and reliable.
You can read the 2021 Husqvarna TC 50 review article here.
A Brief History of Husqvarna Moto
The Husqvarna Silverpilen model, which was slim, compact, and lightweight, was a popular choice among riders who wanted to modify their bikes for off-road use. Europe's first Motocross Championship took place during the 1957 and 1952 World Championships.
Husqvarna won its first motocross championships in 1958 (Rolf Tibblin's 250-cc European title) and 1959 (Bill Nilsson's 500-cc world title).
Torsten Hallman and Rolf Tibblin, two Husqvarna riders from the early 1960s, won both 500cc and 250cc world titles. This led to the creation of a replica of Hallman's championship bike. The first motocross bikes were produced in 1963 with a run of 100 bicycles.
A number of riders, such as Torsten Hallman, participated in an effort to introduce the sport to the United States during the late 1960s and early 1970s, which sparked an explosion of popularity for the sport. The Husqvarna Motorcycles company won thirteen motocross world titles by 1979, nine Baja 1000 titles, numerous National Championship titles, and numerous Trans-AMA titles.
On the market today for motorcycles, Husqvarna Motorcycles offers easy-to-operate controls with a youth-specific ergonomic design. Teenagers will gain the skills required for a full-sized motocross bike with the TC 50, 65, 85, and EE 5.
Husqvarna TC 50 Review
With the exact same features as the full-size motorcycles, this motocross bike offers the same performance for the next generation. The TC 50 is made with superior materials and features a premium Husq look and feel. 
The 2022 Husqvarna TC 50 Top Features
High-Performance Cylinder
Using lightweight aluminium, this cylinder can perform at a high level. A pressure-controlled exhaust valve (PCEV) is the key to this motorcycle's remarkable performance in a highly competitive class like 50cc.
Automatic Clutch
Centrifugal clutches are a unique feature of the TC 50. The young riders do not have to deal with clutches and gearboxes, so they can focus on their writing. Its multidisc clutch delivers power over a wide RPM range precisely and predictably.
Durable Exhaust
For the exhaust to fit specifically with the TC 50 engine, a three-dimensional stamping process is used. The components are robot welded in order to ensure high levels of quality and durability.
Signature Bodywork
Thanks to years of motocross testing and experience, the bodywork of the TC 50 provides confidence and comfort in all riding conditions.
Wheels With Lightweight Rims
Weight-optimized, anodized aluminium rims provide the TC 50 with the highest level of durability and performance. The standard and MASXXIS treads provide progressive traction on a variety of different terrains.
Liquid Cooling
TC 50 is equipped with liquid cooling technology for cooling cylinders and crankcases. The motorbike is equipped with large radiators and spoilers that channel air efficiently through the cooling fins under any conditions.
Flex Frame
In high-strength chrome-molybdenum steel, longitudinal flex and torsional rigidity are carefully calculated to improve handling. Turns are precise with the vehicle, and it is extremely stable.
Aluminium Alloy Handlebars
Aluminium alloy handlebars are lightweight and stable, ensuring the highest level of safety. In addition to the handlebar brace, riders are protected from impacts via crash pads.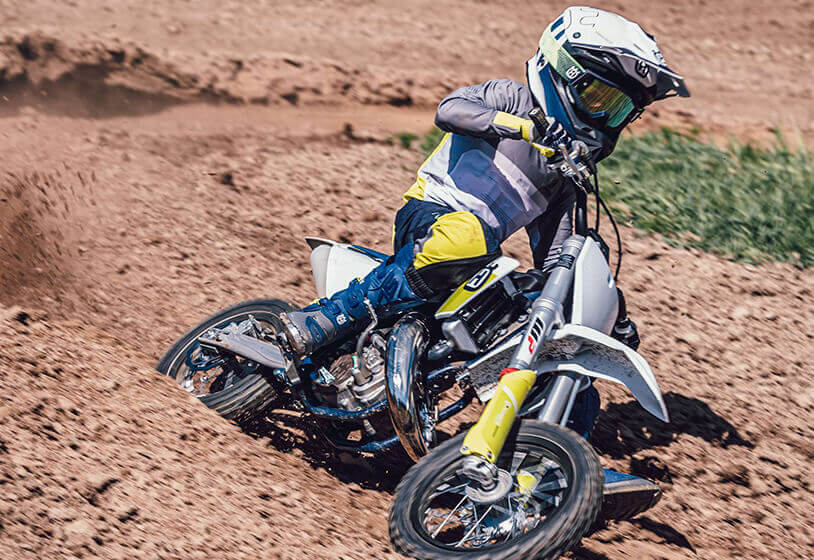 2022 Husqvarna TC 50 Specs
2-Stroke Technology Engine
The latest 2-stroke technology enables this compact and modern engine to provide class-leading performance and manoeuvrability. This three-shaft crankshaft design allows for a greater degree of mass centralisation and ensures a more optimal intake angle for the reed valve, resulting in top performance. A Power Reduction Kit may also be purchased from Husqvarna accessories that reduce the TC 50's power output for beginners to 5.5hp.
WP PDS Rear shock
With WP mono shocks, the swingarm is directly connected and the front fork is perfectly matched for perfect balance and damping.
WP XACT front fork
This bike features the latest suspension technology in WP XACT forks. With their excellent damping characteristics, the 35mm USD forks are easy to ride at the limit while still remaining comfortable.
Hydraulic Brakes
TC 50 disc brakes are hydraulically operated, just like full-size motocross bikes. All conditions will be satisfied by the stopping power and feel of this brake.
Dimensions of the 2022 Husqvarna TC 50
Seat height – 665 mm
Curb weight – 41.5 kg (without fuel)
Rear Suspension – XACT WP PDS mono-shock
Front Suspension – XACT 35 WP Upside-Down fork, Ø 35 mm
Fuel capacity – 2.3 litres
Ground clearance – 252 mm. 
Pros & Cons of The New Husqvarna TC 50 Bike
2022 Husqvarna TC 50 Price
You may be wondering how much does the 2022 TC 50 motorcycle cost? Well, the price of the 2022 motorbike will differ slightly per area code however it has an average ride away price of $5510.
Bottom Line
As a reduced-size version of the full-sized motocross bikes, the TC 50 has the same level of performance as the full-sized models and is suitable for the future stars of tomorrow. TC 50 provides superior quality and attention to detail, as well as a premium look and feel.
The TC 50 is one of their most popular bikes, with the 2022 model sporting features such as:
Flex Frame
2-Stroke Technology Engine
WP XACT Front Fork
Hydraulic Brakes
Signature Bodywork
Wheels With Lightweight Rims
Automatic Clutch, and
Liquid Cooling
You have to keep an eye out for the 2022 Husqvarna TC 50!
Images sourced from Husqvarna Motorcycles.