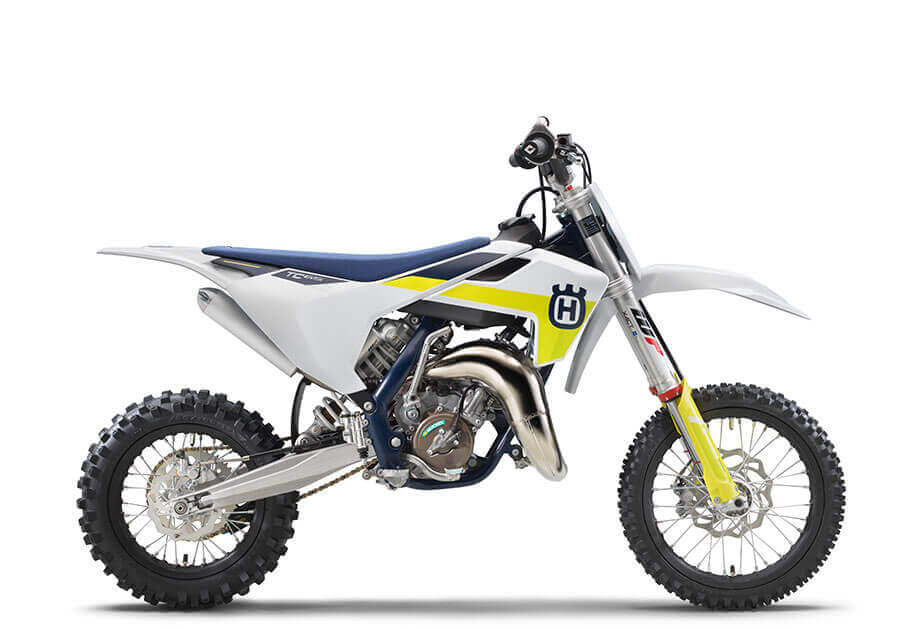 The latest Husqvarna press release unveiled their upcoming 2022 line-up. Offering unsurpassed performance and a striking new look with dark blue and white graphics inspired by Sweden. The new motocross and cross-country lineup of Husqvarna Motorcycles North America, Inc., features twelve motocross and cross-country motorcycles designed for racing and competition. The new lineup includes the great 2022 TC 65 motorbike.
Husqvarna's 2022 models are engineered to offer uncompromising power-to-weight performance while offering excellent ergonomics, looks, control and handling, as well as Husqvarna's proprietary lowered suspension.
A class-leading WP Suspension system ensures that the 2022 models handle precisely regardless of rider skill level, providing exceptional comfort and control. For consistent damping across rough terrain, WP XACT forks include a sealed air chamber and pressurized oil chamber. In addition to the forks, WP XACT shocks feature improved low-friction seals for optimal rear-end performance.
Read the 2021 Husq TC 65 review here.
Is The Husqvarna Motorcycle A Reputable Brand?
Husqvarna is a Swedish motorcycle manufacturer. The brand is known throughout the world for its durability and dependability. As opposed to some of the more recognizable brands, this company's product is often durable and reliable, even if there isn't as much publicity.
A Brief History of Husqvarna Moto
Husqvarna Silverpilen bikes, which were slim, compact, and lightweight, were popular with off-road riders. The first Motocross Championship in Europe was held during the 1957 and 1952 World Championships. In 1958 (Rollf Tibblin in the 250-cc European championship) and 1959 (Bill Nilsson in the 500-cc world championship), Husqvarna won its first motocross championships.
Currently, Husqvarna Motorcycles offers a youth-specific ergonomic design for easy-to-operate motorcycle controls. With the TC 50, 65, 85, and EE 5, teens will learn the skills needed for a full-size motocross bike.
Technical Highlights 2022 Minicycles
Rideability and performance like no other
AER technology combines lightness and optimal performance with WP XACT forks
Ergonomics that inspire confidence thanks to a wide, flat seat and a one-piece airbox cover
Comfortable seat cover with high grip
Improved durability and smoother throttle motion for the TC 85 with roller actuated throttle assembly
Brake assemblies, clutches, and callipers for TC 85 and TC 65 models – excellent performance and reliability
Aluminium handlebars with a tapered diameter from Neken offer optimized ergonomics
Husqvarna TC 65 Review
With the TC 65, young riders will experience a full race machine with a manual clutch and gearbox for the first time. Hydraulic clutches and a precision 6-speed gearbox simplify this transition. Standard on the TC 65 is premium components similar to those on the larger motocross ranges.
The 2022 Husqvarna TC 65 Top Features
Front Suspension (WP XACT)
With its WP XACT forks, the TC 65 is equipped with the latest suspension technology. Along with being lightweight, the USD 35 mm forks offer exceptional damping characteristics, which give the rider greater confidence while pushing to the limits. Air units in the left fork leg are easily adjustable with an air pump by using an air valve. The wheel travel on the left fork leg is 215 mm.
2-Stroke Technology Engine
In the 65cc class, the TC 65 features the latest in 2-stroke technology. The engine's pressure controlled exhaust valve contributes to top performance, in addition to its use of the lightest and most durable materials. Moreover, the engine is equipped with a 6-speed manual transmission and hydraulic clutch, which allows the rider to control the power delivery.
High-Performance Cylinder
With its lightweight aluminium construction, this cylinder is high performance and contains an unrivalled exhaust valve (PCEV), giving the young rider an advantage over their peers.
2022 Husqvarna TC 65 Specs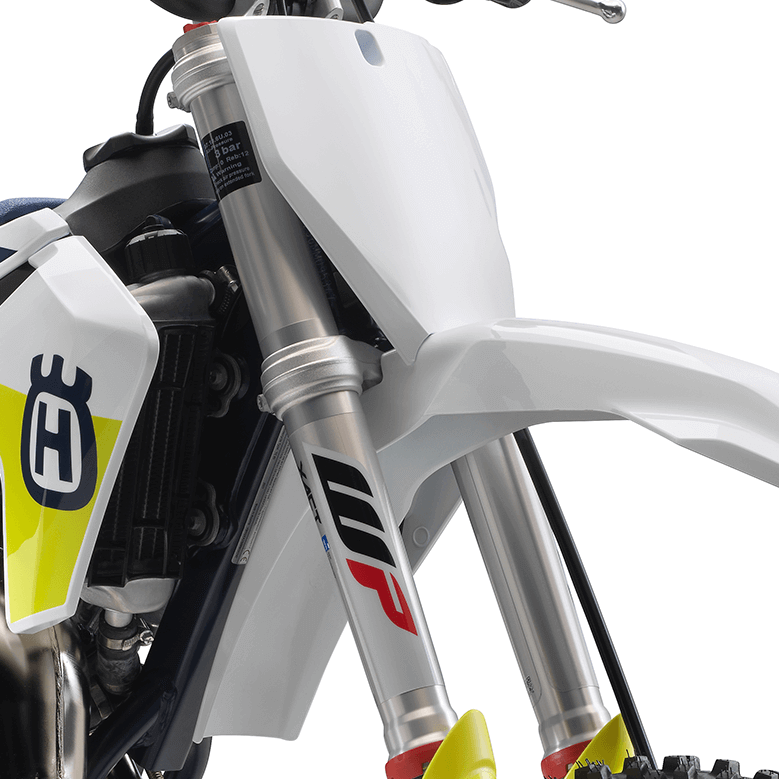 Hydraulically Operated Brakes
In addition to hydraulic brake callipers and large wavefront (198 mm) and rear (160 mm) brake discs, the TC 65 offers the same level of technology available on full-size motocrossers. Advanced stopping performance is ensured by the system under all conditions.
Molybdenum Steel Frame
A specific set of longitudinal flex and torsional rigidity parameters is incorporated into the frame to enhance handling and suspension operation. With ease and precision, plus outstanding stability, it guarantees a good driving experience. It is constructed of lightweight aluminium and is attached to the frame with four screws.
Husqvarna TC Signature Bodywork
This model is designed specifically with the smaller rider in mind, resulting in a comfortable and confident riding experience in all conditions.
Rear Shock (WP PDS)
With its direct connection to the swingarm, the WP monoshock perfectly matches the front fork's perfect balance and damping characteristic. Furthermore, the real shock has 270 mm of suspension travel in addition to being fully adjustable, allowing it to be tailored to the rider's preferences.
Hydraulic Clutch
Hydraulic clutches are reliable and provide almost maintenance-free operation as well as unaffected clutch function. In other words, play is continuously compensated so that the clutch's pressure point and function remain the same in cold and hot conditions, as well as over time.
Signature Wheels
A lightweight, black anodized aluminium rim provides unmatched strength and reliability in the TC 65. A variety of terrains can be traversed with the standard MASXXIS tyres.
Crankcase Cooling
Two radiators and the integrated crankcase cooling system guarantee efficient heat dissipation for consistent, high-performance cooling.
Aluminium Alloy Handlebars
The handlebars are made of high-quality aluminium alloy and are extremely durable. Furthermore, a specific handlebar bend is designed to provide the best ergonomic position. Riders are protected from impacts by crash pads on handlebar braces.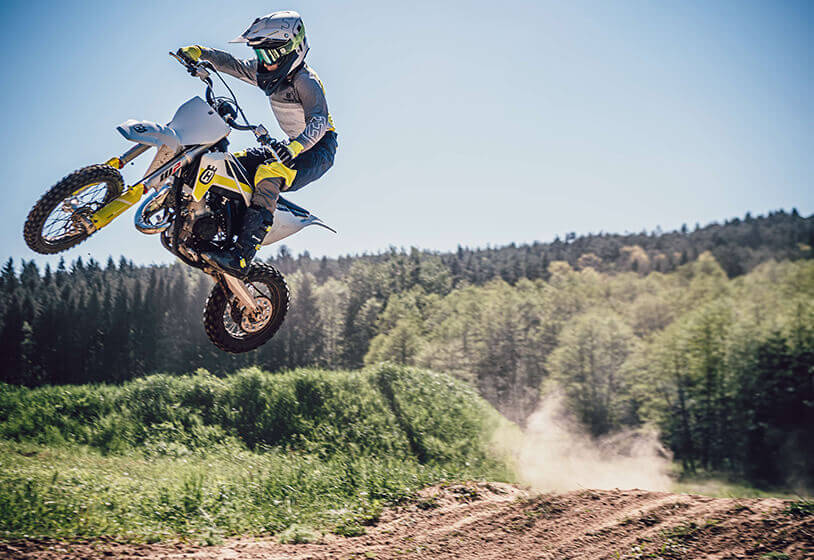 Dimensions of The 2022 TC 65
Seat height – 750 mm
Curb weight – 53 kg (without fuel)
Rear Suspension – mono-shock (XACT WP)
Front Suspension –  Ø 35 mm (XACT 35), WP Upside-Down fork
Fuel capacity – 3.7 litres
Ground clearance – 280 mm.
Pros & Cons of The New Husqvarna 65cc Dirt Bike
2022 Husqvarna TC65 Price
The price of the 2022 Husqvarna TC 65 will differ slightly per area code however it has an average ride away price of $6717.
Bottom Line
This reduced-sized motocross bike rivals full-sized models in terms of performance, so it is ideal for the next generation of stars. In addition to a premium look and feel, TC 65 provides superior quality and attention to detail.
The TC65 is one of their most popular bikes, with the 2022 model sporting features such as:
Aluminium Alloy Handlebars
2-Stroke Technology Engine
Hydraulic Clutch
WP XACT Front Suspension
Hydraulic Brakes
Signature Bodywork
Wheels With Lightweight Rims
High-Performance Cylinder, and
Crankcase Cooling
The 2022 Husqvarna TC 65 is definitely one to look out for!
Images sourced from Husqvarna.