Compare Dirt Bikes For Kids
The Yamaha PW50 is a classic Australian beginner's bike. It tends to last really well and gives a great ride for a beginner. When I started out, it was an old Yamaha PW50 that got me going and helped me develop a love for motorbike riding. I have fantastic memories of my dad teaching me to ride this little bike. The Yamaha PW50 (A newer version than mine!!) is still available in Australia and I can't see any reason it won't be popular for many years to come.
The Yamaha TT-R50E is a fantastic choice of motorbike for your child to start their motorbike riding adventure. Yamaha have made this bike strong and durable and it's a pleasure to ride!
The Yamaha TT-R50E has an electric start. This is useful as it saves you having to kickstart over and over again when teaching someone to ride. It also requires having the key in the ignition so a child cannot accidentally start the bike when learning to ride. The 3-speed gearbox has an automatic clutch which makes this bike easy to operate and one of the simplest bikes to learn on.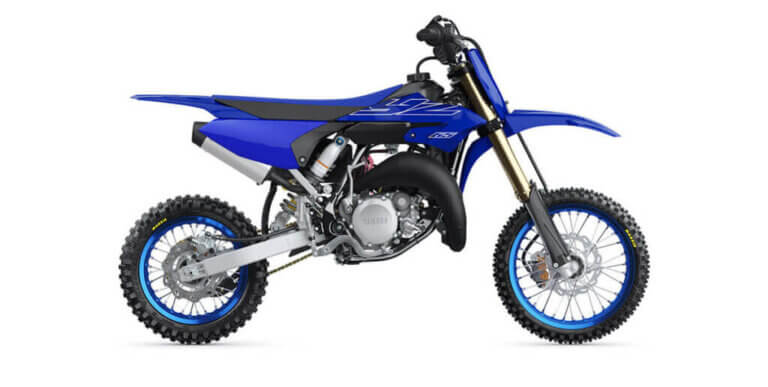 The Yamaha YZ65 is a new model of bike first produced in 2018. Before this, the most similar model was the YZ60, produced in 1983. The more recent Yamaha range was missing a bike of this size (only having 50cc and 85cc bikes). 
The YZ65 has the blue Yamaha colours. It's a powerful little bike that handles well and has great suspension. This bike has a kick start system, but by this age, your child should be able to handle this themselves.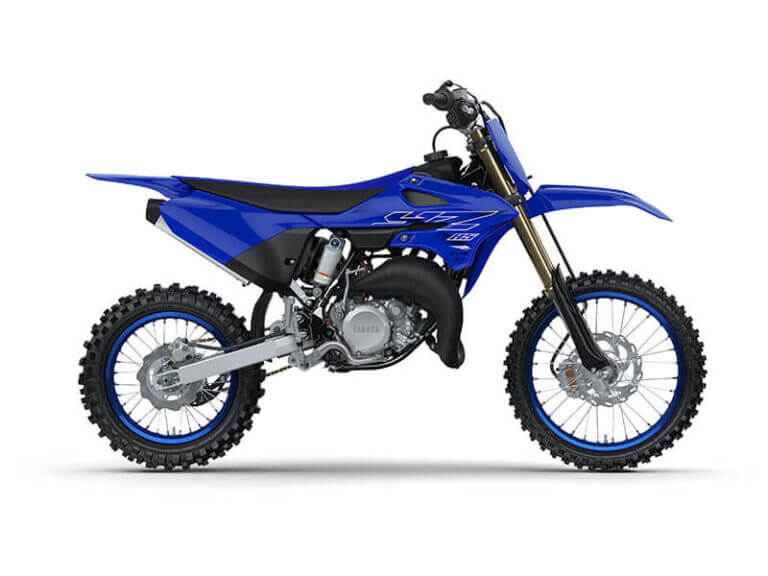 There are only a few dirt bikes around the 85cc engine range. A shakeup has occurred over the past ten years in the 85cc two-stroke class with only some bike manufacturers keeping a bike in this range. Some, like Honda, decided to withdraw totally and concentrate its effort on the production of 150cc four-stroke model. Yamaha has a great offering with their YZ85.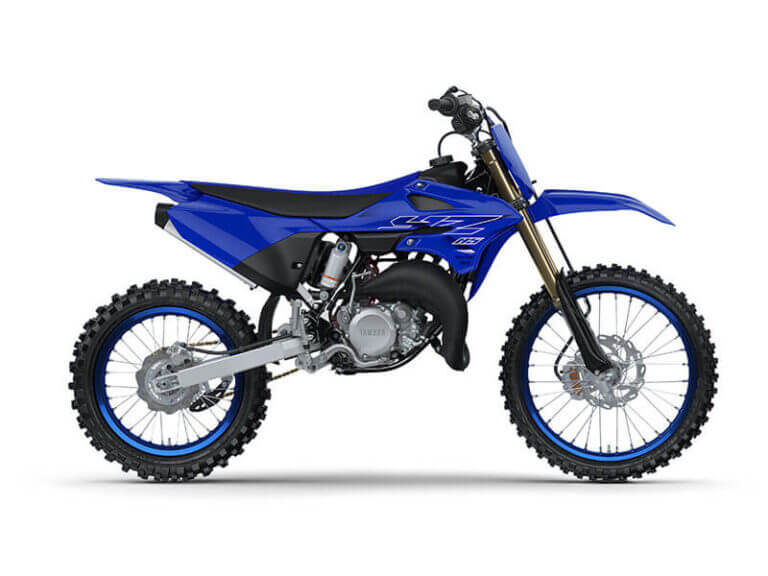 Yamahas YZ85LW is a great dirt bike that is very similar to the Yamaha YZ85. The LW model has a larger wheel base then the normal YZ85 and has an 85cc motor.
The Yamaha TT-R110E is a really solid offering in the Yamaha kids' dirt bike range. It's a four-stroke bike, with both electric and kick start. It has a 14-inch front wheel and 12-inch rear wheel to help it function well on uneven ground. It also has a 4-speed semi-auto gearbox, which means there is no clutch lever to use. With a seat height of 670mm, it's possible for young riders to graduate straight from one of Yamaha's 50cc bikes to this bike.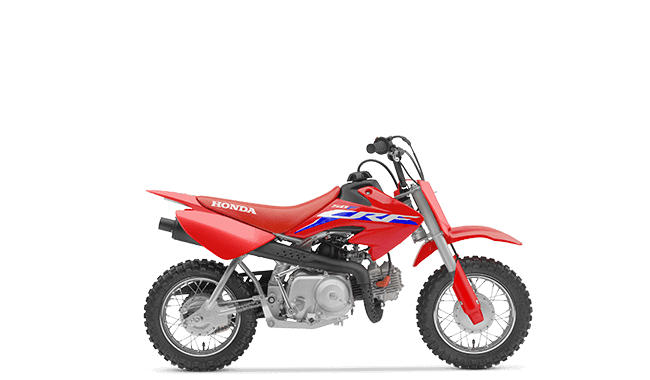 The CRF50F is designed for young riders just starting. It has a strong frame that can withstand nearly anything. The Honda CRF50F and the classic 1986 model of the mini-trail motorbike basic designs are similar, although a massive upgrade has been done to it since that time. The fame of this model in itself speaks for its durability, the only person that will probably be sad that you got this product is your mechanic. 
The Honda CRF110F is designed for youngsters who love sport, adventures and motorbikes. It's built by Honda with over 70 years of experience in manufacturing motorbikes, the quality product they produce is one of the best in the Australian market.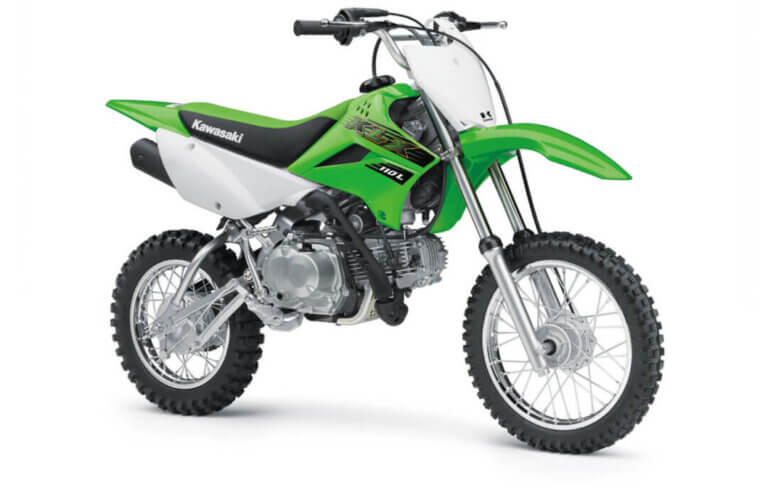 The Kawasaki KLX110L is a great all-round kids motorbike and its size means that it's versatile enough to fit a quickly growing child. 
The Kawasaki KLX1 10L will put a smile on both your face and your child's face. 
The Kawasaki 110L is an enhancement on the success of the Kawasaki KLX110, but this model gives experienced riders a greater degree of control over gear selection. It is also slightly higher but still gives as much comfort to its riders while being easier to manoeuvre. This combo is perfect for racers with a taste for speed. Coupled with 111cc four-stroke engine, you're in for a great ride.
Kawasaki has mastered the art of customer satisfaction even in the Australian market. The Kawasaki KLX110 is very similar to the Kawasaki KLX110L. As with the KLX110L, it is a four-cylinder, four-speed bike with an electric or kick start option and an adjustable throttle limiter. Refer to the details of the Kawasaki KLX110L for more details. 
The major differences are that the KLX110 has an automatic clutch and a lower seat height of 680mm and smaller wheel size, whereas the KLX110L has a manual clutch lever and a seat height of 730mm and larger wheels.
The Suzuki DR-Z50 is a great beginner's motorbike. It has an automatic clutch and is a three-speed, 4-stroke. It has electric and kick start system and a perfect seat height for the youngest of the group (560mm). This motorbike has a very reliable braking system, a good weight to enable the kids to control it well and it also has a good shock absorber. 
The DR-Z50 also has a throttle limiter which is great for training purposes. Another feature of this little bike is an adjustable front brake lever. This allows for the brake lever to be adjusted to suit different sized riders.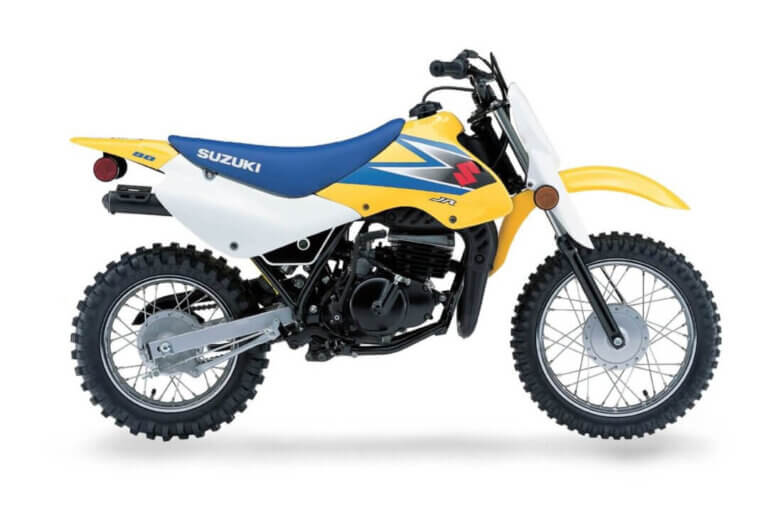 Built for riders with some riding experience, the JR80 is an ideal bike to transition to once your child has learnt to ride. It's a great 2-stroke bike with plenty of pickup and power for a young rider. The 5-speed transmission gives plenty of opportunity for its rider to make the most of its power. The JR80 is better for more confident riders with its manual clutch, no throttle limitation and kick start options.