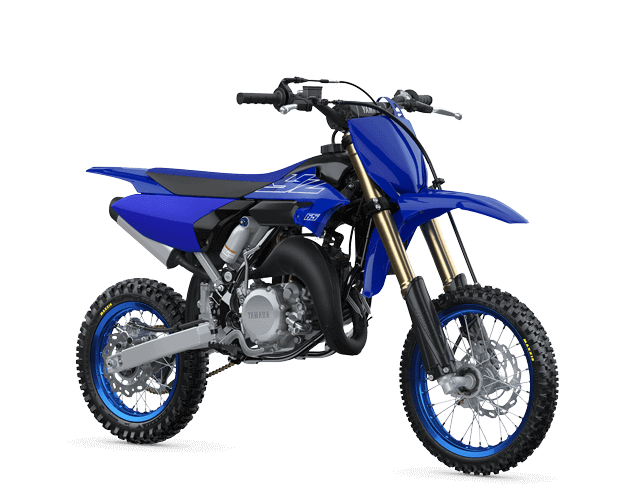 As one of the models in the YZ series, the 2022 Yamaha YZ65 offers youth riders the ultimate performance, reliability, and durability. It features race-bred specifications like a slick-shifting gearbox that enhance a smooth gear change. Even better, its adjustable front suspension, rear suspension, and powerful wave-type disc brakes give it a winning DNA in the world of motocross.  
More than that, the aesthetics, 6-speed engine, and the general YZ-styling provides high agility and stable handling. But, can the 2022 Yamaha YZ65 be the perfect motorbike for your kid?
The 2021 YZ65 review and specs article can be found here.
Specifications
65cc two-stroke and six-speed engine: crankcase-reed-valve single and liquid-cooled
General dimensions: L*W*H= 161.54 cm x 75.95 cm x 100.08cm
Ground clearance – the distance between the ground and the base frame:  26.42 cm
Wheelbase (distance between the tires): 114.05cm
Fuel capacity: 3.4 litres
Fuel delivery: Hitachi Astemo Keihin PWK28 Carburetor
Seat height: 75.5 cm
Front brakes: 19.8 cm hydraulic wave disc/ twin-piston calliper
Rear brakes: 19 cm hydraulic wave disc/single-piston calliper
Front suspension: 3.6 cm fork with 10 levels of rebound damping and 12 levels of compression
Monocross rear suspension with 10 levels for both compression and rebound damping
Ready-to-ride motorbike weight: 61 kg – inclusive of fuel weight, oil, hydraulic fluids, battery, and coolant. Weight without fuel: 58.06 kg
30.48 cm (rear) and 35.56 cm (front) blue rims with Maxxis SI tires
Aluminium subframe and a semi-double steel frame
Ignition/ starter: Capacitor Discharge Ignition (CDI)/ kick 
Bore and stroke: 4.35 cm x 4.36 cm
Front-wheel travel: 21.59 cm
Rear-wheel travel:26.924 cm
6-speed, constant mesh transmission
Final drive: Chain
Trail: 26.67 cm
Colour: Icon blue (bodywork)
Compression ratio 8.1 – 9.6: 1
Comes with 30 days (limited factory warranty)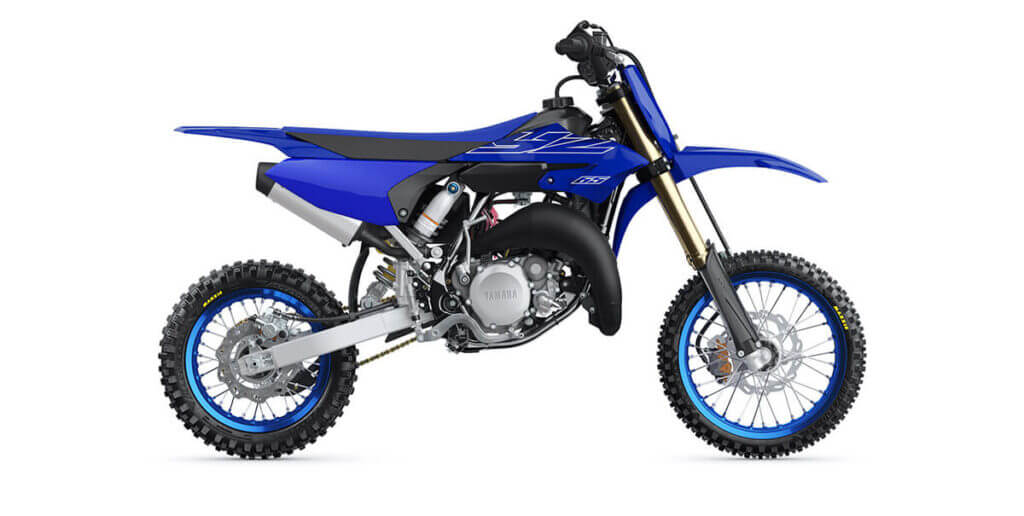 Features
The 2022 Yamaha YZ65 is the smallest in the YZ series. However, that doesn't mean it offers less performance than other models in the series. It still features the same advanced technologies and aggressive styling as the other YZ siblings. This means, that your kid can still conquer the motocross track despite its small size.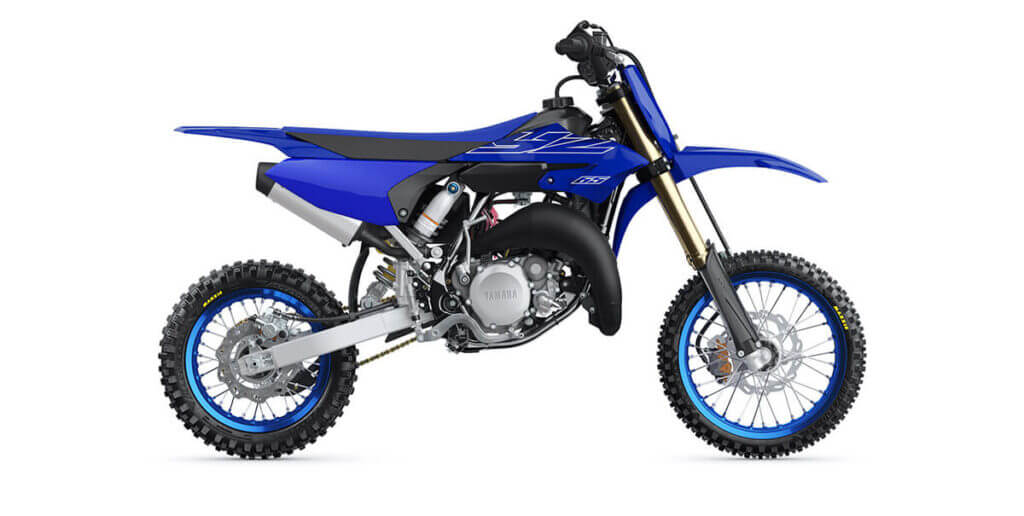 While the adjustable rear and front suspension provide stable handling over rough grounds, the tapered and adjustable handlebar enables the 2022 Yamaha YZ65 to grow with your kid. We all know that kids grow incredibly fast, and therefore, the 4 handlebar positions allow for personalization depending on the kid's style and size. 
Also, the high-grip footrests and long padded seats guarantee a comfy ride for your kid. On top of that, the seat design enables easy weight shifting and provides total control while in motion. 
The motorbike features Yamaha Power Valve System (YPVS) that boosts engine output through exhaust port timing in relation to engine speed. Also, the bike comes with a close-transmission gearbox, which means a narrow rev range for optimum engine performance. Beyond that, the 6-speed gearbox promises your kid the right gear for each racing condition. 

Features a multi-plate wet clutch that is smoother, cooler, more durable, and quieter. 

The 2022 Yamaha YZ65 features a compact radiator that enables efficient cooling of the engine in harsh racing conditions. This means the engine won't overheat easily, resulting in higher thermal engine efficiency. 

The subframe is lightweight and removable for convenient maintenance and reduced bike weight. Lightweight subframes in a bike reduce inertia, meaning an increase in agility and acceleration at the start of a race when chasing down an opponent or coming out of turns. Easy removability of the subframe makes it easier to wash the airbox after a dusty or muddy race. 

The 2022 Yamaha YZ65 has a compact steel frame that delivers excellent bump absorptions in the jump landings or a ragged motocross terrain. 
The motorbike has Maxxis SI tires with high treads to void ratio offering a firm grip across different road conditions for better braking ability and wet traction. 

The digital CDI system discharges a powerful spark for efficient ignition of the air-fuel mixture in the combustion chamber and starting the engine's power stroke.

The efficient reed-valve induction and a well-designed carburettor improve throttle responses and acceleration, enabling the bike to pick up speed pretty fast. 

The adjustable rear and front suspension and strong steel frame provide riders with the confidence, traction, and turnability of a solid motocross machine. 

Rake (Caster angle) is 26.4 degrees. This is the angle of the steering head and determines the handling characteristics of the motorbike. 2022 Yamaha YZ65's castor angle is appropriate to offer directional stability when the bike is in super speed motion. 

The motorbike has a centre ribbed exhaust port and a 6-port cylinder layout. The many ports increase cylinder filling through more air-sucking into the engine and more fuel flow to radiate more power. 

Dual wave-type brake rotors, which are lighter compared to conventional rotors – the wave-style rotors in the 2022 Yamaha YZ65 resemble those of the other members of the YZ family.

The 2022 Yamaha YZ65 accessories include graphics like stickers to pimp your kid's motorbike for a showy outlook. Also, seat covers are available to improve comfort when riding. More than that, water-proof vehicle covers are available. 

Protective gear for the 2022 Yamaha YZ65 includes helmets (full face or open face), boots or shoes, jerseys, jackets, eyewear (goggles), and gloves.
2022 YZ 65 Pros and Cons
Images sourced from Yamaha Motocross.